Google Doodle For Bach's Birthday First Artificial Intelligence Doodle Allows Users to Make Music
Google released its first ever artificial intelligence-powered doodle this week to honor the German composer Johann Sebastian Bach's birthday. The doodle was released Thursday and was set to run through Friday for a full 48-hour period.
Bach was born on March 21 on the Julian calendar that is no longer used, today on the Gregorian calendar his birthday was be March 31. Google however, was honoring the composer on the original date of his birthday.
The doodle was made available in more than 70 countries around the world and in most of those places would be available for the full 48-hour period. The doodle allows users to compose their own melody and then the AI built into the doodle will transform that melody so that it matches the style of composer Bach.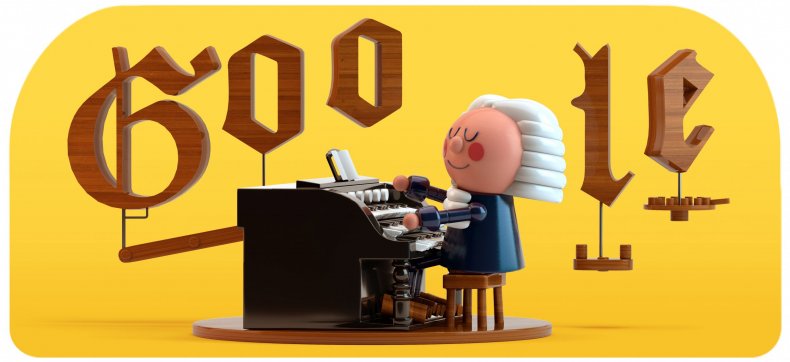 There are more features inside of the doodle that allows users to also hear their melody in a rock genre and to see how the doodle transforms the notes to sound like Bach. Google plans to release a behind the scene video of the doodle on Friday for those interested in how the doodle came to be.
The doodle was created through a collaboration between Google's Magenta, Google's People + AI Research team and doodle teams. Magenta is a project that uses machine learning to make music in a variety of ways including helping smooth transitions and harmozine. Google's PAIR program conducts research and creates technologies that help shape the approach to AI.
Through Magenta, the Google team was able to train a model called Coconet that provided the machine learning behind the doodle. It was able to identify Bach's style using a dataset of over 300 of Bach's harmoies to better help match the melodies doodle users create to the composer's work.
"Coconet is trained to restore Bach's music from fragments: we take a piece from Bach, randomly erase some notes, and ask the model to guess the missing notes from context. The result is a versatile model of counterpoint that accepts arbitrarily incomplete scores as input and works out complete scores," said the blog post from Magenta.
While creating music users of the doodle will also have a chance to learn more about Bach and his music. Once the doodle is off the hompeage users can still access it in the doodle archive online.