Who Was Zitkala-Ša? Google Doodle Celebrates Indigenous American Writer and Activist
Zitkala-Ša, writer, musician, teacher, composer, and suffragist, is celebrated in today's Google Doodle on what would have been her 145th birthday. She was dedicated to protecting and celebrating her heritage through arts and activism, at a time when the U.S. government did not consider Indigenous Americans real people.
The Yankton Sioux Tribe of South Dakota (Ihanktonwan Dakota Oyate or "People of the End Village") member is depicted in artwork by Chris Pappan, an artist of Osage, Kaw, Cheyenne River Sioux, and European heritage.
Zitkala-Ša was born on the Yankton Indian Reservation in South Dakota on February 22, 1876. Her name, Zitkala-Ša, is Lakota/Lakȟótiyapi for "Red Bird." When she was eight years old, Quaker missionaries took her and several other children to attend White's Indiana Manual Labor Institute, where she was given the name Gertrude Simmons.
At the missionary boarding school, Zitkala-Ša was forced to practice a religion she didn't believe in, cut her hair, and was not allowed to speak her Lakota/Lakȟótiyapi language. Thousands of Indigenous children went through similar experiences following the Civilization Fund Act of 1819, which funded missionaries and religious groups that forcibly assimilated Indigenous children at boarding schools.
While at the school, Zitkala-Ša enjoyed learning to read, write, and play the violin, but resisted assimilation efforts. Zitkala-Ša would go on to advocate for Indigenous rights throughout her life.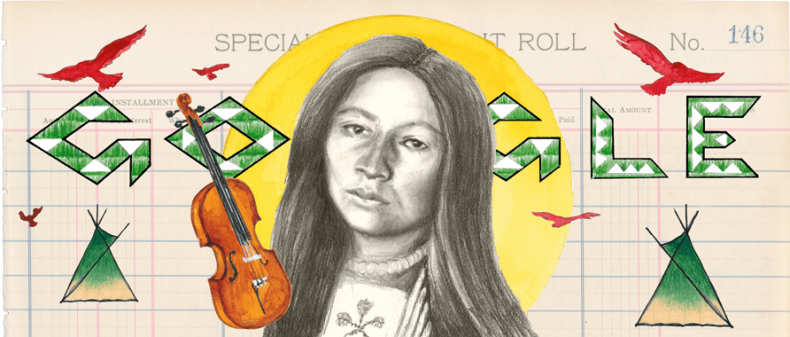 Zitkala-Ša left the school and returned to the Yankton Reservation in 1887, but went back to the Institute three years later, feeling as though she did not fit in at the reservation following her experiences at the school.
Back at the institute, Zitkala-Ša continued learning piano and violin, which resulted in the school hiring her as a music teacher. She graduated in 1895, and when receiving her diploma, gave a speech about women's rights.
In 1901, Zitkala-Ša published an anthology of oral Dakota stories titled Old Indian Legends after returning home to the reservation. This book was one of the first to introduce traditional Indigenous American stories to a wider audience. As a musician, Zitkala-Ša wrote the texts and songs for The Sun Dance, which was the first Indigenous American opera and was based on a sacred Sioux ceremony.
In addition, Zitkala-Ša was an activist for Indigenous and women's rights, and co-founded and served as the first president of the National Council of American Indians in 1926. Her work was key in the passage of legislation including the Indian Citizenship Act of 1924, which granted citizenship to Indigenous people born in the U.S., and the Indian Reorganization Act of 1934, which promoted the self-governance of Indigenous tribes.
Her Google Doodle says: "Happy Birthday, Zitkala-Ša, and thank you for your efforts to protect and celebrate Indigenous culture for generations to come."
Elements of Zitkala-Ša's life are apparent in today's Google Doodle, as artist Chris Pappan explains: "Her Lakota name translates as 'Red Bird,' she wrote an opera relating to the Sun Dance, and she was an accomplished musician—all reflected within the Doodle.
"She also witnessed great upheaval and change throughout her life, as symbolized by the tipis. The lettering for 'Google' is based on a beadwork design from one of her traditional dresses."
Pappan also explained why the Google Doodle was important to him personally: "My Grandmother was Lakota, so it was an honor to be able to help bring more recognition to another strong Lakota woman.
"I was honored to bring recognition to our people and glad that Google is reaching out to Indigenous Native American artists for related content."
Pappan also told Google what he hopes viewers take from the Doodle: "I hope people realize that we can—and need to—speak for ourselves. The narrative of Native American history has been intentionally distorted for too long."