Labor Day has been celebrated for almost 140 years in the U.S. with parades, firework displays and family gatherings. The day is celebrated on the first Monday in September and is one of the 12 federal holidays.
Labor Day is celebrated with a long weekend each year, with many cities, towns and communities hosting events to commemorate its labor force.
Google is no different and has dedicated its U.S. Doodle to Labor Day celebrations, depicting essential workers during the pandemic.
What is Labor Day Celebrating?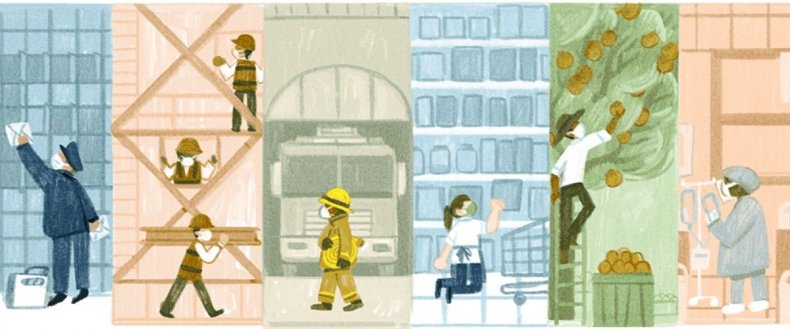 Labor Day celebrates the U.S. workforce, particularly commemorating those whose work contributes to society and the economy.
This year's Google Doodle has focused on those who work on the frontline, whose jobs have been made significantly harder due to the coronavirus pandemic.
The message from Google about this year's doodle says: "Whether a construction worker, firefighter or medical personnel—today's Doodle honors the professions of those on the frontline working hard day in and day out for our society.
"Here's to the perseverance of America's workforce. Happy Labor Day!"
Unlike some doodles, this one is not animated and does not provide any games or interactivity.
The doodle shows a doctor, farmer, shop assistant, firefighter, construction worker and postman doing their vital work.
The first Labor Day was celebrated unofficially in September 1882, with parades in Union Square in New York City.
Since the first parades, workers have been celebrated every year, with more states getting on board to host events.
Oregon made it a public holiday only a few years after the first celebrations and by 1894, it was a federal holiday for all states to enjoy.
With Labor Day being a federal holiday alongside Independence Day and Thanksgiving, it means Americans receive an extra day off and can enjoy the three-day weekend.
Are There Labor Day Sales?
There are often big sales on Labor Day at a huge number of major stores.
However, on the day itself, observed this year on September 6, many of those stores will shut its doors to allow workers to enjoy the celebrations themselves.
Over the weekend many stores have had big sales, such as Macy's, Walmart, Lowe's, Best Buy and QVC among those hosting events.
However, with many of the physical stores shut on September 6, shoppers will have to turn to online shopping in order to get their discounts.
Online retailers like Amazon and eBay have also launched massive sales for Labor Day, on everything from electricals to furniture.
Most retailers are offering sales in the form of discount codes for extra money off, so be sure to check your retailer for potential codes and links before checking out your basket.