Google Doodle celebrates the dachshund bobblehead, or as it is known in German, the "Wackeldackel." The Weiner dog breed—which is a German symbol—was first referenced on this day back in 1723, in Johann Friedrich von Flemming's book Der vollkommene teutsche Jäger, or The Complete German Hunter.
The dachshund is recognized as a German symbol and its status was strengthened back in the 1970s with the creation of the Weiner dog doll with a wobbling head. The dachshund bobblehead, or Wackeldackel, originated as a vehicle accessory and could be found perched on the rear dash of traditional German notchback cars.
The word Wackeldackel comes from "wackel" meaning wobble, and "dackel" meaning dachshund.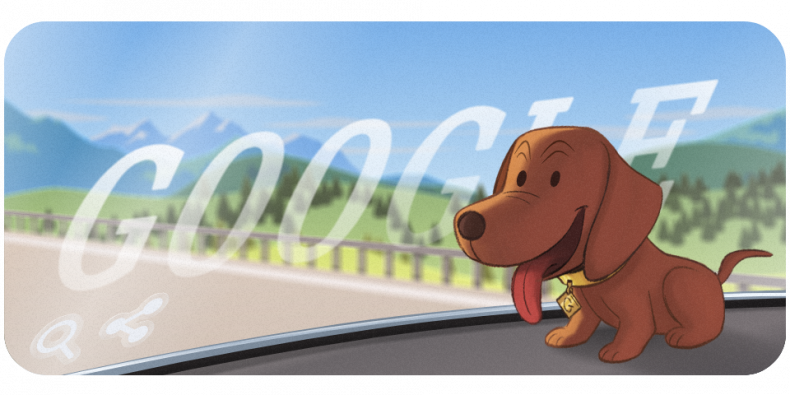 In the late 1990s, the Wackeldackel was featured in a German advertisement and as a result, 500,000 were sold in eight months, reigniting the Weiner dog doll's popularity.
The Google Doodle sees the dachshund bobblehead nodding along as the car drives down the Autobahn, with the Bavarian Alps in the distance. Keep an eye out for a German-flag hot air balloon and other classically German symbols in the background.
This was an important element of the Doodle, according to lead engineer David Lu, who said: "Because this Doodle celebrates a German icon, my inspiration was the entirety of German culture."
The interactive Google Doodle also allows users to pet the nodding dachshund's head, resulting in the dog smiling and sharing the love with yellow hearts.
Google says: "Keep an eye out for these four-legged passengers on the road! You never know when you might spot a hot dog in the back of a hot rod."
Lu also said that as an engineer, he was interested in the physics involved in the bobblehead: "Not only is the Wackeldackel a celebration of an iconic German dog breed, it is also an example of German tinkery.
"I spent hours debating the implementation of the bobble; whether it should be a spring, a pendulum, or a simple sine wave. It was worth it to relearn Grade 10 physics just for this Doodle."
Though he admits to learning the word Wackeldackel in the creation of this Doodle, Lu says that he wants "all non-German speakers to appreciate the word Wackeldackel, which perfectly encapsulates what this Doodle is about. It's also way more descriptive than 'German Wiener dog Bobblehead.'"