The year is nearly over. Plenty of people will no doubt be glad to see the back of 2020—and that sentiment has not been lost on the people at Google Doodle.
They've launched a fitting New Year's Eve Doodle: a clock about to strike midnight.
Wishing everyone a "Happy New Year's Eve!" the daily tweak to the search engine's logo comes with a hopeful message.
"It's been a cuckoo year, but 2020's clock is ticking," it read. "The countdown begins now, and when the clock strikes midnight a new year will spread its wings!"
Clicking on the Google Doodle, or searching the term "New Year's Eve" will also cause animated confetti to cascade down your screen. Can't get enough? Then simply tap the cartoon confetti cone on the screen to get another blast.
People in Pacific island nations of Tonga, Samoa, and Kiribati will be first to welcome 2021, and see the back of 2020. More populous nations New Zealand, Australia, Japan, and South Korea follow next.
The last place on Earth to say goodbye to 2020 will be Bakers Island in central Pacific.
The final Google Doodle of 2020 strikes a slightly different mood to its 2019 counterpart.
That year the graphic featured weather animation Froggy, who Google said was there "to help ring in 2020!" A jovial quote punned: "The 2020s are sure to be ribbitting!"
In a year blighted by a new coronavirus, Google Doodle has begun the decade by paying homage to many workers on the frontline of the coronavirus pandemic.
Among them were, scientists and health care professionals, medical professionals, sanitation workers and teachers.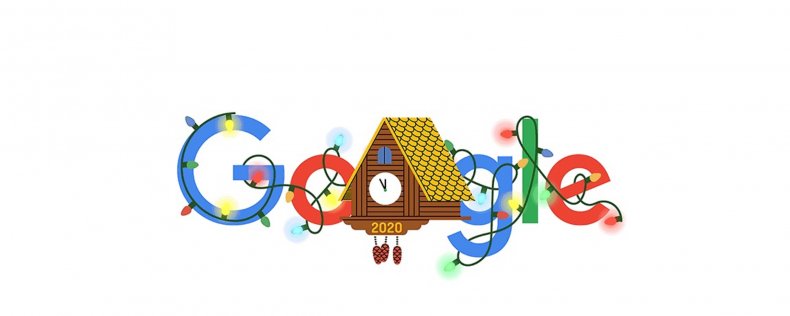 Each doodle is designed and created by a group of illustrators, known as doodlers and engineers. But in September, Texan fifth-grader Sharon Sara's design took center stage.
Her "Together As One" image was used as a daily doodle after she beat tens of thousands of other students to the year's "Doodle for Google" title.
Sharon drew a group of six friends holding hands in response to the prompt: "I show kindness by..."
She explained the drawing by saying: "I show kindness by sticking together with my friends in tough times. I drew people coming together and not thinking about the outside but being together because of their personality."