Today's Google Doodle celebrates Pedro Linares López, the Mexican artist known for his colorful papier-mâché animal sculptures known as alebrijes. June 29, 2021, would have been the late artist's 115th birthday.
A pioneer of Mexican folk art, Linares was admired by his contemporaries such as the Mexican painters Frida Kahlo and Diego Rivera.
Emily Barrera, the artist who created today's Doodle illustration, said: "Pedro Linares gave alebrijes their name and inspired many others around the country to start creating their own alebrijes.
"Linares' alebrijes were made by mixing multiple animal body parts, such as using a snake body, rooster's beak, bat wings, lizard legs, bull horns, etc., having as a result a unique creature," she added.
Born in Mexico City in 1906, Linares honed his craft under the training of his father, who was a papier-mâché sculptor. By the age of 12, Linares was adept at creating various forms of papier-mâché items such as the piñatas and traditional skeletal figures (known as calaveras), which are typically seen during the annual Day of the Dead celebrations.
According to Linares, the inspiration for creating alebrijes came to him in a dream in 1945 while he was ill.
North Carolina's Museum of Anthropology at Wake Forest University explains: "He became very ill and while in an unconscious state Linares dreamed of these incredible, scary creatures.
"The creatures began chanting a single nonsense word: alebrije... alebrije... alebrije! He became afraid and couldn't tell if they were warning or threatening him. However, it was enough to startle him awake in time for his fever to subside," the museum notes.
His striking creations did not see much success initially, as they were deemed too scary looking that no one would buy them, according to the museum.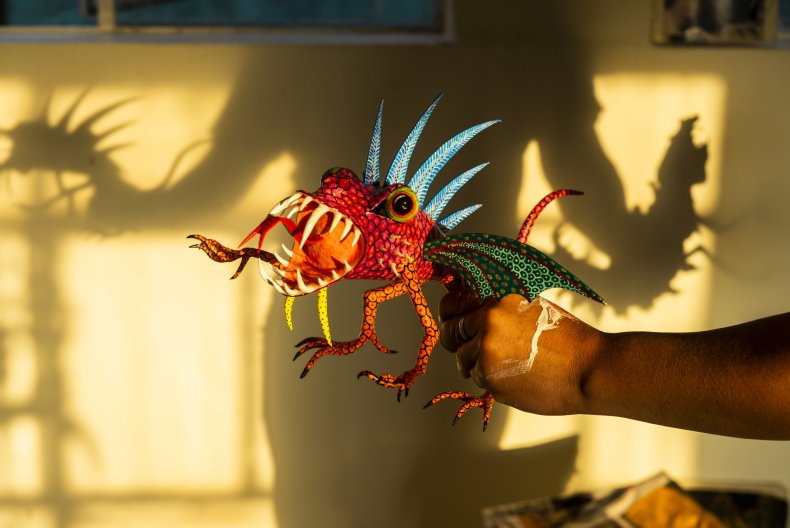 Over time his sculptures were refined to feature colorful combinations and patterns, as portrayed in today's Google Doodle, and "caught the attention of a prominent gallery owner who marketed and sold his colorful sculptures," the museum says.
Linares garnered international attention following the release of a documentary in 1975 about his life and work by filmmaker Judith Bronowski.
In 1990, Linares was awarded the first Mexican National Prize in Arts and Sciences in the category of Popular Art and Traditions. He died in 1992.
Barrera told Google: "I find his work very interesting and eerie, and I wanted to honor him by creating an alebrije by taking inspiration from his most iconic pieces. His alebrijes tend to display open mouths, showing the creature's pointy teeth and the tongue pointing outward, they usually have wings, claws or hooves and have very detailed patterns and colors."