Arantza Peña Popo, Winner of the Doodle for Google Competition, Honors Dream of Being Able to Help Her Mom
Georgia senior and valedictorian of her high school, Arantza Peña Popo, beat out more than 200,000 submissions to be declared the winner of Google's annual Doodle for Google competition.
Jimmy Fallon announced Popo was the winner of the competition on Monday night during his show, The Tonight Show with Jimmy Fallon. After the clock struck midnight on the East Coast, when Google users opened the homepage, they were greeted by the Georgia senior's design.
Popo's Doodle, titled, "Once you get it, give it back," shows her in the future standing behind her mother. The two are pictured in front of a framed photo of her mother in her younger years holding Popo when she was a baby.
Popo described her mother as a person who "lights up any room she is in," and the drawing depicts her dream of one day being able to help her mom do everything she hasn't been able to do yet, such as traveling the world.
The framed photo Popo drew was based on a real picture that hangs in her house of her mother holding her sister.
"I think it was just a chance to thank her for all she'd done," Popo told Google about the Doodle. "Sometimes I think of the cost of raising a child all the way to adulthood and since I know I can't instantly pay my mom back hundreds of thousands of dollars, I can least pay her back in a sincere doodle."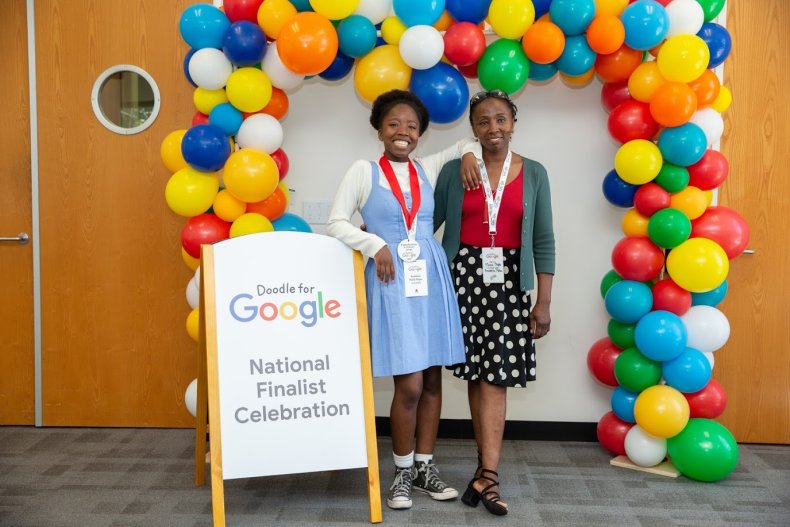 This is the 11th year of the Doodle for Google competition, each with a different theme. This year's theme was "When I grow up, I hope..." and Google credited displaying the winning doodle on the homepage with being one of the company's favorite moments of the year.
Being declared the winner, Popo said, was "refreshing," because she was suffering from a massive art block during her senior year of high school.
"I think I will have more confidence in my artwork after this experience," Popo said. "I honestly saw it as a little sketch, but it surprised me that it seemed to have impacted people a lot more than I thought. I guess I will take my stuff more seriously."
Popo first started drawing when she was 3 years old with Crayola crayons and markers on copy paper. Her attraction to drawing comes from being able to create something that "didn't exist minutes before." In a world with "so many rules and restrictions," she noted that being an artist gives a person freedom and in the future she hopes to publish alternative graphic novels and comics.
For the immediate future, though, Popo will be attending college at the University of Southern California in the fall. As the winner of Google's competition, she will receive a $30,000 college scholarship, a $50,000 technology package for her school and a trip to Google's headquarters in California.