Google Glass Gives Children With Autism New Hope, Helps Them See Emotions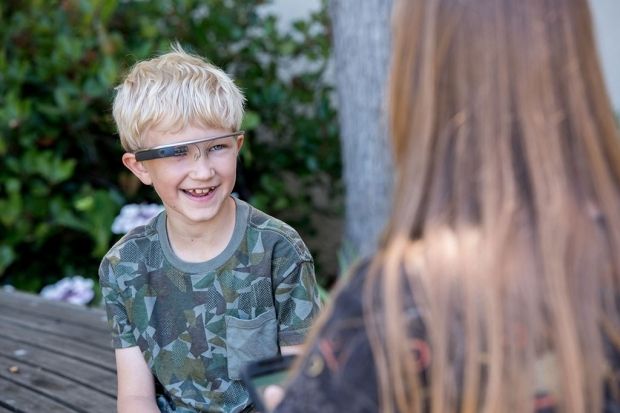 Alex is on the autism spectrum. He had barely looked up at his mother, Donji Cullenbine, for the first seven years of his life. And then, one day, he started to flutter his eyes to meet her gaze.
"Is this real?" she remembers asking herself. "Then he did it again."
For the first time in his life, Alex, 9, could hold eye contact for more than a few moments. Cullenbine attributed the change she saw in her son to an unlikely therapy for autism: Google Glass.
Alex had started wearing the device several days a week January 2017 as a participant in a Stanford pilot study, published on Thursday. The researchers wanted to test a hypothesis that these glasses, used with a smartphone application, could help children with autism identify emotions and hit pivotal social milestones that they might otherwise miss, the senior author of the study, Dennis Wall, told Newsweek.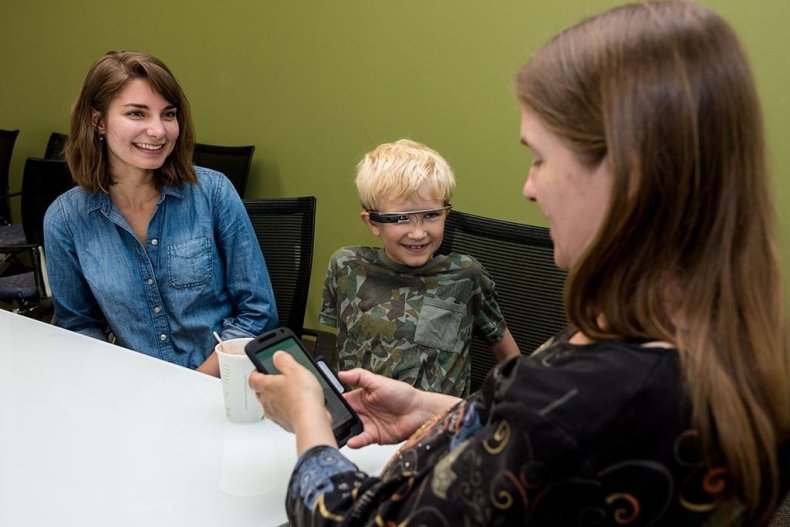 A camera mounted on the glasses records the child's field of vision, and a small screen and a speaker give the child visual and audio cues. As he or she interacts with others, the application identifies and names their emotions through the Google Glass speaker or screen. In just one to three months of continual use, families reported that children with autism made more eye contact and connected better to others.
During the study, called Superpower Glass, children on the autism spectrum took the glasses home for six weeks. This followed an earlier experiment by the same team that observed children in a laboratory. So far, the scientists have observed more than 130 children.
The researchers found that the average child showed a 7-point change in the Social Responsiveness Scale score. For some, that effectively meant they were no longer considered autistic, by diagnostic standards, said Wall, an associate professor of pediatrics and of biomedical data science at Stanford.
"Technologies, such as Google Glass, could revolutionize our treatments for autism. Treatments that can be used in real-world settings and don't require a trained and expensive therapist are especially appealing," Geraldine Dawson, director of the Duke Center for Autism and Brain Development, told Newsweek.
"By providing a simple cue, such as an emoji, people with autism can learn to notice and interpret the social world around them," said Dawson, who was not involved in the research.
The smartphone application comes with three game modes. One simply scans the child's view for faces. When a face is identified, the glasses alert the child, displaying an emoji. Another mode is a guessing game. A parent holds a tablet and selects an emotion to mimic. The child guesses the emotion.
"Fear and surprise were easy for Alex to mistake, so it encouraged us adults to deconstruct what these expressions really looked like in order to describe them to Alex," Cullenbine said.
Many children with autism around America simply do not have access to therapy. Some are stuck on waiting lists indefinitely and miss important moments in brain development, Wall said.
"Kids are extremely responsive to therapy, but the heartbreaking reality is that they are not all getting it," Wall said.
Autism is one of the fastest growing developmental disorders in the U.S. As many as one child in 59 could be diagnosed with it, according to data from the Centers for Disease Control.
Since Google Glass is mobile and portable, families can use the device at home on their own terms. The Stanford team hopes that this technology will one day be available to families, paid for by insurance companies and easy to access. "We wanted to put the power in the hands of the families," Wall said.
Still, he cautioned that there is more work to do to confirm these positive results. The study tested the feasibility of using Google Glass with children, but it lacked a control arm. The researchers are currently concluding a control trial, which will likely be published later this year.
But feedback from parents is already clear. They reported that their children are focusing more in school, are communicating more effectively and are engaging in relationships in a more meaningful way. That is a big leap for many families, like the Cullenbines.
Alex's mother noticed something was wrong when he wasn't making eye contact at 18 months old. When he got diagnosed at age 5, she immediately began researching ways to help him online. She brought him to therapy, but nothing seemed to work until they started using the glasses.
"It's been amazing. It's the solution I was looking for," she said.
Now Alex locks eyes with his loved ones for several moments. He can tell when his mother looks happy or sad. One day, as he sat on the floor in their home playing with Legos, he looked up at Cullenbine, and asked, "Mommy, why aren't you happy? You aren't smiling."
"I was so happy. I knew he was on a completely different trajectory for the rest of his life," she said. "He has the tools he needs now, he is going to be OK."