Google Honors Ignacio Anaya García, the Inventor of Nachos, with Doodle on His 124th birthday
To commemorate the birth of nachos, Google celebrated its inventor with a special Doodle on its homepage.
When people hear the word "nachos" in today's world, they picture a plate piled high with tortilla chips, cheese and an array of toppings ranging from beans and chicken to ahi tuna. However, decades earlier, the word "nacho" referred to the food's inventor and on Thursday, Google paid homage to the culinary creator.
Those who opened their web browser on Thursday and typed in "Google" found the homepage transformed into an ode to Ignacio Anaya Garcia, a man whose nickname was "Nacho." The moving graphic showed a man constructing a plate of tortilla chips, topping them with cheese and what appears to be a jalapeno pepper and then with a flick of the wrist, melting them all together.
While we may have come to know and love nachos for their melted cheesy goodness, 124 years ago nachos weren't even an item listed on a happy hour menu. Working as a Maître d' at Club Victoria in Piedras Negras, Mexico, Garcia discovered a group of American soldiers' wives in desperate need of a snack.
Without a chef, Garcia improvised, creating Nachos Especiales. The dish found its way into an American cookbook in 1949. The snack was later added to the Club Victoria menu and, in 1960, Garcia opened his own restaurant, aptly named, "El Nacho."
"It's just a snack to keep my customers happy and well-fed," Garcia said, according to Google. "It's like any other border dish."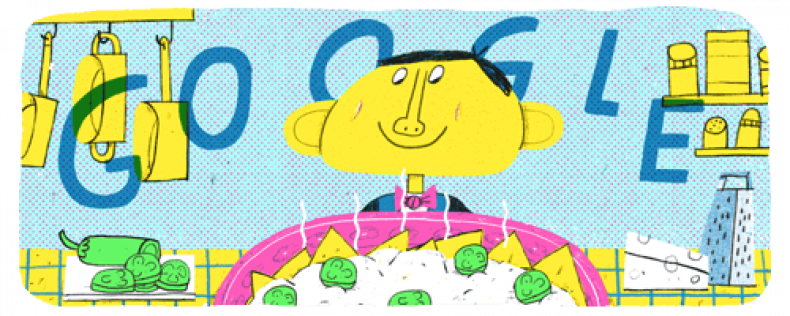 Although Garcia never trademarked the name, he's honored annually and this year's Google Doodle was created by Alfonso de Anda from Mexico City.
"There isn't a whole lot of information on Ignacio, so I shifted my focus onto the dish itself. My approach was very straightforward; imagining Ignacio making his first plate of nachos while implicitly communicating a sense of fun," de Anda told Google.
Making a Doodle for Google was on the artist's bucket list and he called the topic meaningful at a "gut level"—literally. After seeing the Doodle, he said he hoped that people get an instant craving for the snack and that they drop whatever they're doing to satisfy their craving.
In the modern world, nachos have moved beyond a simple snack of melted cheese over tortilla chips and have infiltrated international cuisine. From Mexican to Japanese cuisines, restaurants have adapted nachos to fit their menus.