Google Keeps Up With the Joneses, Releases New Home Speaker, Android Phone and Messaging Apps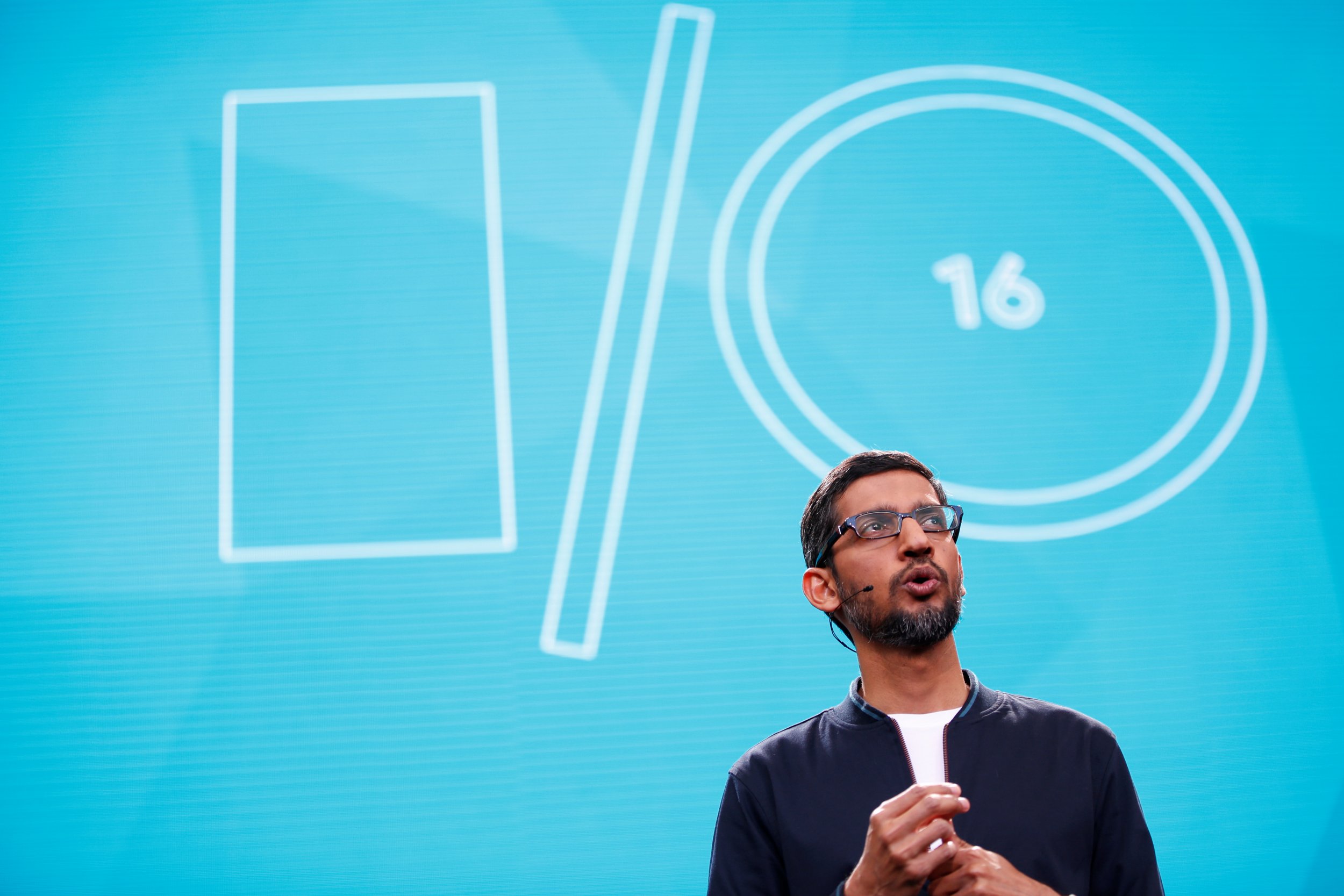 Google played defense in this year's I/O developer conference, and its biggest announcements seemed like reactions to the progress its competitors at Amazon, Facebook and Apple made in the past year.
In the Shoreline Amphitheatre in Mountain View, California, an outdoor concert hall across the street from Google's campus, the company announced a voice-activated home speaker and a messaging app featuring artificial intelligence technology, as well as a new Android phone. In a two-hour-long keynote speech, CEO Sundar Pinchai addressed Google employees, journalists and a massive web audience on a sunny Wednesday morning. Pinchai focused on two big themes, which are also buzzwords for the rest of the industry: machine learning and encryption.
Considered the industry front-runner in machine learning technologies, in which programs organically learn without explicit programming from humans, Google announced a new virtual assistant called, blandly, Google Assistant.
Pinchai said Google Assistant stands out from its predecessors such as Google Now and its competitors such as Apple's Siri or Microsoft's Cortana. Unlike Siri and Cortana, Google Assistant can understand follow-up questions. Pinchai said this will allow users to ask about the soccer player Cristiano Ronaldo and then continue with "What are his best moves?"—without explicitly restating the subject in question.
"I believe we are at a seminal moment," said Pinchai. "For follow-up queries, we are an order of magnitude ahead of everyone else."
Google Assistant's technology is built into a home speaker and receiver called Google Home and its newest messaging app, called Allo. Compared with Amazon Echo, Google Home is smaller and more customizable, with the bottom base shell available in different colors and materials. Through Chromecast, a dongle-like digital media player, Google Home supports multiroom playback and connects to the television to play music, movies or YouTube videos. Google made it clear it was playing catch-up. "Credit to the team at Amazon for creating a lot of excitement in this space," said head of Google Home Mario Queiroz.
Allo is a text messaging app designed clearly with the idea of challenging Facebook Messenger and WhatsApp. While there are some mildly interesting features—like controlling the font size to emote excitement or shyness—the main appeal of Allo is its Google Assistant compatibility as a chatbot, a project that Facebook and Microsoft are both aggressively exploring. With Allo, users will be able to ask Google questions and have Google suggest replies to friends.
Allo comes with a video calling complement called Duo. In light of the Apple-FBI feud that prompted WhatsApp and other messaging apps to adopt end-to-end encryption, Allo provides opt-in encryption, which is available only within an "incognito" mode that maximizes privacy. Duo, on the other hand, comes with end-to-end encryption for video streams.
Google also announced a new Android model called N (Google doesn't love the name and opened a contest to come up with something more palatable). N goes big on encryption and security, offering file-based encryption, the ability to automatically update the phone to a new version as the device is running and patches for existing security holes.
Google Home, Allo (and Duo) and Android N are not yet available. Google Home and Android N are coming out later this year at an undisclosed price; Allo and Duo are coming to both iOS and Android "later this summer," according to Google's engineering director, Erik Kay.