Google Maps Mario Kart: How to Get Nintendo Navigation
Load up your blue shells and banana peels because Mario Kart has come to Google Maps.
Starting March 9 and for the next week, Mario and his signature red racer are replacing the standard blue arrow in the directions function of the mobile app.
Once Google Maps has been updated through Google Play or the App Store and a destination is entered, a question block will appear at the bottom of the screen near the start button. When it's clicked, a confirmation screen pops up to engage Mario as your own personal navigator—choose "Let's-a-go" to get moving.
Then the plumber-turned-hero follows along as you move, marking your destination along the map as you close in.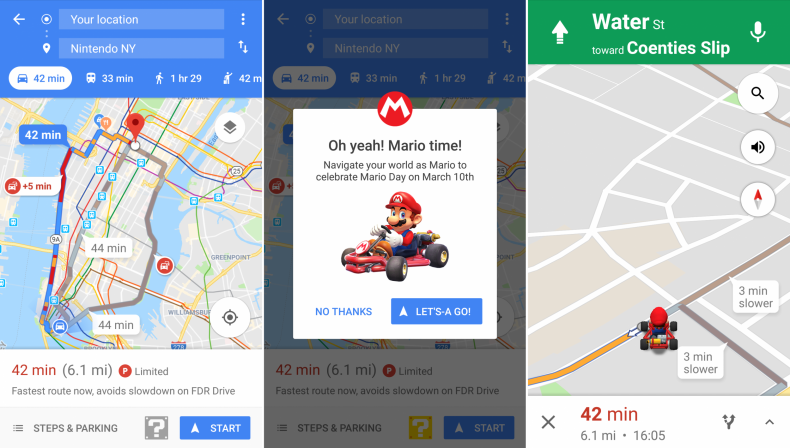 The Mario Kart-Google Maps crossover is meant to celebrate Mario Day, which is March 10 (you know, Mar10, wink wink).
Google has invited people to share screenshots of their Kart excursions using the hashtag #MarioMaps on Twitter and Instagram.
"But remember, make sure to avoid sharing personal details like your home or work address (seriously, think before you post)," Google warned in a blog post. "He'll be a constant companion wherever you're driving this week—to work, to school, or the spaghetti house. Just remember to practice safe driving on the road—we don't encourage throwing bananas or red shells at other drivers in real life."
Mario Kart won hearts and minds when the game was first released on the Super NES about 25 years ago, but the team-up with Google Maps comes as Nintendo is working on a mobile version of the game called Mario Kart Tour, which will be the first one that can be played on a smartphone.
The Mario Kart mode in Google Maps will be available until March 16.