Google Searches for Critical Race Theory Surged Across Virginia After Youngkin's Win
Republican Glenn Youngkin's victory in Virginia's gubernatorial race last week drove a surge of Google searches across the state for topics related to critical race theory (CRT), signaling just how much the divisive academic construct resonated with voters during the election.
New data released by Google Trends and Axios on Tuesday revealed that searches for CRT dominated in every Virginia Congressional district from November 2, the date of the election, to November 4. During that time period, searches for CRT were either "high" or "very high" in each of the state's 11 districts.
The trend was even found in vulnerable Democratic areas, including Representative Abigail Spanberger's district, where CRT search numbers were the largest in the state last week, Axios reported. Spanberger's seat remains one of the Republican Party's main targets in their mission to take back the House of Representatives in 2022.
Overall, the latest data trends could be an indication of the sort of issues that voters – both Republican and Democratic – are keeping an eye on ahead of next year's crucial midterm elections.
CRT is an academic framework developed during the 1970s and 1980s that centers on the idea that racism persists in U.S. institutions, and that systems function to maintain white dominance in society.
CRT is typically taught at a graduate level, and rarely, if ever taught in elementary or high schools. But in the course of the last year, the once-obscure theory has largely become weaponized, creating a national divide among schools, teachers, parents and academics.
Ahead of Virginia's gubernatorial race, Youngkin worked to channel anxieties over CRT in order to bolster support among suburban voters. The Republican governor-elect repeatedly drove the narrative that CRT works to divide students and treat white people as inherently racist – an argument that has gained traction across much of the GOP.
"There's no place for critical race theory in our school system, and [that's] why, on day one, I'm going to ban it," Youngkin told Fox News before the election, adding that the theory "teaches children to see everything through a lens of race and then to divide them into buckets and have children [who] are called privileged and others [who] are victims."
Democratic candidate Terry McAuliffe, who served as Virginia's governor from 2014 to 2018, criticized Youngkin on the subject, noting that he was focused on CRT even though it hadn't been implemented in Virginia's schools, calling it a "big dog whistle" that "divides people."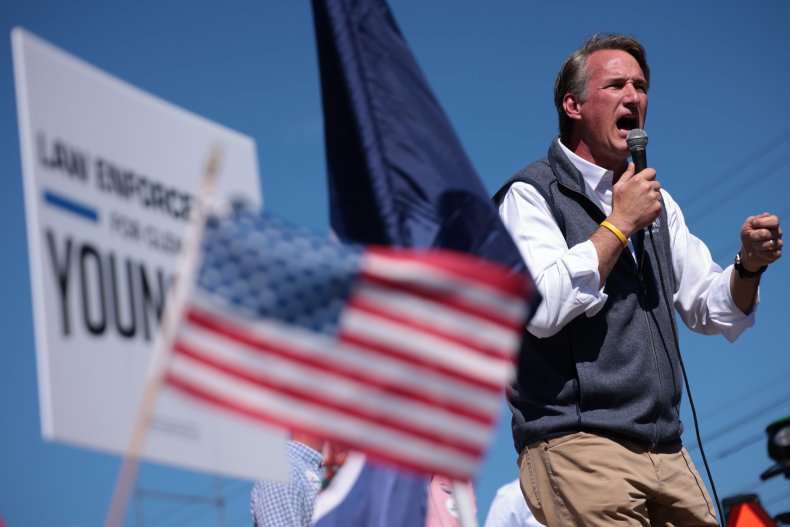 In the weeks that followed, the gubernatorial race narrowed and many analysts believed that largely happened because of CRT.
"Wherever you look, it looks like these college-educated, suburban white voters, who Democrats thought were breaking their way, they rallied back around 'Critical Race Theory,'" Democratic pollster Cornell Belcher said on MSNBC last week.
Paul Quirk, a political scientist at the University of British Columbia in Canada, also told Newsweek last week that Youngkin's victory highlights how Republicans were winning the CRT "wars."
"The main lesson from the Virginia governor's race is that Republicans are winning the Critical Race Theory wars," Quirk said. "The Youngkin campaign focused largely on claims about what the schools are teaching children about American history, the prevalence of racism today, and the moral character of white people."
"Democrats may have just as much trouble separating themselves from 'woke' progressivism as Republicans are having separating themselves from Trump and his stolen-election conspiracy theories," Quirk added.
After Youngkin's victory, members of the GOP have indicated that the party would mobilize to continue fighting against CRT in upcoming elections – signaling that the issue is far from over.
"I think Republicans can, will continue to try to divide us and don't have an answer for real questions about education," Marshall Cohen, the Democratic Governors Association's political director, said last week.