Stadia Store on Google Chrome: How to Buy Games, Which Games Are Available and When Will They Be Released?
Stadia, Google's new gaming service, now lets players buy games on the Google Chrome website. When Stadia was first launched, players could only buy games through an app on Android phones.
Now, to purchase a game, gamers should visit the online Stadia store on a Google Chrome browser. Players can see previews, purchase games and pay through the Google store on a browser.
The gaming platform lets users play games without a console, and works on laptops, tablets or phones using WiFi, as well as via a TV. Stadia has a 60FPS frame rate, a 4K resolution, HDR support, and 5.1 surround sound. To play in 4K resolution, gamers' connection must be at least 35Mbps.
Stadia Premiere Edition currently sells for $129 including Chromecast and three months of Stadia Pro. The premium Stadia Pro subsequently costs $10 per month and comes with free games released regularly, starting with Destiny 2: The Collection.
Additional controllers, which come in Clearly White, Just Black, and Wasabi, cost $69 each and allow users to play locally with friends. Stadia controllers come with a button for instant capture, saving and sharing gameplay in up to 4k resolution, a Google Assistant button, and a built-in microphone.
Google will launch Stadia Base, a free service that works similarly to Stadia Pro, but doesn't allow users to stream in high resolution, access free games or use exclusive discounts.
Stadia launched on November 19 and is available internationally, including across the U.S., Canada, and the U.K.
Google said in a statement: "The barriers between you and the games you love are coming down: it's just your games and your screens with nothing but electric air in between."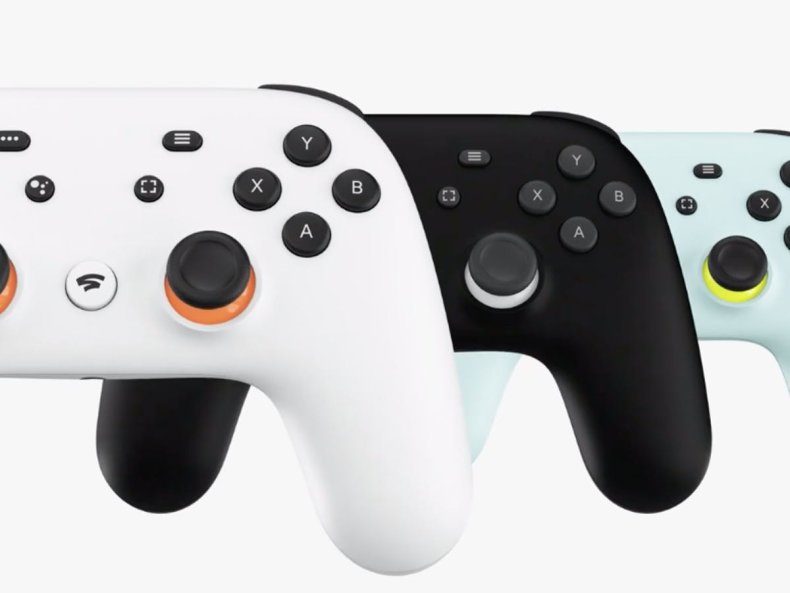 Games available to play on Google Stadia:
Assassin's Creed Odyssey
Attack on Titan: Final Battle 2
Borderlands 3
Darksiders Genesis
Destiny 2: The Collection (available in Stadia Pro)
Dragon Ball Xenoverse
Farming Simulator 2019
Final Fantasy XV
Football Manager 2020
Grid 2019
Gylt
Just Dance 2020
Kine
Metro Exodus
Mortal Kombat 11
NBA 2K20
Rage 2
Rise of the Tomb Raider
Red Dead Redemption 2
Samurai Shodown (available in Stadia Pro)
Shadow of the Tomb Raider
Thumper
Tomb Raider 2013
Tom Clancy's Ghost Recon Breakpoint
Trials Rising
Wolfenstein: Youngblood
Games to be released on Google Stadia:
Doom Eternal
Cyberpunk 2077
Gods and Monsters, Watch Dogs Legion
Doom 2016, The Elder Scrolls Online
Get Packed (Stadia exclusive)
Windjammers 2
Baldur's Gate 3
Power Rangers: Battle for the Grid
Orcs Must Die 3!
Marvel's Avengers
Superhot Mind Control Delete
Destroy All Humans
Tom Clancy's The Division 2, The Crew 2