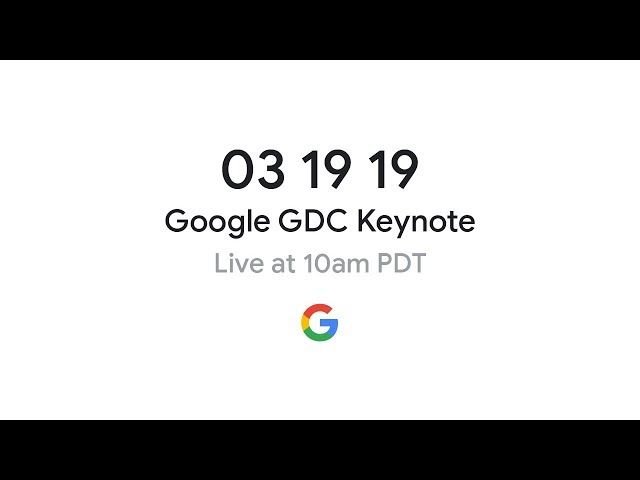 Google just announced its new Stadia game streaming service during the GDC 2019 keynote. Here's everything we learned about the new game streaming service.
On Tuesday, Google unveiled its new gaming service, Stadia, which is aimed at changing the way we do video games. While rumors suggested that Google's GDC announcement would introduce a brand new gaming console, instead it showcased a new way for developers to create content that reaches an even larger gamer base than ever before. Below we've pulled together a few of the key features of Stadia that Google announced during its GDC 2019 Keynote.
YouTube "Play Now" Feature
Stadia incorporates a new "Play Now" button for YouTube videos that allows gamers to jump directly into a Stadia-based game from the video link.
Game Play Across Every Platform
Stadia will allow players to access games on any device via the Chrome browser. Google's data center removes the need for a powerful PC or console because all the power is in the data center. Players will experience 1080p, 60 FPS regardless of device.
"Instant access is magical," says Phil Harrison.
Chromecast Ultra HDMI Streamer - TV
Games can stream to TV via a Chromecast streamer. No console needed.
"Welcoming any and all players is fundamental with Stadia," said Harrison.
All Controllers Supported
Any and all existing controllers will work with Stadia.
Stadia Controller
Google is releasing its own wi-fi based Stadia Controller. It has two special features:
Capture Button - for sharing content to self, friends, YouTube and more. Video captures on Stadia are of the same 4K, 60fps quality as the stream, which makes for stellar YouTube uploads.
Google Assistant - allows immediate access to Google microphone for help from AI assistant
Stadia GPU
Google partnered with AMD to create an incredibly powerful GPU for Stadia's data centers. The GPU outperforms both PS4 Pro and Xbox One (pictured below).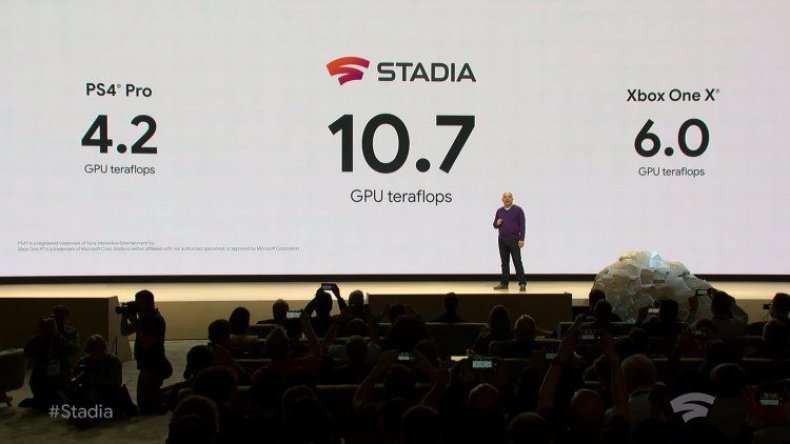 Cross-Platform Play
Stadia will support cross-platform play. The power of Stadia will allow developers to expand their games beyond what is currently possible. Stadia's power will allow for massive numbers of players inside online games like Fortnite, allowing 100-person games to turn into 1,000-player battles.
Multi-Player Experience
Stadia will make it easier for developers to create multi-player experiences. Showcasing multiple split screens and co-op gaming ability, it seems like there's nothing developers can't do with Stadia.
Crowd Play and State Share
Crowd Play and State Share are two additional features of Google Stadia. With Crowd Play, players will be able to instantly join a multiplayer game that is live streaming on YouTube. This means they can jump into a game with their favorite streamers like Ninja or Shroud. With State Share, streamers can share playable snippets of games through a link. This brings a whole new level of interactivity and engagement for viewers.
Stadia Games
So far, only two games have been confirmed for Google Stadia's release:
Assassin's Creed Odyssey - Assassin's Creed Odyssey served as a test case for Project Stream and has already been remotely playable via a web browser. Google used Assassin's Creed Odyssey during the presentation to show how players can easily move their gaming experience from device to device without lag or other issues.
Doom Eternal: Doom Eternal is a shooter game that suffers incredibly if lag comes into play. Our guess is that Google announced this one to assure gamers of Stadia's power.
What do you think of Google Stadia? Share your thoughts in the comments below.