Google has helped develop a new tool that enables anyone with an internet connection to explore World Heritage sites digitally, and understand how climate change is impacting those sites right now.
The project has been dubbed Heritage on the Edge and is featured on the company's Arts & Culture platform.
Five locations listed by UNESCO were chosen; the existence of each is being threatened by climate change.
These include: the giant heads on Rapa Nui (better known as Easter Island), the mosque city of Bagerhat in Bangladesh, the abandoned metropolis of Chan Chan in Peru, the historical town of Kilwa Kisiwani in Tanzania and the medieval fortress Edinburgh Castle in Scotland.
The effects of climate change in each case vary: The Easter Island heads were built in between the 10th and 16th centuries but could one-day fall into the ocean as sea levels rise and storms undercut the cliffs they stand on. Meanwhile, flooding and rainwater could ruin one of Scotland's most historically important tourist attractions, the Edinburgh Castle. Salt water flooding and erosion threaten the Bagerhat mosque, while the combination of rising sea levels, mangrove depletion and ocean acidification pose an increasing risk to Kilwa Kisiwani. Torrential rain and rising groundwater levels could affect the integrity of buildings in Chan Chan.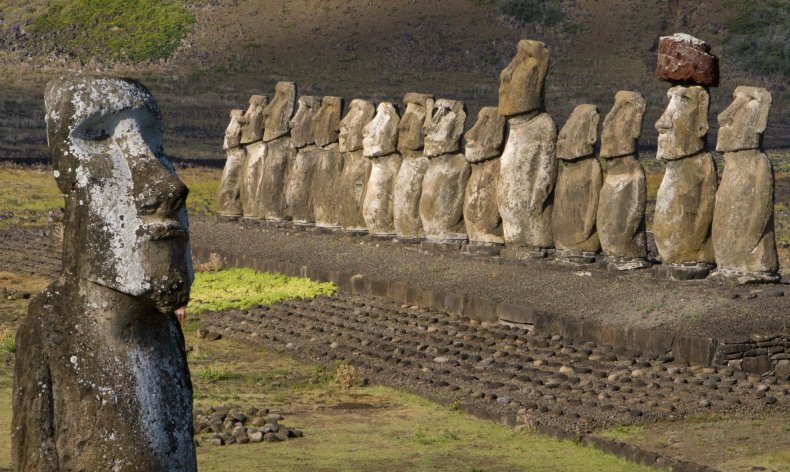 The portal presents over 50 online exhibits, as well as 3D models, street view tours and interviews with local experts at the click of a button. Users can find out how the people of Rapa Nui are using technology to protect their culture as well as the economic cost of saving Bagerhat and the risk of rainwater.
"Above all, the project is a call to action," Toshiyuki Kono, president of the International Council on Monuments and Sites, said in a blog post, published Wednesday.
The International Council on Monuments and Sites is a 10,000-member network that includes architects, archaeologists, geographers, planners and anthropologists
"The effects of climate change on our cultural heritage mirror wider impacts on our planet, and require a strong and meaningful response," he added.
The online project shows how structures built to withstand a specific environment and a specific climate have been able to survive for so many years, but are now existentially threatened by climate change.
Heritage on the Edge was built on the belief that stronger data results in better protection, while documenting monuments as they have done here can serve as a baseline to understand and quantify future change.
The site explains how 3D documentation is fast becoming an important tool in the conservationist arsenal.
"Heritage on the Edge collects stories of loss, but also of hope and resilience," said Kono.
"They remind us that all our cultural heritage, including these iconic World Heritage Sites, are more than just tourist destinations. They are places of great national, spiritual and cultural significance."
The initiative was led by the International Council on Monuments and Sites and has been completed in collaboration with Google and CyArk.