Google is Tracking You Online, Here's How to See What it Knows
By now, it should be obvious that technology firms are hungry for data. Most thrive on personal information and remain free-to-use by selling chunks of details ingested about users' daily lives to marketers. To many people, Google is the center of the internet. And Google has a major appetite.
This week, the company announced that it would now give users more transparency and control over how ad networks access personal data. Product manager Philippe de Lurand Pierre-Paul wrote in a blog post that the firm had updated its "Ad Settings" and "Why this Ad?" features to show what information Google has gleaned about users—a glimpse into how they are being commodified.
If ad personalization is switched on, the new Ad Settings will show you how marketing is tailored. It knows your age range, if you like watching action films, if you play computer games or like doing taxes online. It is aware of your gender, if you search for home recipes, or prefer fast food. Google links to a separate website, AdChoices, which shows the other ad networks that are tracking you online.
Using the new tool, Google now lets its users turn off ads based on topics. Pierre-Paul wrote: "Turning off a factor means you'll no longer receive tailored ads related to it across our services, and on websites and apps that partner with us to show ads, as long as you're signed in to your Google Account." It's a move that comes in the wake of the Cambridge Analytica privacy debacle involving Facebook.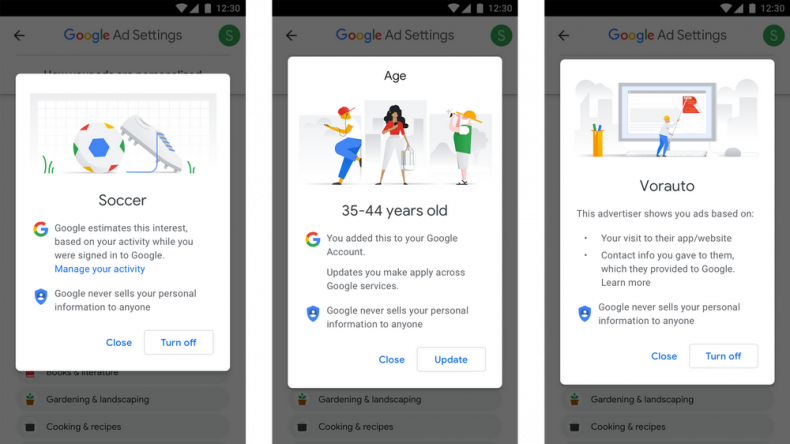 How Google advertising works
But Google, one offshoot of parent company Alphabet, is eager to distance itself from rivals. It stresses that it does not sell personal information—such as names and email addresses—but instead trades on data taken from searches and internet use. What you look for on YouTube, for example.
But that's not to say it's data-shy. Indeed, it admits storing everything you look for using Google, what websites you visit, videos you watch, your location, device information and IP address. The firm does this, it has said, to tailor its services, enhance its technology and smooth out web searching. Luckily, the new Ad Settings webpage lays out how ads are targeted in more detail than ever before.
"Much of our business is based on showing ads, both on Google services and on websites and mobile apps that partner with us," it says online, adding: "Ads help keep our services free for everyone."
Earlier this year, Google executive Arjun Narayan said that his firm had a "slightly different business compared to Facebook" when asked about data privacy at a Singapore conference covered by AdNews. He said at the time: "We respect user consent and user privacy and we also give users control over what they want to do with their data. All of that makes me believe we are in a better place."
Google, a much broader company that its many rivals, offers a way for users to download their account data. Additionally, the My Activity hub stores everything ever searched for, and from what device. While many internet users are becoming aware that their data is being sold, some may still be alarmed to see how much personal information companies like Google, Facebook and Twitter are storing about them.