Google Translate Suggested 'Blow Up The Car' When Arabic Word 'Plan' Entered
Google removed from its translation service a phrase Muslim advocates said reinforced stereotypes after being contacted Wednesday by Newsweek. The phrase appeared on Google Translate when users attempted to decipher an Arabic word for the verb "plan."
Before the fix, Google Translate did not predict users entering the word were attempting to translate the phrase "planning to plant flowers" or "planning to visit the park." Instead, it made only one suggestion as to what phrase the user was entering: "Planning to blow up the car."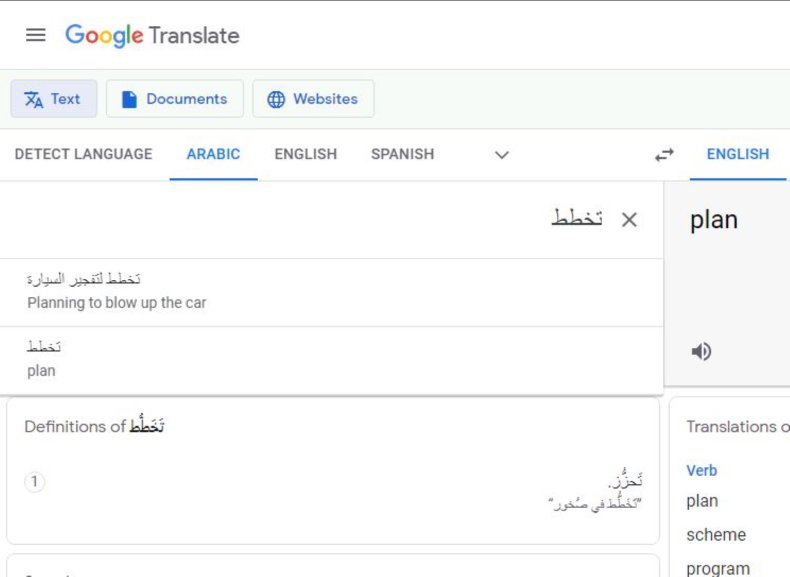 Learning of the suggested phrase from Newsweek, the Council on American-Islamic Relations, the nation's largest Muslim civil rights and advocacy organization, called on Google to remove it Wednesday, saying it reinforces negative stereotypes.
"This is a trusted source of information casually reinforcing stereotypes and in this case it's the particular stereotype that Arabs and Muslims are somehow more inclined toward violence than other communities, which is patently false," CAIR research and advocacy director Corey Saylor told Newsweek in an interview.
In a statement, Google later apologized for what it described as an error and said it was working to fix the problem. It had been removed by Thursday.
"Google Translate is an automatic translator, using patterns from millions of existing translations as well as user queries to help decide on the best translation and autocomplete suggestions for our users," a statement from the company said. "Unfortunately, some of those patterns can lead to unintentional autocomplete suggestions. We're very sorry for this offensive error, and are actively working on a fix which should be implemented shortly."
The phrase appeared when users set Google Translate to convert Arabic to English and enter the word تخطط, a verb indicating that someone or some group plans to do something.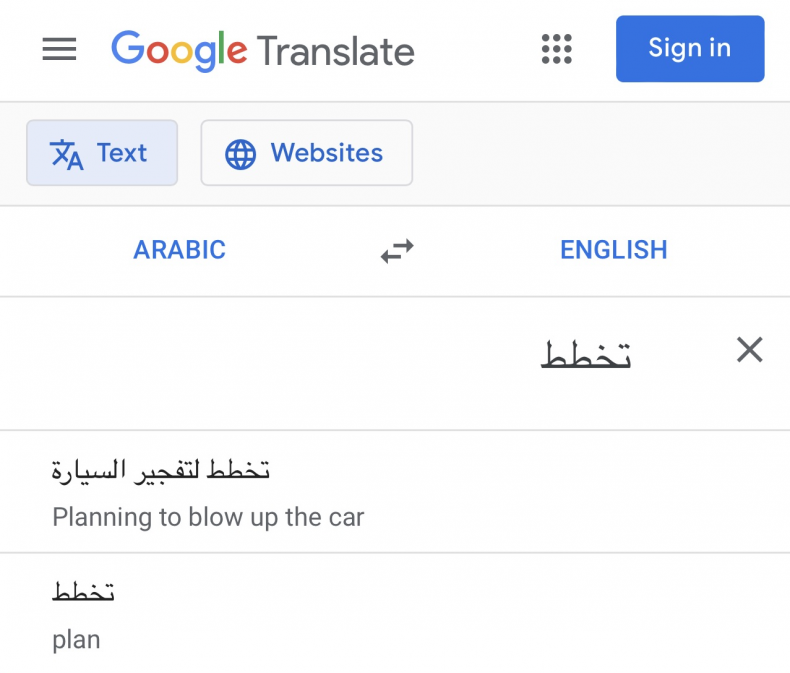 Google's autocomplete, which tries to fill out a user's search terms as they type, has in the past received criticism for offensive results, some of which have resulted in defamation lawsuits outside the U.S.
The company settled in 2012 a lawsuit brought by French human rights organizations alleging autocomplete's adding of the word "juif" or "Jewish" to the names of many public figures, including those who were not Jewish, was reinforcing stereotypes.
In 2015, Google changed its autocomplete policy and settled a defamation lawsuit brought by German first lady Bettina Wulff, whose name had been appearing next to words like "prostitute" and "escort" in autocomplete suggestions.
Clay Chiarelott, 37, who converted to Islam in 2009, discovered the unusual Google Translate suggestion Monday while studying Arabic and then posted about it on his Facebook page. He said he initially did not believe what he was seeing and looked for other suggestions, but then became alarmed because it made no sense why the software would make that suggestion.
"No matter any scenario I could think of, it was still an alarming thought about how that could be there," he said. "It made me think, what other words might get translated to inappropriate sentences?"