Why Are Google Employees Walking Out Today? Protests Stem From Alleged Sexual Misconduct Practices at the Company
The tech world saw one of the largest walkouts in its history Thursday when Google employees worldwide left their places of work within the company. The employees were walking out after an investigation from The New York Times revealed the company's practices when it comes to sexual misconduct in the workplace.
The investigation revealed that a top Google executive, Andy Rubin, who left the company in 2014, allegedly coerced a Google employee into performing sex acts on him in 2013. The investigation from the Times also revealed that Google gave Rubin a severance package that amounted to $90 million over four years. Rubin has denied the allegations detailed in the investigation.
Employees around the globe were walking out at 11:10 a.m. local time where they worked Thursday in protest over the policies around the way sexual misconduct is handled at the company, the severance and a lack of transparency.
The walkouts happened across the globe in places like India, Singapore and Ireland and were just starting in New York City on Thursday morning.
Newsweek subscription offers >
The protest was supported by Google's CEO Sundar Pichai who said managers would be made "aware of the activities planned for Thursday," and that employees taking part would have the support they needed, Axios reported.
The organizers behind the walkout wrote a letter that was published by New York magazine's The Cut. That letter listed the organizer's requests as "an end to forced arbitration, a commitment to end pay and opportunity inequity, a publicly disclosed sexual harassment transparency report, and a clear, uniform, globally inclusive process for reporting sexual misconduct," in addition to the request that the Chief Diversity Officer report directly to the CEO of the company. The organizers also want employee representation on the board.
"All employees and contract workers across the company deserve to be safe," said the letter from the organizers.
By 12:15 p.m. EDT employees elsewhere across the United States, like in Chicago, were beginning their walkouts as well. Workers had signs, many of which featured the Google home assistant prompt "Ok Google," with phrases like "Add change to my calendar" and "Really?" Other signs read, "Time's up tech" and "Worker's rights are women's rights."
Newsweek subscription offers >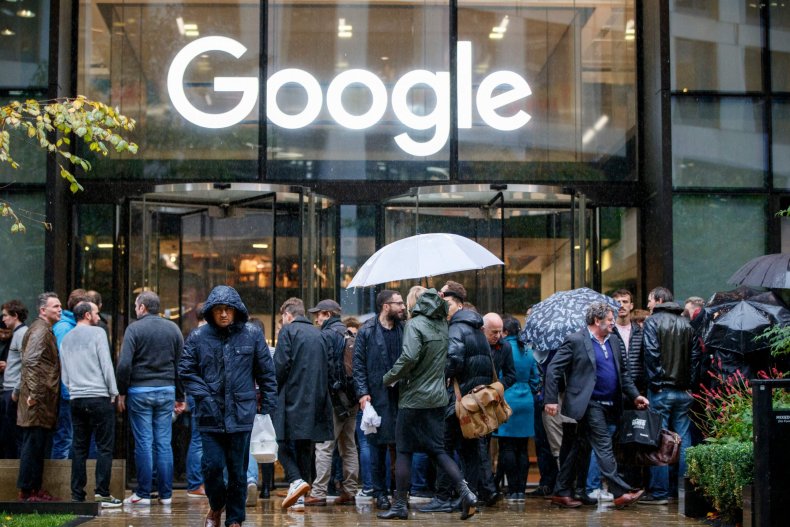 Why Are Google Employees Walking Out Today? Protests Stem From Alleged Sexual Misconduct Practices at the Company | U.S.