Watch: Is Google's New Two-Legged Robot the Soldier of the Future?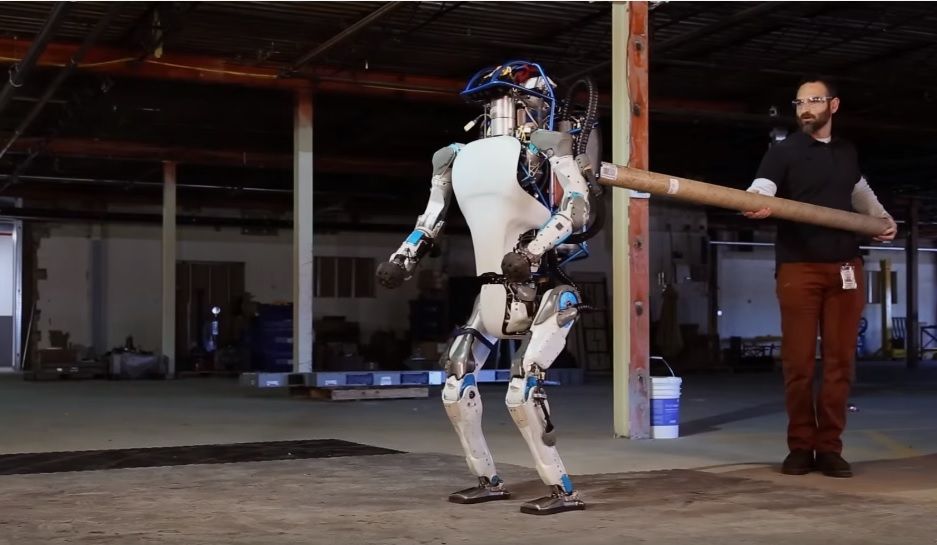 Boston Dynamics, Google's robotics subsidiary, has unveiled the latest version of its Atlas humanoid robot—giving a glimpse of what future soldiers might look like.
The Atlas robot is demonstrated in a video showing its ability to navigate rough terrain, pick up objects and self-right itself when pushed to the ground. At 5 feet 9 inches and weighing 180 pounds, Atlas is similar in size and proportion to a human and follows on from previous bi-pedal versions of the robot.
Boston Dynamics receives funding from the Defence Advanced Research Projects Agency (DARPA) and robots developed by the firm have previously been tested by the U.S. Marine Corps.
In December 2015, plans were abandoned to use a robotic mule in combat situations as it was claimed the amount of noise it made risked giving away the position of troops to the enemy.
Earlier versions of the Atlas robot were developed for the DARPA Robotics Challenge program in 2013, although no plans have been announced for the latest incarnation. Boston Dynamics had not responded to a request for comment at the time of publication.
"It is specialized for mobile manipulation," Boston Dynamics explains in a video demonstrating the latest version of Atlas. "It uses sensors in its body and legs to balance and LiDAR [Light Detection And Ranging] and stereo sensors in its head to avoid obstacles, assess the terrain, help with navigation and manipulate objects."