Googling Her Father's Killer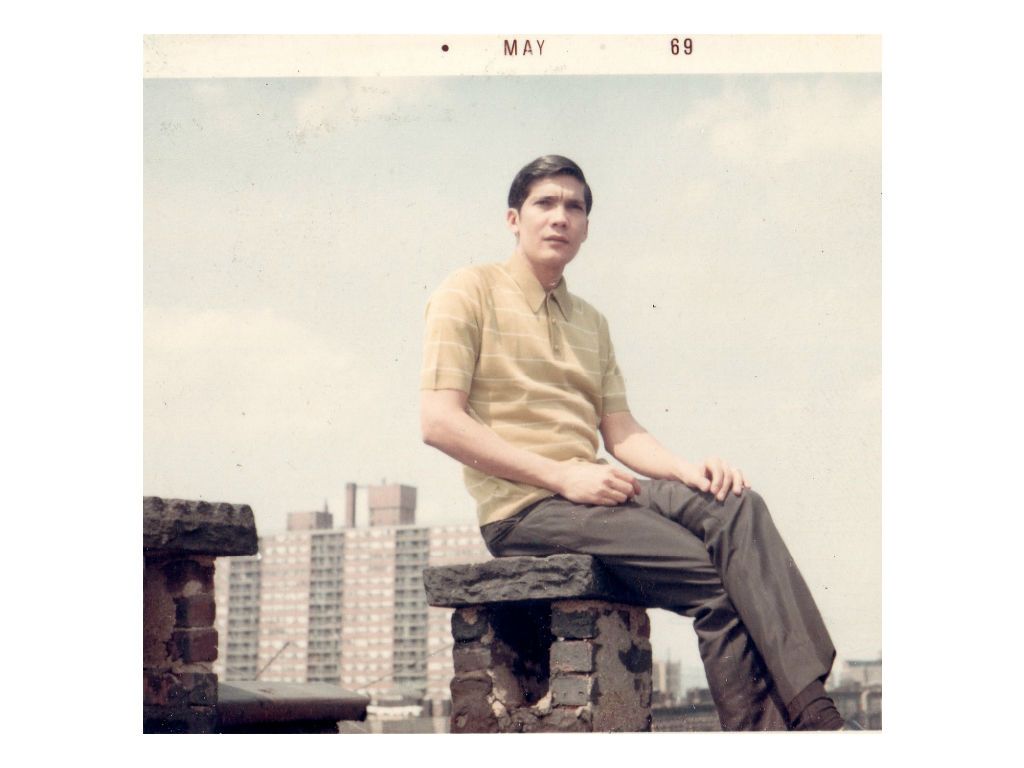 Jose Martinez had a good life in the Dominican Republic. He taught children to swim at the Embajador, a Santo Domingo hotel popular among diplomats, and enjoyed the benefits of working for the rich and powerful. When Martinez decided to move to the U.S. in the late 1960s, his connections could have facilitated a quick relocation.
But Martinez, recognizable by his thick, black hair and dapper dress, waited until after the American occupation ended, in 1966, so he wouldn't leave his mother alone during the occupation. When he finally arrived in New York, Martinez toiled at every food service job imaginable—busing tables, bar backing, bartending and cooking—saving money so he could open his own restaurant.
In 1979, Martinez's American dream seemed to come true. He and his wife purchased an eatery on Dyckman Street and Nagle Avenue in Manhattan's uptown neighborhood of Washington Heights—the epicenter of the city's Dominican community—that would become the Dominican Express Restaurant. "They opened up my piggy bank for the first day," his daughter, Joselyn Martinez, told Newsweek during a recent interview, recalling with a smile how her parents scrambled to make change. "I got really upset."
Joselyn's mom and dad paid her back, of course, and the restaurant was quickly recognized for its crispy beef and Dominican food takeout (a novelty at the time). Her dad pioneered using KFC-inspired packaging with traditional meals. Joselyn inherited not only her father's dark hair and shyness but a love of the restaurant business. She eschewed playing with Barbies for folding takeout boxes.
Early in the fall of 1986, there was yet more good news for the dimpled 9-year-old. Her parents had bought a big house in the Dominican Republic, and they would move there in December.
"It felt like a princess house because it was pink," she says. "I thought, It doesn't get better than this." Their decision to move back, Joselyn later learned, stemmed largely from the violence in the neighborhood. She recalls hearing people call parts of upper Manhattan "Vietnam" on account of the drug trade-fueled bloodshed. In 1985, a local reporter interviewed her father about gunplay near his business.
"He kind of smiled a little," Joselyn recalls of the interview. "He said, 'The bad guys haven't been around here yet.'"
*
For Justo Santos, November 22, 1986, began with school and homework, but by 9:30 p.m. he had killed 41-year-old Jose Martinez with a borrowed revolver, following an altercation over the phrase "fried pussy steak."
Santos, a 16-year-old Washington Heights resident, was studying to be an airplane mechanic and working at a hardware store. (Unless indicated otherwise, in this story the above and other information about the shooting comes from court documents, including Santos's statements to police.) An official at the College of Aeronautics said that Santos "showed a lot of potential." The hardware store owner described Santos as "a very good and hardworking person…of excellent moral character."
After dinner that day, Santos met up with a buddy, Francisco Lora. They shot some pool near Santos's Washington Heights apartment. They checked out a clothing store and then, along with another acquaintance, known as "the Salvadoran," decided to get some shakes. Santos had a .22 pistol in his coat pocket; he got the gun from a school friend a week before and said he had simply forgotten about it. "It was small and looked like a toy," Santos later said.
The group walked into the Dominican Express Restaurant. Once they settled into their seats, a waitress came by to take their order. "They asked for 'fried pussy steak,'" according to the Manhattan district attorney's office.
"The Salvadoran said he wanted 'grilled pussy,'" Santos has explained. Santos walked up to Jose Martinez and "told him to write down the order." The Salvadoran took off. Santos and Lora stayed because they were still waiting for their shakes.
Here, Santos's and the DA's account diverge. Both agree Martinez returned to Santos's table from the kitchen with backup. Santos claims he brought three or maybe four men (an important distinction when pleading self-defense). Prosecutors maintain Martinez had only the help of the cook. Both Santos and the D.A. agree the melee moved outside. Santos, who claims Martinez was choking him, broke free.
"I heard Francisco crying, 'Shoot him!'" Santos said. "I recalled that I had the little revolver in my coat.… I fired a shot to keep [Martinez] from grabbing me. When I fired the shot, the man who had grabbed Francisco released him."
Santos fired three or four shots, according to the Manhattan DA's office. One bullet hit Martinez in the chest. He died several hours later at nearby Columbia Presbyterian Hospital. Santos and Francisco ran. The next day, Santos threw the gun in a trash can in the basement. Santos told his mom he wanted to spend his school vacation in the Dominican Republic. She bought him a plane ticket—unaware of what had happened, he says—and he returned to the island several days later.
It didn't take long for the cops to figure out Santos was the shooter. By that time he was out of reach—the Dominican Republic was not extraditing nationals. Santos's mother put the NYPD detective investigating the shooting in contact with him, even coordinating a phone interview. During this conversation, which was recorded, Santos said he shot Martinez "and promised [the detective] that he would come to the precinct when he returned to New York."
Santos did come back to the city, in February 1988. His mother had died, and when detectives learned of her passing, they went to the funeral home where her body had been taken. They showed the funeral home director a photo of Santos. The director told cops that Santos had been there and that the family planned on returning to the Dominican Republic with the body.
Santos did not go to the precinct as promised. Police tried to head him off at the airport, but Santos returned to the Dominican Republic early. The NYPD, unable to catch Santos in the U.S., tipped off Dominican law enforcement authorities to his arrival. Dominican police arrested at him at the airport, as he was trying to claim his mother's body.
Santos was convicted of manslaughter by a Dominican court in 1988. He served a year in prison.
*
In the early 2000s, Joselyn was studying politics at New York University when she happened upon a New York Times article about a former fugitive to the Dominican Republic named Pablo Almonte Lluberes. The article rekindled the hope that had expired when her dad died.
On October 18, 1988, a young NYPD officer named Michael Buczek and his partner chased Almonte and another man, Daniel Mirambeaux, down a dark Washington Heights street, on the suspicion that they were dealing drugs, the Times reported. Buczek grabbed Almonte's coat, but he escaped. Mirambeaux shot Buczek dead. Both Almonte and Mirambeaux fled to the Dominican Republic.
The Dominican Republic and the U.S. have had an extradition agreement since 1901. However, in 1969 the country's legislature barred the extradition of Dominicans. This made it a haven for Dominicans who had committed crimes elsewhere, especially in Washington Heights, which the Times described as "the center of the Northeast crack trade." In 1998, Dominican Republic President Leonel Fernández signed a law permitting the extradition of Dominicans. After Buczek's father and diplomats fought for years to bring Almonte to the U.S., the killer was finally extradited in 2001.
When Joselyn saw the Times story, she realized, "I can do something." She had been told that Santos spent time in a Dominican jail for her father's killing, but couldn't confirm his incarceration. Documents dating to Santos's conviction there explain a "Dominican who is guilty of a crime committed abroad can be punished by the Dominican laws, could be prosecuted and tried in the Dominican Republic." Joselyn then learned that double jeopardy—a clause in the U.S. Constitution's Fifth Amendment that bars people from being charged for the same crime twice—did not apply, because Santos was convicted abroad. And with the changes to the Dominican Republic's extradition law, Joselyn knew that he could be brought back to the U.S. to stand trial.
So she set out to find him. Her search gained momentum in 2006, with the spread of social media. For the next several years, she spent days poring over strangers' photos—first on Myspace and later on Facebook—to no avail. She paid for countless online background checks. Still, nothing.
"I thought, Well, I'll just look him up. If I find him, then it's meant to be," she said. "I didn't think I would find him. But if I ever saw my father again, in a different dimension or something, I could at least tell him, 'I did something.'"
In the fall of 2012, despondent from years of dead leads, Joselyn was tempted to abandon her efforts. But Thanksgiving fell on the anniversary of her father's death, and she decided to give it one last shot. Joselyn went to the 34th Police Precinct, in Washington Heights, and begged to see the case file. She found a document listing Santos's date of birth as March 4, 1970. She had not known his birth date before.
One of the Web's many people-search services indicated that a man with that same date of birth, with a very similar name, was living in Miami. "I'm like, No, no, this can't be," Joselyn said. Despite this disbelief, she gave this information to a detective at the 34th, who in turn referred it to the cold case department. Joselyn still didn't believe that she had found Santos, until a cold case detective called her several months later. He confirmed that the man she had found was her father's killer.
The detective went to Florida in June 2013. He "took a detailed voluntary confession from Justo Santos with no attorney present…and subsequently arrested him for the Jose Martinez homicide," according to documents filed by Santos's current lawyer, Lawrence Herrmann. They returned to New York, and Santos was indicted.
And yet the new prosecution of Santos has not turned out to be as routine a cold case as Joselyn had hoped. Herrmann has asked the judge to throw out the case, as did Santos's first attorney several months after the indictment. The core of Herrmann's argument, according to several recent hearings and court filings: Cops bungled when pursuing and prosecuting Santos in the first place, and trying him decades later puts his defense at a significant disadvantage. Santos thought he had paid his debt to society, Hermann argues, and has tried to live the life of a model citizen. He married, had five kids, bought a house and worked steadily. He has held several jobs with the state of Florida, including one with the Miami-Dade Metropolitan Police Department.
"The result in this case is a real-life drama, a true tragedy for the victims on both sides," Hermann said in court. "On one side, a family still grieves the loss of a husband and father with an exemplary, devoted daughter who grew up and dedicated herself to finding the person responsible for shooting her father. On the other side, a family that has lost everything—with a wife, now living, with three of her school-aged children, in a New York City shelter, and the husband in jail for an act committed at age 16, in 1986."
Prosecutors counter that the delay is Santos's fault. The Dominican Republic didn't uphold extradition when he fled there, so they couldn't pursue him abroad. Law enforcement officials didn't know he had returned to the U.S. after serving his sentence. It was Santos's responsibility to notify them when he came back to the U.S. Instead, Santos chose to live life on the lam.
Asked about the possibility of dismissal on civil rights grounds, Joselyn tenses. "He shouldn't be prosecuted because he wasn't indicted at the time of the crime?" she says. "He gets to defend his rights, but my father, does he get to defend his right to live?"
A week ago, Hermann and Manhattan Assistant District Attorney Julie Nobel debated yet again whether this pre-indictment delay is justifiable. In pre-hearing filings and Thursday's proceeding itself, both sides also used Joselyn's role in finding Santos to bolster their respective arguments. For Hermann, the fact that Joselyn located Santos on her own, with old case information, debunks the district attorney's office's claims that it pursued all avenues to bring him to justice in the timely manner required by law.
"No one can excuse the DA's negligence and inaction," said Hermann, a 78-year-old former Marine whose hulking frame and bold black-frame glasses fit well with his confident claim that the case "can set new standards."
Nobel, meanwhile, contended that Joselyn's efforts were "very impressive" but that Santos wasn't just hiding in plain sight, on the Internet—which is the defense's argument for prosecutorial negligence. In a pre-hearing filing, Nobel wrote about the media coverage, saying that "much hyped claims that Joselyn Martinez simply went online and immediately tracked down her father's killer are inaccurate," and that before January 2013 "she never told the police about her efforts."
Joselyn started her search decades ago, and "the Internet did not become an effective tool" until the mid-2000s, Nobel argued. For Nobel, this meant that Joselyn's effort was as herculean as it was heroic—thus something that an overburdened criminal justice system couldn't be expected to do, let alone on a case that had been closed. The judge said he will issue a written decision October 30.
After the hearing, Joselyn, a model-actress impeccably dressed in a gray sport coat and black stilettos, said she didn't mind that both lawyers downplayed her discovery of Santos, for their own ends.
"I will take whatever I have to take, and be caught in the middle in any way I have to be caught in the middle, because this is for my father," she said. "So whichever way I need to be used and brought up, then I'll just take that."