Roborock robot vacuums and mops use cutting edge technology to map and clean your home. The robot vacuums map your home using LiDAR, the same technology that self-driving cars use. Roborock vacuums are smart enough to know where to mop, where to vacuum, and where not to go once you set up no-go zones.
With easy schedules and voice control through Google Assistant and Alexa, the robot vacuums from Roborock keep your home clean automatically, and you can summon them when a mess pops up. Once you couple this with the ability to cross most thresholds, smart suction that changes based on the surface, and enough suction to pick up a AA battery, you'll understand why Roborock is an industry leader.
Goop Gift Guide: Gwyneth Paltrow's Most Expensive Gifts Include Space Travel and $1.3 Million Vacation
Gwyneth Paltrow's Goop lifestyle website has just released its gift guide in time for the holiday season and some items are a little... pricey. Here's a round-up of Goop's most expensive gifts, from a trip to space to a $1.3 million vacation.
The Most Expensive Gifts in the Goop Gift Guide include:
Diamond necklace;
Tiny home treehouse;
Space travel;
Hermes Bag;
Rolex;
A meteorite; and
A vacation worth $1.3 million.
Diamond Hepburn Chocker, $21,000
The cheapest item on this list is a diamond Hepburn choker by Anita Ko. The necklace is made from 18k yellow gold and 5.46cts diamonds and sells for $21,000.
Gold Chrona Chandelier Earrings, $43,200
If earrings are more your style, Goop recommends these gold chrona chandelier earrings for $43,000. They are one-of-a-kind and made from 8kt yellow gold, 14.8ct pink sapphire, 4.39ct purple sapphire, 0.45ct kite diamond, and 0.35ct brilliant diamond.
Norman Mailer's MoonFire and a Real Meteorite, $275,000
If you have $275,000 to spare, you could purchase Norman Mailer's MoonFire book that comes with a piece of a real meteorite and comes in a case inspired by the Apollo 11 Lunar Excursion Module. There are only 12 available.
Trip to Space, $250,000
However, for $25,000 less, you could give someone the gift of a trip to space. A ticket to space with Virgin Galactic is $250,000 and more seats are to become available. You can sign up for updates now.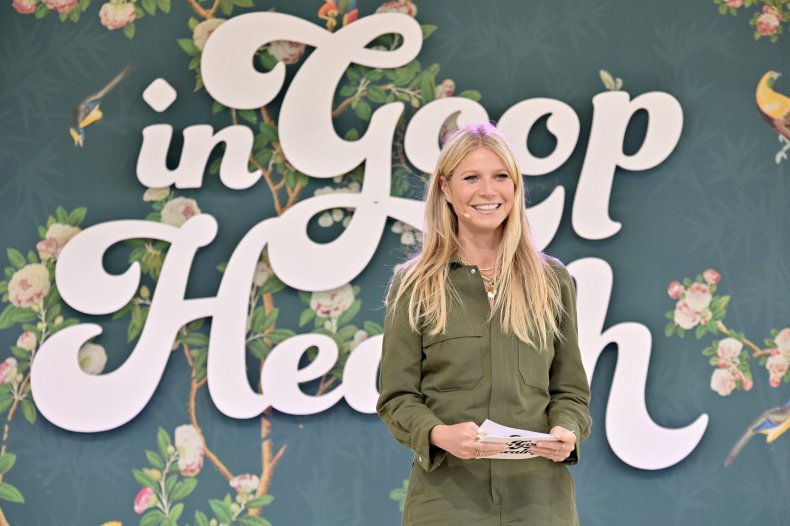 A Vacation with a Private Jet, $69,888
Or for a vacation that's a little more down to earth, you could gift somebody a visit Southeast Asia, where they'll stay in exclusive Aman properties and travel by private jet for $69,888 per person. The vacation is for September 2020 and there are just 16 tickets available.
A Tiny Home Treehouse, $110,000
You could gift somebody their very own tiny home treehouse with Precht. The treehouse size and design can be customized to fit the gift recipient's needs and prices start at $110,000.
Family Photo Album, $75,000
Gift a family member or friend a custom family photo album. For $75,000 they can be joined on their family vacation by two photographers who will then produce a photo album of the trip.
Hermes Epsom Kelly Bag, $22,500
You can purchase a "luxe and ladylike" Hermes Epsom Kelly Bag in the color "greige" for $22,500 direct from the Goop website. At the time of writing, there was only one left in stock.
Custom Plant Music Installation, $25,000
For $25,000, Data Garden will "help your plants sing." Data Garden will design custom sounds and turn your garden into a "symphony of plants."
Rolex Watch, $35,420
You can't go wrong with gifting a loved one a Rolex watch. Goop recommends this watch made from stainless steel and yellow gold. The band and bezel are made from 7.92 ctw white diamond and the stars on the dial are .20 ctw white diamond set in 18k yellow gold stars. It costs $35,420 and at the time of writing there was one left in stock.
Altus Health Membership $24,000
For your L.A.-based fitness friends, gift them a membership to Altus Health, which Goop describes as "less a gym and more a healthy-lifestyle community hub." Membership costs $24,000 and comes with a personalized training routine and access to trainers, chiropractors, alignment experts, and massage therapists.
12 Months of Trips, $1.3 million
Finally, the most expensive gift on Goop's guide is 12 months of trips with Momentum Adventure. For $1.3 million, your gift recipient can go on twelve trips that focus on endangered species that can be spread out over a year or taken all at once.