Goose Creek Fire and China Jim Fire Combine, Burning 100,000 Acres on Utah-Nevada Border
The Goose Creek fire in Nevada and the China Jim fire in Utah have combined to form a single blaze burning 100,000 acres along the Utah-Nevada border.
The China Jim Fire began on Saturday near Grouse Creek, Utah, and burned 20,000 acres before combining with the Goose Creek Fire, which began on Thursday. As of Monday morning, the two fires had formed into a single blaze that burned 100,000 acres and was 15 percent contained. While no cause is known for the China Jim fire, the Goose Creek fire was caused by lightning and began southeast of Jackpot, Nevada.
Chief Deputy Dale Ward of the Box Elder County Sheriff's department told The Salt Lake Tribune that residents in the small town of Grouse Creek, Utah, near the border of Nevada, were ordered to evacuate on Sunday, but after "a few things" got under control, residents were allowed to remain at home.
"But they've been told to be ready to evacuate if necessary," Ward explained.
"It's eating up all of our fall and winter feed for the cattle," cattle rancher Jewel Kimber Franklin told KSL. "We won't be able to use it for our cattle for the next two years."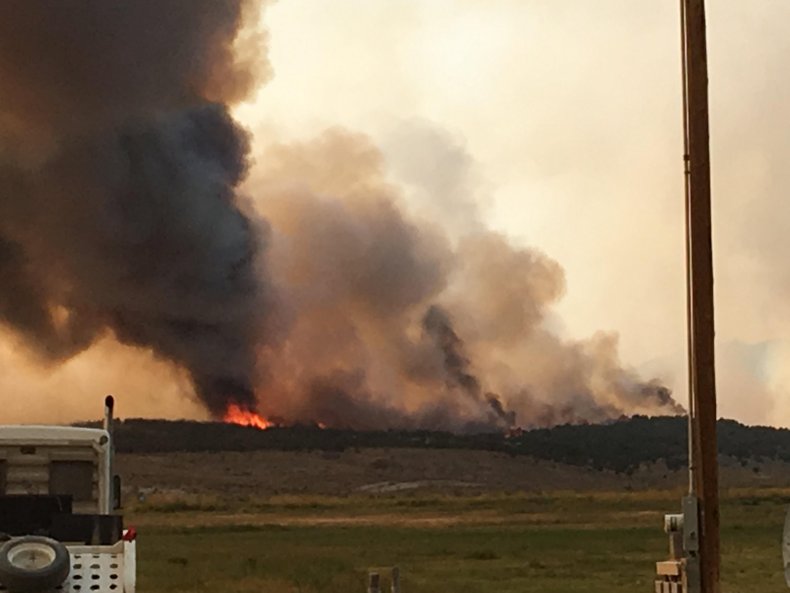 Utah Governor Gary Herbert shared on Twitter that "all available resources" were deployed to protect the lives of residents and the property of those living in the large ranching community. Bureau of Land Management Fire spokeswoman Dorothy Harvey told KSL that air tankers were dropping water on and around Grouse Creek and that fire engines were deployed near a lot of the homes.
It's expected that the fire will continue to spread to the south and east as Sunday night's low relative humidity allowed the fire to remain active. The Pioneer Peak Interagency Hotshot Crew (IHC), a group of 20 people who specialize in wildland fire suppression, posted on Facebook that they were headed to the fire following the death of IHC member Brian Hughes, who was killed in the Ferguson fire in California. That fire, which began on July 13, has burned 56,659 acres and was 30 percent contained on Monday morning.
The Goose Creek fire comes as firefighters work diligently to subdue multiple fires burning throughout California, including the Cranston fire and the Carr fire, located two states away. The Carr fire has burned 48,000 acres of land, destroyed 500 structures, and killed at least six people. The Shasta County Sheriff's Department is also investigating seven reports of missing people.
Over 300 people have been assigned to the Goose Creek fire, which is estimated to be contained on August 8.