A top Republican adviser and political strategist slammed governor-elect Brian Kemp for cheating during Georgia's gubernatorial race.
"This hack @BrianKempGA is the next 'governor*' of Georgia. But he cheated & undermined democracy every step of the way. @staceyabrams should be governor, but isn't due to actions that can't be tolerated. She has a bright future. We need a new, enforceable Voting Rights Act. Now!" John Weaver wrote on Twitter on Saturday morning.
Weaver was a strategist for former president George H.W. Bush and a presidential campaign adviser to the late John McCain. The Republican now works for Ohio Governor John Kasich, who is rumored to be considering a 2020 run against Donald Trump as a possible third-party candidate.
Kemp is the official winner of Georgia's gubernatorial race after his Democratic opponent, Stacey Abrams, acknowledged on Friday that she did not have enough votes to eclipse his lead. The Republican candidate and former secretary of state was ahead of Abrams by nearly 59,000 votes.
But accusations of rampant voter suppression throughout the state of Georgia propelled distrust in election officials and caused the race to remain too close to call even 10 days after Election Day.
In early October an Associated Press report found that Kemp's office had put 53,000 voter registration applications on hold, 70 percent of which were from people of color. Problems at the polls on November 6, including long lines and machine malfunctions, only further escalated concerns of suppression.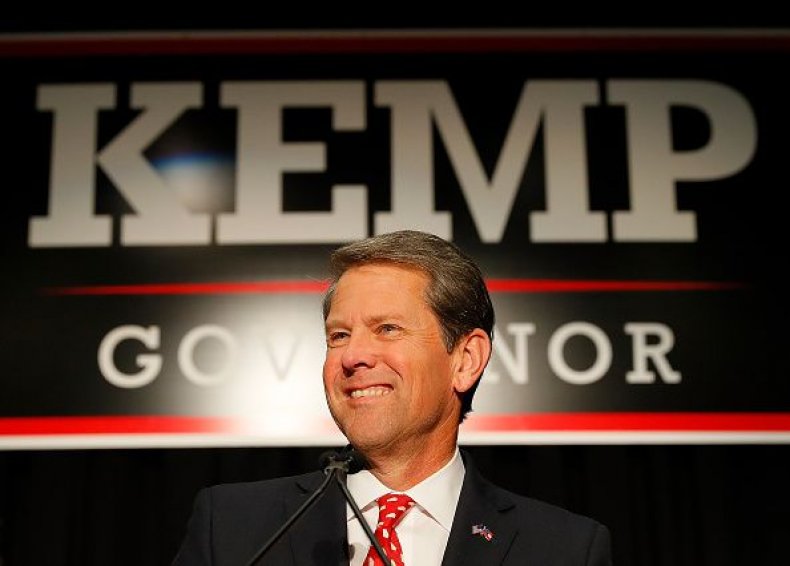 "I will not concede because the erosion of our democracy is not right," Abrams said in a speech in Atlanta on Friday night. "I acknowledge that former Secretary of State Brian Kemp will be certified as the victor in the 2018 gubernatorial election. But to watch an elected official who claims to represent the people in this state baldly pin his hopes for election on suppression of the people's democratic right to vote has been truly appalling."
Abrams and her campaign are filing a lawsuit against the state of Georgia for "gross mismanagement" of the gubernatorial election.
But Kemp has maintained the claim that there has been no issues or conspiracy of voter suppression. In fact, Republicans justify their efforts to remove those likely to vote Democrat with allegations -- so far unproven -- that their rivals are engaged in fraudulent voting.
The president complained to The Daily Caller in an interview on Wednesday that Republicans lost in the midterms because illegal voters are going "around in circles" supporting Democrats. He also said that there is more identification required when buying a box of cereal than there is when heading to the polls. There is no evidence for the first of his assertions, despite extensive efforts by Republicans to gather it, and the second is categorically untrue.
Kemp responded to Abrams with a statement, in which he thanked her for her "passion, hardwork, and commitment to public service."
"The election is over and hardworking Georgians are ready to move forward. We can no longer dwell on the divisive politics of the past but must focus on Georgia's bright and promising future," Kemp added.