Garrett Ventry, a communications aide to the Senate Judiciary Committee, resigned from his position after questions about a previous sexual harassment allegation were raised, NBC News reported on Saturday.
The Senate Judiciary Committee is overseeing Supreme Court nominee Judge Brett Kavanaugh's confirmation hearing and NBC News reported Ventry helped coordinate messaging after Kavanaugh was accused of sexual assault.
Following Kavanaugh's nomination by President Donald Trump, Christine Blasey Ford accused the judge of sexually assaulting her while the two were at a party in high school.
Before working for the Senate Judiciary Committee, Ventry was reportedly accused of sexually harassing a female employee of the North Carolina Assembly's Republican staff. The source told NBC News that the accusation was the reason he was let go from his previous position as social media advisor to North Carolina House Majority Leader John Bell.
Ventry denied both the allegation of misconduct and that he was fired. He supplied his letter of resignation to NBC News, in which he gave his two weeks' notice and thanked Bell for the opportunity.
Despite denying the allegation, the 29-year-old decided to resign from his position with the Senate Judiciary Committee on Friday night.
"While [Ventry] strongly denies allegations of wrongdoing, he decided to resign to avoid causing any distraction from the work of the committee," Judiciary Committee Spokesman Taylor Foy told NBC News in a statement.
On Saturday morning, a committee spokesperson told The Washington Post that Ventry was among several temporary staff members that were brought on to assist with Kavanaugh's nomination. The spokesperson added that the team, as a whole, has done "outstanding work" to minimize the allegations and push Kavanaugh towards a seat on the Supreme Court.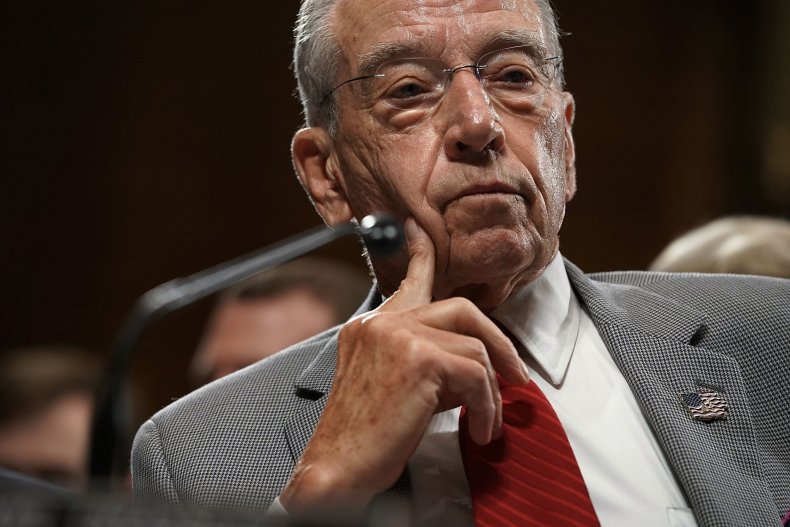 Ventry also resigned from his position at CRC Public Relations, which he was on leave from to pursue his work with the Senate Judiciary Committee. CRC Public Relations is a public relations firm that specializes in media relations, social media and issues management, according to the website. Among the company's extensive list of clients are Disney, Chevron and The Federalist Society.
Trump used the Federalist Society to select Kavanaugh as his nominee for a Supreme Court seat left vacant by Justice Anthony Kennedy, according to NBC News.
Ford sent a letter to Democratic Senator Dianne Feinstein on July 30 that detailed her accusation against Kavanaugh and originally asked to remain anonymous. However, she later agreed to come out publicly and her letter to Feinstein was published by CNN.
In the letter, she claimed that while Kavanaugh, herself, and three others were at a party at a home in a Maryland suburb, the then-high schooler pushed her into a bathroom, locked the door and played loud music to prevent her cries for help from being heard. In a highly inebriated state, Kavanaugh allegedly tried to remove her clothes.
The Senate Judiciary Committee, chaired by Senator Chuck Grassley, has asked Ford to come in to answer questions about the alleged assault, but has set onerous deadlines in an effort to push Kavanaugh forward before the midterm elections.