GOP and Allies Go 0-5 in Georgia as Election Lawsuit Fails Ahead of Senate Runoffs
A federal judge on Monday dismissed a lawsuit that sought to stop the Senate runoff in Georgia, giving the Republican Party and allies an 0-5 record in election lawsuits in the state.
The lawsuit dismissed Monday was filed earlier this month by pro-Trump attorney Lin Wood in the U.S. District Court in Atlanta. It sought to halt voting in the state's Senate runoff elections on January 5. Lin wanted to change voting procedures, such as in verifying signatures on absentee ballots and the counting of ballots, before the contests were decided.
According to the Atlanta Journal-Constitution, U.S. District Judge Timothy Batten Sr. denied Wood's request for a temporary restraining order, and said that his claims were "too speculative."
In response to the suit being dismissed, Georgia Secretary of State Brad Raffensperger wrote, "Time and time again we have successfully fought off lawsuits from the right and the left looking to undermine rule of law in Georgia."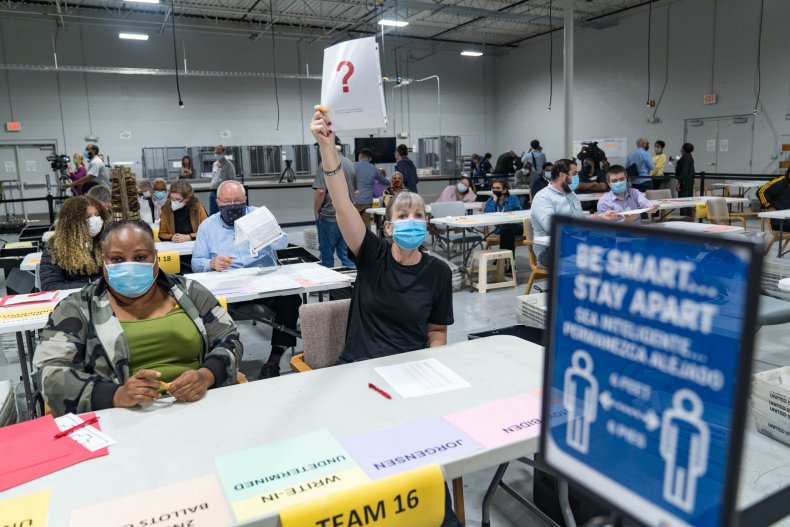 "The numerous baseless and frivolous lawsuits, funded by unsuspecting Georgians who are being duped by Wood, are just the latest in a long history of lawsuits to nowhere in Georgia," Raffensperger wrote in the statement.
Newsweek reached out to Raffensperger's office for comment.
In addition to the suit dismissed on Monday, four other lawsuits in Georgia, filed by President Donald Trump and several other Republican allies, have also been dismissed ahead of the Senate runoff.
Last week, a federal judge in Augusta rejected a lawsuit filed by a Twelfth Congressional District Republican committee. The lawsuit sought to end the use of ballot drop boxes and the early counting of mail-in ballots. According to the Journal-Constitution, the lawsuit also challenged Raffensperger and his guidance to counties on absentee ballot signature matching, stating that the guidance discouraged local officials from rejecting ballots based on signatures.
Another lawsuit was filed by Republican incumbents in Georgia's Senate runoffs, Kelly Loeffler and David Perdue, as well as the Georgia Republican Party and the National Republican Senatorial Committee. The lawsuit aimed to change a March agreement between Democrats and election officials in the state that stopped the rejection of absentee ballots because of a different signature on the return envelope.
The suit was dismissed by U.S. District Judge Eleanor L. Ross, who said, "Regarding standing on behalf of Senators Loeffler and Purdue, the alleged potential future injury to the candidates is far too speculative to substantiate an injury in fact."
Two other lawsuits were previously dismissed, with one filed by Trump and another from attorney Sidney Powell. The Trump campaign distanced itself from Powell last month, despite a mid-November tweet in which the president called her part of a "truly great" legal team challenging the election results.
Earlier this month, Federal Judge Timothy Batten in Georgia dismissed Powell's case, which aimed at decertifying the results of the state's election, alleging widespread voter fraud.
Similarly, on December 7, Georgia's Republican leaders rejected a call from Trump to hold a special legislative session seeking to overturn the state's election results.
Governor Brian Kemp and Lieutenant Governor Geoff Duncan said in a joint statement that holding a special session of the Georgia General Assembly "in order to select a separate slate of presidential electors is not an option that is allowed under state or federal law."