GOP Arizona AG Breaks With Trump, Rejects Voter Fraud Allegations, Says 'Does Appear Joe Biden' Will Win
Arizona's Attorney General Mark Brnovich said that "it does appear Joe Biden will win" the state's popular and electoral votes, essentially proclaiming victory for the Democratic president-elect despite claims by President Donald Trump that a final audit of the votes would prove him as the state's winner.
"The reality is right now there's, you know, less than 50,000 votes to count, and the president would have to get about 65 percent of them to win Arizona," Brnovich said during a Wednesday interview with Fox Business anchor Neil Cavuto. "So it does appear that Joe Biden will win Arizona."
After Election Day, Republican Arizona voters claimed poll workers had instructed them to use Sharpies, black felt-tipped permanent markers, to fill in their ballots, and alleged that the markers had bled through the ballot paper making their ballots unreadable by voting machines.
Brnovich told Cavuto that he examined the more than 1,000 claims about this, which came to be known as "Sharpiegate," and determined that the use of Sharpies didn't affect anyone's vote from being counted.
Facebook's fact-checkers marked social media videos and claims about Sharpiegate as "false information," according to Reuters, also blocking the hashtag #sharpiegate.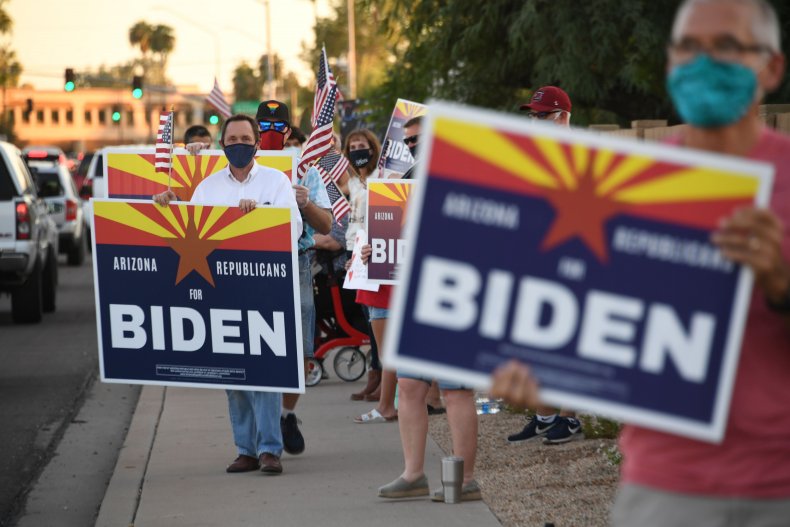 Brnovich also mentioned a lawsuit from the Trump campaign challenging 180 ballots in Maricopa County had contained irregularities that made it unclear who which presidential candidate the voter had intended to choose.
Brnovich said his state conducted a random audit of 2 percent of votes in the precinct named in the lawsuit, and found with 100 percent certainty a lack of any statistical anomalies or errors that affected the votes.
"We are literally talking about less than 200 votes that are in question in doubt," Brnovich said. "So the reality is, even if it was possible that those votes flip those 200 votes, I do not think it will make a difference in Arizona, just because of the numbers."
Brnovich also said that conspiracies about voter fraud making Trump lose Arizona make no sense seeing as many Democratic state and local candidates also lost their races to Republican challengers. Rather, Brnovich said that many voters likely voted split ticket, supporting Biden while also voting for Republicans locally.
When Cavuto called Brnovich a brave man for making his statement on the air, Brnovich replied, "I'm not in this job to win friends or whatever you want to call it. I'm in this job to do right by the people of Arizona, and to make sure the laws is followed."
Brnovich's statements run contrary to that of Trump who in a November 11 tweet wrote, "From 200,000 votes to less than 10,000 votes. If we can audit the total votes cast, we will easily win Arizona also!"
Newsweek reached out to the Trump campaign for comment.