Republican Arkansas Governor Asa Hutchinson on Tuesday defended Wyoming Rep. Liz Cheney of Wyoming and warned the party against allowing former President Donald Trump to divide the GOP.
In an interview with CNN, Hutchinson backed Cheney ahead of the vote expected to occur on Wednesday that could lead to her ousting from her leadership role.
Cheney shouldn't be "ousted for a vote of confidence," he said. "I believe that we need to concentrate on more things that bring us together than to separate us, and going down and seeing former President Trump, to me, causes more division than anything else."
House Republicans have mounted an effort to oust Cheney, the highest-ranking GOP woman in D.C., amid an escalating intra-party fight between the establishment wing of the Republican Party and the Trump wing. Cheney, a hardline conservative, strongly stood against Trump's false claim that President Joe Biden stole the 2020 election.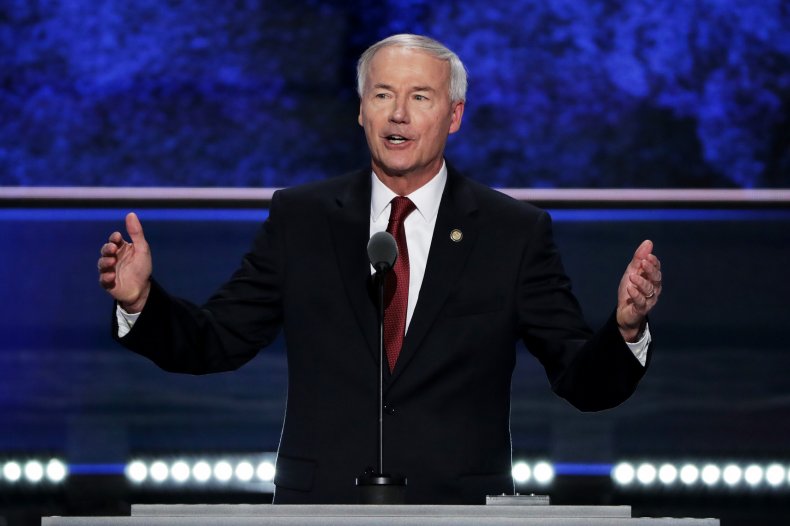 She has faced growing GOP backlash in recent weeks over her feud with Trump, which continued after she voted with nine other House Republicans to impeach the ex-president on an insurrection of insurrection charge earlier this year.
Hutchinson, who cannot seek a third term, also urged the party to unite and sever ties with Trump.
"Whenever we do not have the president in power from our party, you have divided leadership, you have many different voices," he said. "And former President Trump is dividing our party, and so it's important that we not unite with someone who is dividing our party."
The governor broke with Trump in the aftermath of the January 6 Capitol riot and has repeatedly urged the party to move on from the ex-president to focus on unity.
"We got to make sure that we don't divide our party," Hutchinson told ABC News' This Week in January. "I'm more troubled by someone going in and opposing Liz Cheney because she took a different position than many others in the party. That's the kind of thing that tears our party apart, we need to not start primarying everyone because we don't like how they handle things post-election."
In February, Hutchinson said: "He should not define our future. We have got to define it for ourself."
Iowa Senator Joni Ernst and Illinois Rep. Adam Kinzinger also defended Cheney from GOP attacks over the past week. On Monday, Ernst called the effort to oust the lawmaker "cancel culture."
House Minority Leader Kevin McCarthy, House Minority Whip Steve Scalise and Trump have supported replacing Cheney with Rep. Elise Stefanik of New York for the No. 3 leadership position.
Newsweek reached out to McCarthy's office for comment. This story will be updated with any response.