GOP Backs Canada After Trump Attack: 'A Reliable Ally, a Close Friend'
Growing tensions between the United States and Canada after a series of attacks from President Donald Trump and his aides have left Republicans on Capitol Hill as stupefied as much of the rest of the world.
Trump announced significant steel and aluminum tariffs on the U.S.'s northern ally and then blasted the country's Prime Minister Justin Trudeau as "meek and mild" after a turbulent G7 summit in Quebec. Top adviser Peter Navarro added further fuel to the fire, saying there is a "special place in hell" for the Canadian leader.
Republican Senate Finance Chairman Orrin Hatch said the comment was "out of line," telling Politico the adviser "should have kept his big mouth shut because I don't think that helps us in foreign policy." Hatch added that the G7 summit "could have been handled a lot better."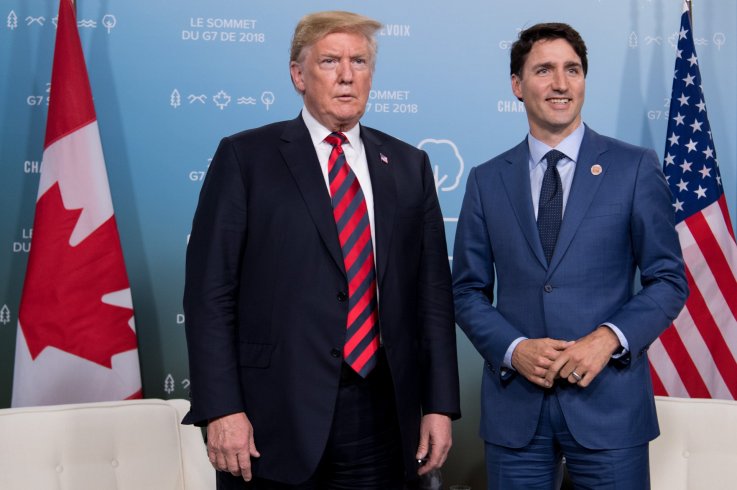 Republican Senator Mike Rounds of South Dakota questioned what Trudeau could have done "that was so offensive that it required that type of a comment?"
"This was very disconcerting," he said, adding: "I do not like to see that type of language being used without having a real strong basis for it."
Speaking to ABC News, Republican Texas Senator Ted Cruz added his voice to the chorus of condemnation, saying: "You know, I will say I've seen some of the reporting on the various comments, and I have to note that I'm pretty sure that circles of hell are not reserved for Canadians proposing retaliatory tariffs."
The increasingly hostile comments from the Trump administration come after Trudeau called the president's tariffs "insulting" and vowed to "move forward with retaliatory measures on July 1, applying equivalent tariffs to the ones that Americans have unjustly applied to us" at a press conference on Saturday.
"I have made it very clear to the president that it is not something we relish doing, but it is something that we absolutely will do," Trudeau said. "As Canadians, we are polite, we're reasonable, but also we will not be pushed around."
The stern statement prompted almost immediate backlash from Trump, who abruptly removed the U.S. from a joint G7 communiqué he had backed just hours earlier "based on Justin's false statements at his news conference and the fact that Canada is charging massive tariffs to our U.S. farmers, workers and companies."
Rounds said he believed there would have to have been a significant "violation of trust" between G7 leaders for Trump to have responded in such a hostile manner.
"There had to be an agreement someplace that the president clearly felt other members had clearly violated, or at least the prime minister had violated," Rounds said. "I don't know what it might be, but the message that the president sent was so strong to one of our allies that I really don't understand why they would do that unless he truly felt that there had been a violation of trust."
Republican Senator Susan Collins of Maine said that while her state has experienced "frictions" with Canada over lobsters and other goods, the U.S. should not be alienating one of its biggest trading partners.
"I'm concerned because Canada has been a reliable ally, a close friend, and one of our biggest trading partners," Collins told Politico.
"Now, those of us from Maine are very aware that there have been frictions," she said, adding: "Those issues deserve attention, but we don't need to alienate Canada in the process."
Read more: Trump Won't Endorse G-7 Statement, Slams Trudeau As 'Weak'
For Republican Senator Jeff Flake of Arizona, the president's response was simply the incorrect way to treat a key ally.
"To leave Canada the way that we did and to make the statements about a trusted ally like this is just wrong," Flake told reporters, according to ABC News.
He warned that the president's actions will have "lasting complications" and could put the U.S.'s place in the world order at risk.
"That's why our allies have to be baffled at this. I mean we're the architects of this rules-based, international order on trade and security. Now we're running away from it. We're looking to uphold it and we're the ones burning it. It's just beyond the pale," he said.
Canadian Foreign Affairs Minister, Chrystia Freeland, is expected to travel to Washington this week, Canadian newspaper The Globe and Mail reported.
The foreign affairs minister will have her work cut out for her as she attempts to see Canada spared from the U.S.'s heavy-handed steel, aluminum and auto tariffs and mend the increasingly frayed relationship between the two countries.
GOP Backs Canada After Trump Attack: 'A Reliable Ally, a Close Friend' | World