GOP Candidate Argues Calling Hitler 'Inspirational' Was Not 'Praise'
A Republican candidate for Congress in New York State says that he was not "praising" Adolf Hitler by calling him "inspirational" during a recently resurfaced interview.
Carl Paladino made what seemed to be positive remarks about the Nazi leader in response to a question about how to effectively "rouse the population" during a February 2021 radio interview unearthed Thursday by left-leaning watchdog group Media Matters for America. In comments given to The Buffalo News shortly after the interview resurfaced, the Republican congressional hopeful insisted that his remarks were taken out of context and "had nothing to do with praising" Hitler.
Paladino told the paper that he was only using Hitler as an "example" of how to "move an entire population," while conceding that he "should have used [British World War II leader Winston] Churchill" instead. He argued that Media Matters made "a mess of" his comments.
In a separate statement, Paladino said that the "context" of his Hitler remark "was in regards to something I heard on the radio from someone else and was repeating," maintaining that "any implication that I support Hitler or any of the sick and disgusting actions of the Nazi regime is a new low for the media."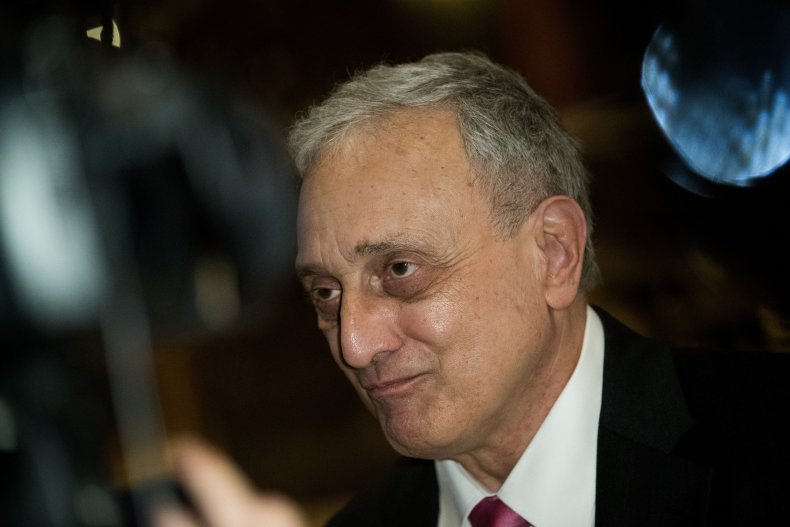 While Paladino's original interview comments had him citing a different person as having "mentioned" Hitler on the radio, his comments about the Nazi leader being an example of someone "inspirational" were apparently his own.
"I was thinking the other day about somebody had mentioned on the radio Adolf Hitler and how he aroused the crowds," Paladino told radio host Peter Hunt during the February 13, 2021, edition of The R-House Radio Show, as reported by Media Matters. "And he would get up there screaming these epithets and these people were just—they were hypnotized by him."
"That's, I guess, I guess that's the kind of leader we need today," he continued. "We need somebody inspirational. We need somebody that is a doer, has been there and done it, so that it's not a strange new world to him."
Newsweek reached out to the Paladino campaign for comment.
Paladino said that he understood "that invoking Hitler in any context is a serious mistake and rightfully upsets people" in his statement on Thursday, adding "I strongly condemn the murderous atrocities committed against the Jewish people by Hitler and the Nazis."
New York Republican Representative Elise Stefanik, the House GOP Conference chair, endorsed Paladino's run for Congress last week, praising him as a "job creator and conservative outsider who will be a tireless fighter for the people of New York in our fight to put America First to save the country."
"I condemn any statement, but don't take it out of context," Stefanik told HuffPost when asked about Paladino's Hitler remarks on Thursday. "That is not accurate reporting."
The resurfacing of Paladino's 2021 interview comes only days after Media Matters reported that he shared an article to Facebook that promoted a conspiracy theory claiming recent mass shootings at a supermarket in Buffalo, New York, and an elementary school in Uvalde, Texas, were "false flag" operations intended to help Democrats "revoke the 2nd amendment and take away guns."
Paladino initially denied having shared the "false flag" article, which also claimed that "the Texas shooter was receiving hypnosis training." He has since admitted to sharing the article, while noting that it was authored by "a good friend."