GOP Candidate Arrested For Violating Restraining Order Filed By Nancy Pelosi's Republican Challenger
A California Republican candidate for Congresswoman Maxine Waters' 43rd District seat was arrested in San Francisco Saturday after violating a restraining order placed against him by a fellow GOP candidate running against House Speaker Nancy Pelosi.
GOP congressional candidate and vehemently pro-Trump, anti-"illegal immigrant" Fox News frequenter Omar Navarro was arrested and booked on extortion, stalking, making criminal threats and disobeying a 5-year order of protection filed against him by Pelosi challenger DeAnna Lorraine. The San Francisco Sheriff's Department website lists his charges ranging from misdemeanors to felonies.
Despite Lorraine's Contempt of Court motion last month and a Los Angeles District Court judge's warnings telling Navarro to back off, he has continued to lash out against Lorraine and the charges against him on Twitter even after the arrest. He has also denied being sent to jail despite The Gateway Pundit producing records showing he was released Sunday on $75,000 bail.
"I intend to vigorously fight these allegations and put forth all the facts - not just selective ones - before the Court," he tweeted Sunday, tagging the Republican who accused him of stalking and extortion. It is the second restraining order Navarro has had filed against him in the past two years.
Navarro's campaign against Waters has garnered national attention and he has appeared on Fox News and the Fox Business Network declaring his support for President Donald Trump's 'MAGA' movement and demanding Waters be removed from Congress.
Congresswoman Waters' Washington office told Newsweek Monday they were aware of Navarro's arrest but declined to offer comment on the matter. Messages left Monday morning to Navarro's Torrance, California office were not immediately returned.
Lorraine, whose pro-Trump campaign slogan is "God. Family. Country," confirmed awareness of Navarro's arrest to the California Globe Sunday, explaining, "I was granted a five-year restraining order from Omar on August 1."
The Republican Pelosi challenger's campaign manager told the Globe: "With such a long history of threats of violence and extortion against women, he has become quite the professional at sliding himself through the cracks to avoid prosecution and thankfully, the SFPD wasn't going to let him get away this time ... We have actively pleaded with Mr. Navarro and tried everything to get him to stop the threats and harassment that my staff and I have had to endure for months."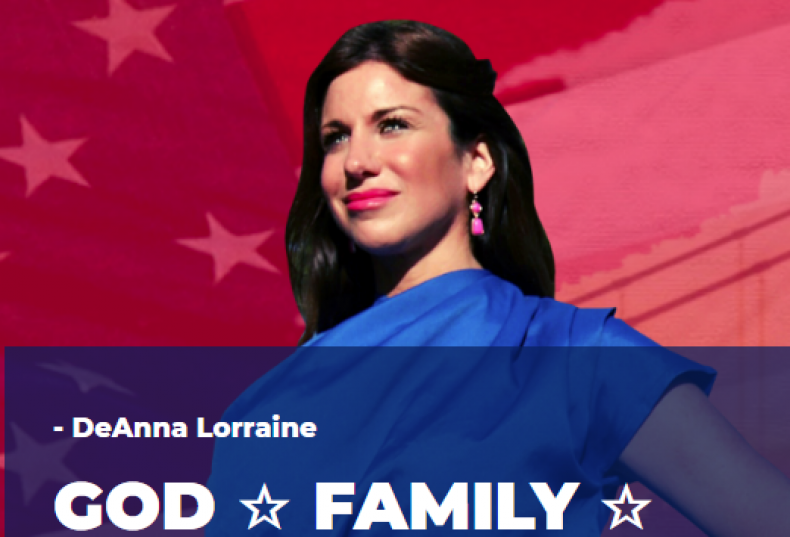 Navarro previously failed in his attempt to unseat Waters in 2018 and has railed against illegal immigration and Democrats who he has accused of opposing Trump's push to secure the southern border and let in "illegal aliens." Waters easily defeated Navarro in 2018 with 77.7 percent of the 43rd District's votes.
"My family came from Mexico for the American Dream. They came from Cuba for the American Dream. They did things right, they didn't break the law," Navarro said during an appearance on the Fox Business Network in July 2018. "Not everybody breaks the law, not everybody goes through the illegal process. There are a lot of people out there who don't like when people break the law and they come into the country through illegal means."
Navarro has appeared on Fox News several times this year detailing how the Congress can legally remove Waters and saying that "not all" of the 54 percent of Hispanic and Latino residents of her district support the incumbent who has served in the U.S. house since 1990.
"Waters is one of the most divisive figures in our country," Navarro said in April, describing the congresswoman as being "the face of the Democrats" in 2019. "I'm for America first, I'm for MAGA."
The Mercury News reported this weekend that Navarro was booked in jail as the LAGOP officially threw their support behind rival Republican candidate Joe Collins' campaign to unseat Waters - something Navarro has complained about previously on social media.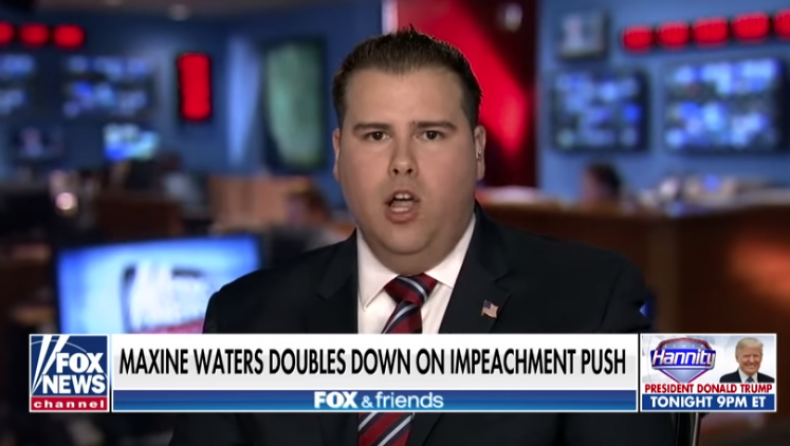 Navarro continued his Twitter onslaught Monday against his accuser, Lorraine, retweeting a supporter who cast doubt on the violation of the restraining order and mocked her story: "I find the story a little too hard to believe! Let me guess a woman who is a Dating coach claims that someone was stalking her and he was a political opponent?"