GOP Candidate Offers to Send Reporter Pornography in Strange Video
The Republican nominee for governor in Michigan suggested sending pornography to a reporter during a press conference on the state's schools.
Gubernatorial candidate Tudor Dixon, who is running against Democratic incumbent Gretchen Whitmer, threw out the strange offer after proposing a statewide ban on "pornographic" books in K-12 schools on Tuesday.
Although Dixon did not specify which books she would ban, she said, "I would take a look at the books that we are seeing that are pornographic and make a decision on what we do to make sure that we are not having children reading pornographic—or having a teacher read—pornographic material to children or a child in school."
The books read by children have taken center stage in a nationwide culture war, resulting in an unpreceded number of bids to have books banned. In the first eight months of 2022, the American Library Association (ALA) has recorded 681 challenges to library and school books, affecting 1,651 unique titles.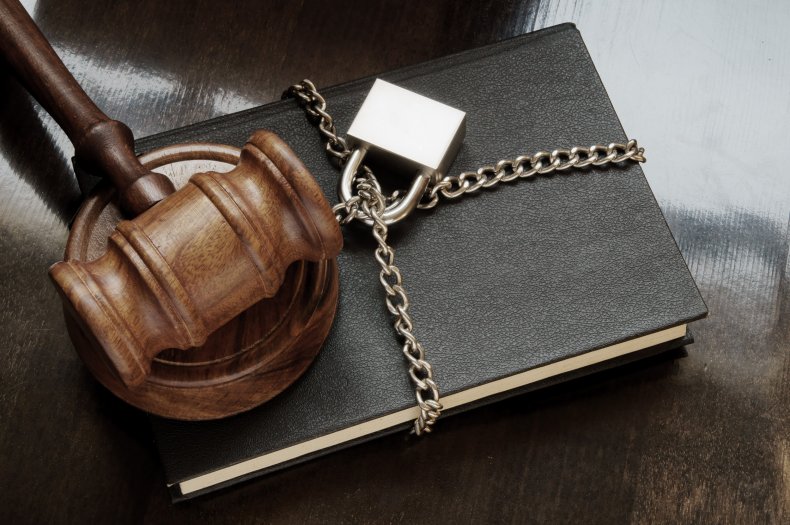 Demands for removal have specifically targeted books that address racism, racial injustice and LGBTQ experiences or relationships, according to the ALA. On the ALA's list of the top 10 most challenged books in 2021, every title focuses on marginalized communities or issues of sexuality.
Michigan had 41 book bans in four districts during the first nine months of the 2021-2022 school year, according to PEN America, a nonprofit focused on free expression.
'Do You Need Me To Define Pornographic?'
In the video that went viral on Twitter, a Michigan Advance reporter asked Dixon, "Can you define what pornographic means to you in terms of books at K-12 schools?"
"Do you need me to define pornographic?" responded Dixon. "I mean, I can, if you want me to. Alright, so there's two naked people and they are acting out a sexual act. And multiple different sexual acts. Do you want me to send you some so you can see them?"
Sara Broadwater, Dixon's Communications Director, said that critics of the press conference were disingenuous.
"This is fake pearl-clutching from left-wing activists that know damn well the garbage that's in schools," she said. "Tudor is not talking about banning books—she's talking about getting blatantly age-inappropriate books about sex out of young kids' classrooms. It's absurd that anyone would call that an extreme concept. If this wasn't a problem, no one would be talking about it. The people pushing this stuff on kids are sick."
Dixon has previously acted in low-budget, zombie- and vampire-themed films such as Buddy Bebop vs. The Living Dead. In the spring, videos surfaced of her acting in these productions, which featured some sexual scenes—including a zombie biting off a man's genitals, according to The Detroit News.
The nominee also called for the resignation of state superintendent Michael Rice over the Department of Education's training videos for teachers. These videos suggested referring to students by their preferred pronouns and offered guidance on reporting mental health concerns without outing a student's sexual or gender orientation to their parents, according to local reports.
Update 9/22/2022, 8 p.m.: This article has been updated to include comment from the Dixon campaign.