GOP Candidate Says George Floyd Video Fake, That TV Host Portrayed Chauvin
Winnie Heartstrong, a Black Republican candidate running for a Missouri U.S. House seat, has shared a 23-page document alleging that the viral video of George Floyd's May 25 death was a staged "deepfake" video hoax involving a former NBA player and a game show host.
In her document—entitled, "George Floyd is Dead: A Citizens' Investigative Report on the Use of Deep Fake Technology"—Heartstrong wrote that the man identified as Floyd in the video is actually former professional basketball player Stephen Jesse Jackson with Floyd's face digitally superimposed onto his own.
She also thinks that Derek Chauvin, the police officer who killed Floyd, was played by Ben Bailey, a comedian who hosts the game show Cash Cab.
Newsweek reached out to Jackson and Bailey's representative for comment. This story will be updated with any response.
Heartstrong also claims that "the real George Floyd" died in Corpus Christi, Texas in 2017 and that a video still showing Floyd's body on an ambulance gurney was actually just a dark-skinned mannequin used for disaster-training purposes. She has asked that photographic evidence of Floyd's corpse during the autopsy be released to the public.
She also claims that Waynel Sexton, Floyd's second-grade teacher who was recently interviewed on Houston television, is merely a "crisis actor" who may not really exist.
"Citizen investigators have pointed out that the name Wayne Sexton is short for 'Anynel Sex' or 'Anal Sex' if you remove and replace some letters," Heartstrong wrote in her document.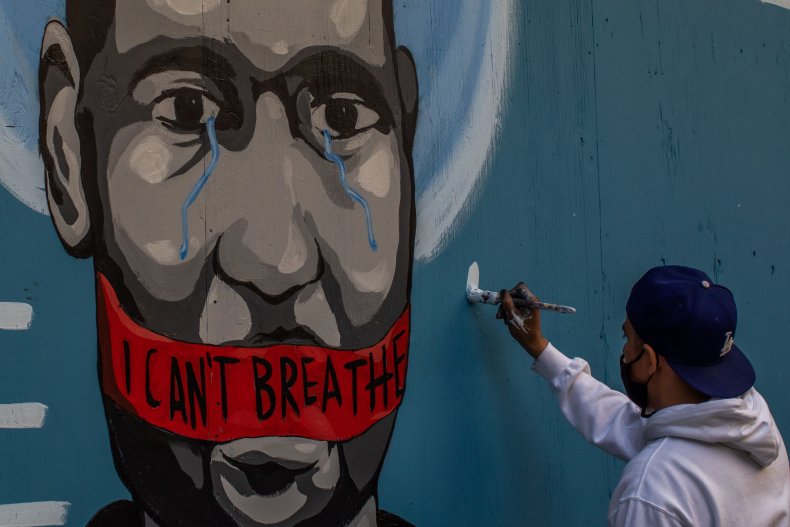 Heartstrong said she compiled her document based on information found by hundreds of international web users who took a "deep dive into internet archives." Among the Twitter users mentioned in her list of sources are two with the names Lady_Redpill and ShmitcoinJebus.
While Heartstrong doesn't say who produced or released the video, she claims the video was a "false flag" operation meant to "stoke racial tensions between Black and white Americans" and "[reinvigorate] the flailing radical Black Lives Matter movement."
The website containing the document includes a now-defunct link to a Change.org petition asking President Donald Trump and Attorney General William Barr to conduct an investigation into her claims.
In a May 31 video about Floyd's death, Heartstrong urged Black Americans to "stop being so emotional" and other Americans to "stop feeling guilt-ridden" but to instead ask questions about whether or not his murder actually occurred.
The Missouri U.S. House seat Heartstrong is running for is currently occupied by Democrat William Lacy Clay, a 19-year incumbent who has averaged 76 percent of the vote in the last 10 elections.
GOP Candidate Says George Floyd Video Fake, That TV Host Portrayed Chauvin | U.S.