GOP Candidate Says Washington Governor's Coronavirus Restrictions are 'Knee on the Neck' of Business
Washington Governor Jay Inslee has his "knee on the neck" of businesses by imposing restrictions intended to prevent the spread of COVID-19, according to his Republican gubernatorial opponent.
GOP candidate Tim Eyman equated Inslee's preventative measures with the May 25 death of George Floyd, an unarmed black man who died after his neck was pinned to the ground for nearly 9 minutes by a white police officer in Minneapolis, Minnesota.
"Jay Inslee has his knee on the neck of business owners and citizens throughout the state and they're suffocating under that," Eyman said during a Facebook Live video on Thursday. "People are dying, people are suffering... I refuse to let Jay Inslee get away with inflicting this much pain and suffering upon so many people without the same justified outrage that we all feel for George Floyd."
The GOP candidate was reiterating a claim he first made in a Facebook video over the weekend, likening Inslee to former police officer Derek Chauvin, Floyd's alleged killer.
There is no evidence to suggest that Inslee's public health measures have caused deaths, while public health experts have suggested that measures like Inslee's are likely to have prevented deaths instead.
Newsweek reached out to Inslee's campaign, who declined to comment.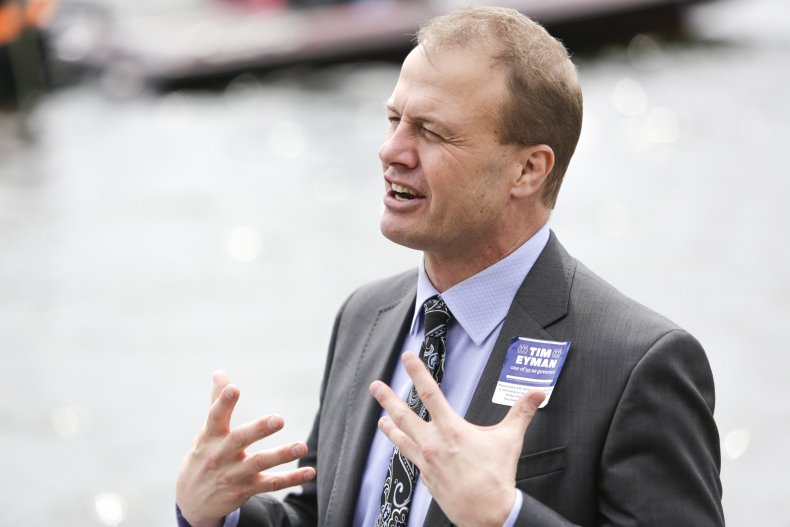 Washington was the early epicenter for the U.S. outbreak, but new cases of the virus have decreased in the state since then. Inslee's stay-at-home order expired on Sunday. On Thursday, the governor signed an order that moves Washington into the first phase of a gradual reopening plan on Friday.
Eyman is a well-known conservative figure in the heavily Democratic state. He has been called a "serial initiative filer," having launched more than 20 anti-tax ballot initiatives in over two decades, to mixed results.
The candidate has been an outspoken critic of Inslee's restrictions since they began. On May 1, he joined a lawsuit filed against the governor that describes the restrictions as "unacceptable tyranny." The lawsuit is one of several from conservative activists, politicians and business leaders who claim Inslee's orders are a violation of their rights.
Eyman has been beset by legal difficulties of his own recently. Last year, he reached a settlement on charges that he intentionally stole a $70 chair from an Office Depot. Eyman insisted that the incident, which was captured on surveillance video, was "an honest mistake."
He is also being sued for campaign finance violations by Washington Attorney General Bob Ferguson, who alleges that Eyman illegally profited from his ballot campaigns. In February, a judge ruled that Eyman had committed over 100 violations by concealing $766,447 in political contributions. A trial set for July will deal with other allegations in the case.
Eyman announced his intention to challenge Inslee late last year, before officially filing for his candidacy in May. He is one of several challengers competing for the GOP nomination, which will be determined after the state's primary takes place on August 14.