Texas GOP candidate Bianca Gracia pledged to be a "mini Marjorie Taylor Greene' if elected to office.
Gracia, who currently serves as the president of the organization Latinos for Trump, made the comparison to the controversial Republican Georgia representative during an appearance on The McFiles podcast on Wednesday. She praised Greene as "the only one right now that's really fighting back."
"They don't like her. So I might be a little mini Marjorie Taylor Greene," she said. "I don't know. They're going to call me BRG."
Also in the interview she told pastors that they would "be held accountable" if their congregants did not show up to vote for her.
"You're going to either have to show up and show out, or you're going to have to deal with it with the Lord," she said. In December, she already claimed victory in the GOP primary, saying she "conquered it already," even though the election has still not occurred.
Gracia is running for a Texas Senate seat in the 11th district, which encompasses areas south of Houston including Pearland and Galveston. She faces off in the primary against fellow Republicans Robin Armstrong, Mayes Middleton and Bob Mitchell on March 1.
In a statement to Newsweek, Gracia's campaign said, "Bianca Gracia is part of the Grassroots Conservative Patriot Movement taking a stand against not only the Democrat party, but also Establishment RINO's who are not doing enough to be a Strong Voice for the people who elected them to office. In a nutshell, once elected, I plan to be to the Texas Legislature what MTG is to the U.S. House of Congress...A Force to Be Reckoned With."
Any Republican who wins the primary would be favored in the general election in the district, where former President Donald Trump defeated President Joe Biden by more than 17 percentage points in 2020, according to The Texas Tribune.
The comparison comes after Greene, who has long been a polarizing figure within the GOP, has continued making many controversial statements that have received condemnation from Democrats and Republicans.
Last week, she faced criticism for comparing the Capitol Police to the Gestapo, the secret police of Nazi Germany—though she instead said "gazpacho," which is a soup.
"So everything is completely out of control," Greene said during an appearance on One America News Network's Real America with Dan Ball. "Not only do we have the DC jail, which is the DC Gulag, but now we have Nancy Pelosi's Gazpacho Police spying on members of Congress."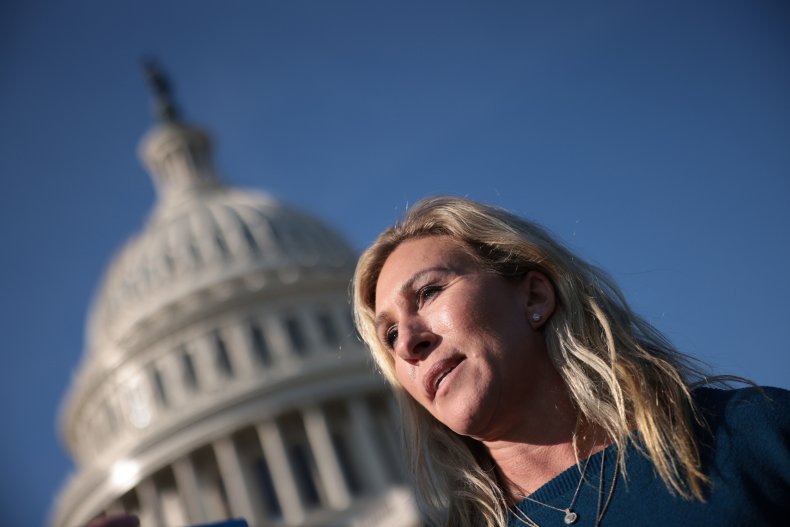 The remark was the latest where Greene drew comparisons to the Holocaust—whether it be COVID protocols or the Capitol Police. Comparisons of anything to the Holocaust are widely considered to be offensive.
Other Republican members of Congress have also spoke out against Greene. In January, Rep. Dan Crenshaw of Texas wrote on Instagram, "She [Greene] doesn't want solutions and she doesn't care if you get censored. She just wants to be a victim so she can keep asking you for campaign donations. It's a scam."
Updated 02/14/2022 9:10 a.m. ET with comment from Gracia's campaign