GOP Candidate Who Promoted QAnon Distances Herself From Conspiracy
Marjorie Greene, the GOP candidate in a heavily Republican district for the U.S. House of Representatives, is attempting to distance herself from videos that saw her promoting the QAnon conspiracy theory.
Greene won a runoff for the GOP nomination on Tuesday amid controversy over videos that show her expressing support for the discredited conspiracy, along with other videos that show her making a series of racist and anti-Semitic statements. During a Friday interview with Fox News, she insisted she that QAnon "doesn't represent" her, while complaining that she has been attacked by the media.
"I don't expect a lot of the left-leaning media to change their stance," Greene told the outlet. "I think they're going to continue to attack me because they actually do see me as someone who's unapologetically conservative. And I won't back down on my beliefs and my values."
Greene insists that her campaign is focused on "saving Americans from socialism," complaining that videos showing her previously making comments in support of QAnon were not part of the campaign. In one video, she called "Q," the supposed government "informant" in the theory, "a patriot."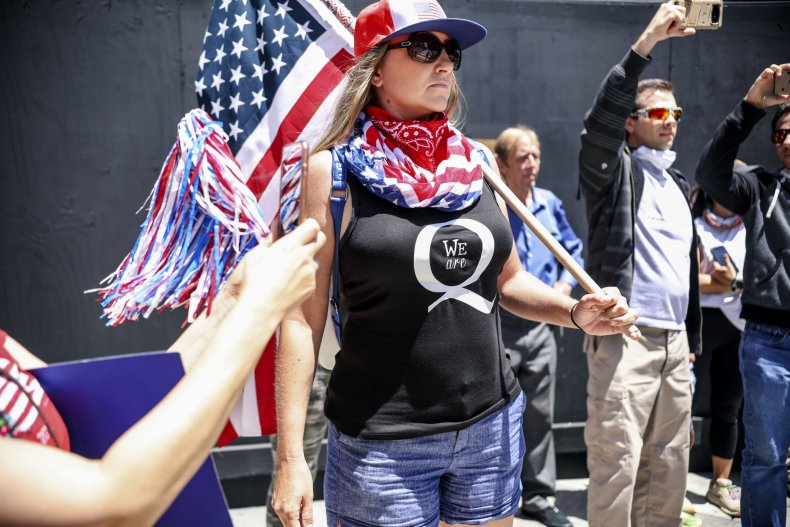 QAnon centers on claims contained in anonymous online postings from "Q," who could be multiple people, concerning a secret "deep state" plot against President Donald Trump. The evidence-free conspiracy claims that Satan-worshipping Democrats involved in child sex trafficking are one of the driving forces hellbent on destroying Trump.
Greene reportedly said that she changed her mind about the theory due to "Q" providing "misinformation" that the 2018 election was a "safe" win for Republicans. The purported informant repeatedly makes failed predictions, typically centering on claims that Trump is about to issue orders to arrest prominent Democrats and Hollywood figures for their non-existent crimes.
"I was just one of those people, just like millions of other Americans, that just started looking at other information," Greene said. "And so, yeah, there was a time there for a while that I had read about Q, posted about it, talked about it, which is some of these videos you've seen come out. But once I started finding misinformation, I decided that I would choose another path."
Greene has been denounced for more than just her past support of QAnon. Other videos show the candidate comparing Jewish philanthropist George Soros to Nazis, calling Black people "slaves to the Democratic party" and insisting that Muslims "marry their sisters."
While some Republicans have repudiated Greene due to her comments, others have embraced her despite the controversy. Even before winning the primary, she received endorsements from GOP Reps. Jim Jordan and Matt Gaetz, while on Wednesday President Donald Trump offered his congratulations and compliments on Twitter.
"Congratulations to future Republican Star Marjorie Taylor Greene on a big Congressional primary win in Georgia against a very tough and smart opponent," Trump tweeted. "Marjorie is strong on everything and never gives up - a real WINNER!"
Greene also recently felt compelled to revise her opinions on 9/11 conspiracy theories, having previously claimed that there was "never any evidence" that American Airlines Flight 77 crashed into the Pentagon, despite 125 deaths that prove otherwise.