GOP Chairwoman Says Dems 'Rigged' the System, Used COVID As Excuse
The Republican Party Chairwoman Ronna McDaniel claimed that Democrats had "rigged" the election against President Donald Trump by using the COVID-19 pandemic as an "excuse" to shift state-level voting rules.
Appearing on Fox News on Thursday, McDaniel repeated the Trump campaign's complaint about ballots being counted days after the election, and argued that changes to state election rules were "wrong against Republicans" and the commander-in-chief.
But the top GOP official also said that the results of key House and Senate races had been a "total repudiation" of Democrats who had lost their seats or failed to oust Republican lawmakers from the legislative chambers.
Speaking to Fox & Friends about the delay in election results this morning, McDaniel said: "We're going to take it through the courts. What Democrats did too... because of coronavirus, they went into states like Pennsylvania and Nevada and they changed election laws. Democrat legislators, Democrat governors in Pennsylvania's case, saying ballots can be counted up to Friday after the election, even if there's no postmark.
"So many things that are causing uncertainty, and they used COVID as an excuse, and it was allowed too happen, and it is just wrong. And it is rigged, and it's wrong against the president. It's wrong against Republicans, and now they won't let us watch."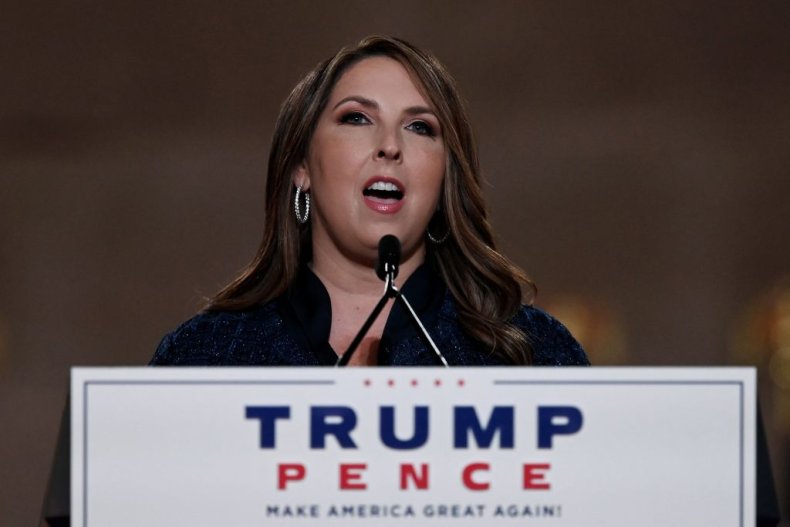 Earlier in the show, the Republican chair was more positive about the party's performance in down ballot House and Senate races on Election Day.
"It could be up to 10 seats in the House that we pick up. I'm sure Nancy's upset because our candidates were outspent four, five, six to one," McDaniel said. "They poured money into these states, it was a total repudiation of Democrats and their socialist agenda and saying we're going to stack the Supreme Court and raise taxes."
Newsweek has contacted the Democratic National Committee for comment. This article will be updated with any response.
The GOP chairwoman complained about "rigged" election contests as President Trump continued to make baseless claims about election fraud and called for vote counts in key swing states to be stopped before all ballots had been tallied.
"Last night I was leading, often solidly, in many key States, in almost all instances Democrat run & controlled. Then, one by one, they started to magically disappear as surprise ballot dumps were counted," Trump tweeted on Wednesday. "VERY STRANGE, and the 'pollsters' got it completely & historically wrong!"
Delivering a speech at the White House in the early hours of Wednesday morning, Trump also falsely claimed to have won the election and that the process had been a "major fraud" on the American public.
The president's re-election campaign has since filed lawsuits in several key battleground states where votes remain to be counted, raising various complaints about ballot counting and transparency.
After filing one such lawsuit in Michigan, which was declared for Democratic nominee Joe Biden yesterday, Trump campaign manager Bill Stepien said: "President Trump's campaign has not been provided with meaningful access to numerous counting locations to observe the opening of ballots and the counting process, as guaranteed by Michigan law."