GOP Civil War, Inspired by Trump, Grips Georgia, Threatens Other States
A new video of Trump supporters threatening to drive Georgia Governor Brian Kemp from public life could send shivers down Republican spines in Michigan, Pennsylvania and elsewhere.
On Saturday, loyal supporters of President Donald Trump in the state threatened to dismantle the Republican Party and boycott the Georgia runoff elections that will determine control of the Senate.
In a video shared to Twitter, a protester speaking into a microphone called Kemp and Utah Senator Mitt Romney "traitors," and promised to run the two Republicans out of office for allegedly being "complicit" in Trump's failed efforts at reelection.
"For any Republicans not explicitly helping Trump to 'stop the steal,' we will make sure you are never elected ever again," the protester said.
Another demonstrator could be heard shouting: "We're the new GOP."
The protesters gathered after Georgia election officials certified the result that President-elect Joe Biden had won following a recount. Their message to the GOP was unambiguous: declare Trump the winner or "we will finish you." Meanwhile, other Republicans on Parler, a "free-speech" social media platform, invoked a conspiracy theory about "rigged" voting to call for a boycott of the Georgia Senate runoffs.
Similar to the in-person protesters, the online Trump supporters accused Kemp and Georgia Secretary of State Brad Raffensperger of secretly being Democratic operatives. Their language echoed those used by believers of the QAnon conspiracy theory.
Trump's aggressive attacks on GOP officials for refusing to back his unverified election fraud claims inspired their rhetoric. Stoked by the president's claims about the vote, the infighting in Georgia has plunged the GOP into a civil war with just weeks left until the runoffs.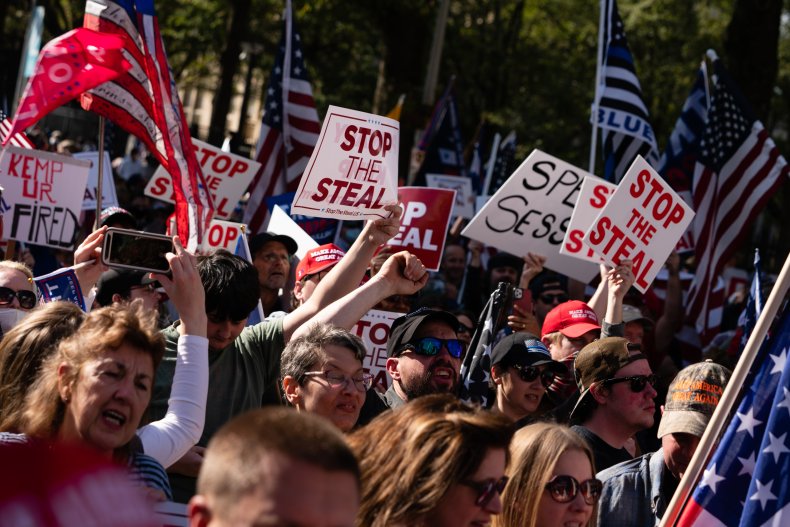 Opponents of Trump's unverified stolen election narrative view Raffensperger as a hero for upholding election integrity. But the president's supporters have framed the official as someone who has facilitated the alleged rigging of the election and Biden's victory. Georgia Republican lawmakers have fallen on both sides of the narrative.
Georgia Senators David Perdue and Kelly Loeffler, the two GOP incumbents in the battle for the Senate, championed calls for Raffensperger's resignation in an apparent move to win favor with the president and his base. But Georgia's lieutenant governor, Geoff Duncan, appeared on television to state that there has been no evidence of widespread voter fraud.
Raffensperger said the senators "folded like a cheap suit," pushed back against team Trump's alleged conspiracy theories, and claimed that the president caused his own loss by discouraging supporters from mail-in voting.
With the GOP Senate majority hanging in the balance, the rift within the party over Trump's prospects of a second term risks spreading to Michigan and Pennsylvania, two states set to certify their election results in the coming weeks.
The risk is higher in Michigan where Republicans have similarly pushed back against Trump's demand to overturn the election results. After a meeting with Trump on Friday, Michigan Senate Majority Leader Mike Shirkey and House Speaker Lee Chatfield, two high-ranking GOP lawmakers, declined to appoint Republican-friendly electors in an attempt to flip the state. Their reluctance is expected to draw ire from Trump loyalists.
Chatfield and Shirkey also pushed back against Trump's claims of widespread voter fraud, saying they haven't "been made aware of any information that would change the outcome of the election."
Trump responded on Saturday morning by insisting without evidence that "massive voter fraud" happened in the state.
After Chatfield and Shirley refused Trump's request, Michigan Republican Party Chairwoman Laura Cox and Republican National Committee Chairwoman Ronna McDaniel on Friday asked the Board of State Canvassers for a two-week delay in certification to allow time for a probe into alleged election "anomalies and irregularities." The Board will meet on Monday to discuss certification and their request.
Cracks within the Republican Party are also starting to appear over articles of impeachment against Democratic Michigan Governor Gretchen Whitmer. On Thursday, three GOP representatives—Beau LaFave, Matt Maddock and Daire Rendon—introduced the articles, claiming Whitmer violated the state's Constitution and exceeded her authority with her COVID-19 executive orders. A day earlier, Chatfield had dismissed calls from within his party to remove Whitmer from office.
"We're not the party that impeaches someone because we're upset with policies that they've enacted," Chatfield said. "It's no secret that I disagree with a lot of what this governor has done." While he opposed Whitmer's handling of the pandemic, Chatfield also called the "shameful" calls for her impeachment a distraction from larger issues facing the state.
In Pennsylvania, House Republicans have ordered an audit of the election results that has Biden 1.2 percent—about 81,000 votes—ahead of Trump. Republican members, who voted mostly along party lines for the order, insist that they do not intend to overturn votes or swap out its slate of electors to favor the president.
Pennsylvania Republican State Representative Seth Grove said the audit, which will span 90 days, will "dive down into the data and the realities of what happened in this election." But Democratic State Representative Kevin Boyle has called the audit a waste of time and that it functions as a method for members of the GOP to satisfy Trump's base.
"There is political pressure from some of Donald Trump's biggest supporters to try to delay certification of the presidential election," Boyle said.
All remaining counties in Pennsylvania are required to certify their results on Monday, with Secretary of State Kathy Boockvar expected to officially certify Biden as the winner of the state on Tuesday.
Meanwhile, high-profile Republicans in Congress have largely avoided provoking Trump's base by staying silent on the widespread voter fraud claims, but the depths of infighting in Michigan, Pennsylvania and other states could become clearer in time. Nearly 74 million Americans voted for Trump, a significant number of people that constitutes a group larger than niche.
Newsweek reached out to Kemp, Whitmer and Pennsylvania Governor Tom Wolf for comment.