GOP Congressman Advocates for Fake Vaccine Administration: 'Ethical Form of Non-Compliance'
A Congressman from Kentucky advocated for an "ethical form of non-compliance" by encouraging people and medical providers to falsify receiving a COVID-19 vaccine.
Republican Thomas Massie, who represents northern Kentucky, tweeted on October 15 that if a person were to "hypothetically" find a provider willing to fake administer a vaccine, it should be considered an ethical form of non-compliance, and it would be hard to prove.
Massie went on to suggest that this is already happened "thousands of times already" and is likely to continue increasing as vaccine mandates affect more workers.
"You'd have to be a fool to think this isn't happening," the elected official wrote.
Massie also wrote, "If you're relying on the vaccine to prevent your own death, did you take the $50 antibody test to confirm that it at least caused your body to create the spike antibodies?"
The Republican penned two other tweets criticizing vaccine mandates prior to his tweets about faking receiving the shot.
"Any vaccine mandate that does not recognize naturally acquired immunity should be ignored on the grounds that people implementing it exhibit a willful disregard for reality and science," he wrote.
Massie continued, "If you indulge them in their alternate reality by acquiescing to their superstitious demands, be prepared for all manner of additional abuse that will follow."
Jorge A. Caballero, MD, responded to Massie's tweets and said that his understanding is any vaccine provider could be discovered and charged with defrauding the U.S. Government, with the recipient considered as a co-conspirator in the crime. He added that fraud is unethical.
While Massie's tweet advocates for health care providers and individuals who don't agree with the COVID-19 vaccine to lie about giving or receiving it, the FBI has warned that creating or buying fake vaccination cards is against the law.
"By misrepresenting yourself as vaccinated when entering schools, mass transit, workplaces, gyms, or places of worship, you put yourself and others around you at risk of contracting COVID-19," the FBI wrote in a March press release. They added that it's illegal to use the government agency's seal without authorization and faking vaccination records can lead to monetary fines and up to five years in prison.
The first cause of fraudulent COVID-19 vaccination record cards was recorded in July by the Department of Justice (DOJ) when a California-licensed naturopathic doctor was arrested for selling homeoprophylaxis immunization pellets and falsifying COVID-19 vaccine records.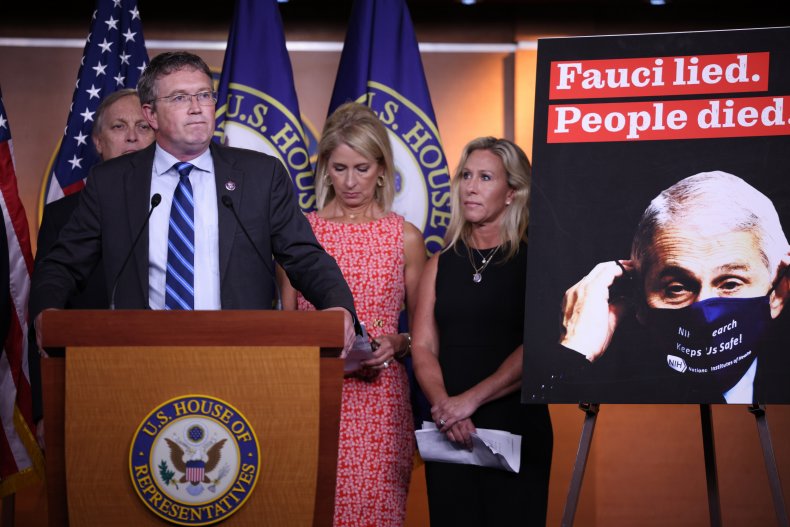 The DOJ said that spreading inaccurate medical records is dangerous, but Massie previously argued that forcing anyone to receive the COVID-19 vaccine "without their consent is violence."
"Depriving them of their basic human rights because they won't give consent is also violence," he tweeted. "Those who promote either should be ashamed."
The same month, he also compared COVID restrictions to the Holocaust but later deleted the tweet. An intern for Massie, Andrew Zirkle, resigned because he felt the post was deeply offensive.
Massie was among Representatives Marjorie Taylor Greene and Ralph Norman, Republicans from Georgia and South Carolina, respectively, in suing House Speaker Nancy Pelosi over the House's mask mandate. Massie was fined $500 in May for refusing to wear a mask on the floor.
Newsweek reached out to Massie for comment.