GOP Congressman Asks Trump to Stop Spreading 'Unfounded' Joe Scarborough Conspiracy: 'It Will Destroy Us'
Republican Congressman Adam Kinzinger of Illinois on Sunday asked President Donald Trump to stop spreading baseless conspiracy theories about Joe Scarborough.
Trump earlier Sunday shared a tweet urging his 80 million followers to read a story shared by conservative publication True Pundit that claims Scarborough, the co-host of MSNBC's Morning Joe program, was involved in the death of 28-year-old Lori Klausutis in 2001.
At the time, Klausutis was working for Scarborough, then a Republican congressman from Florida. Police said they found no evidence of foul play in relation to Klausutis' death. Medical examiners reported that the woman had a heart condition, which caused her to faint and accidentally smack her head on a table.
Trump has revived attention to Klausutis' death almost 20 years later by repeatedly touting unproven conspiracy theories speculating that she was murdered.
"A lot of interest in this story about Psycho Joe Scarborough," the president tweeted. "So a young marathon runner just happened to faint in his office, hit her head on his desk, & die? I would think there is a lot more to this story than that? An affair? What about the so-called investigator?"
In response, Kinzinger called Trump's claims "completely unfounded conspiracy," and urged the president to "stop spreading it, stop creating paranoia."
"It will destroy us," the GOP lawmaker added.
Newsweek reached out to the White House for comment. This article will be updated with any response.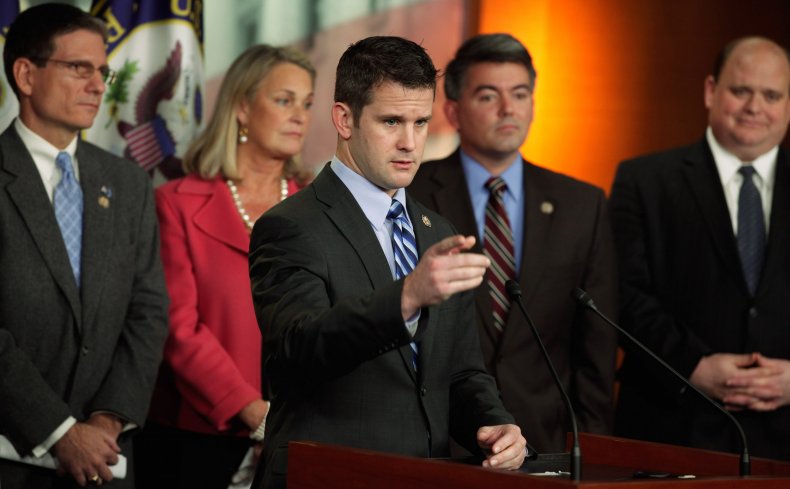 The president also shared a story on Saturday that called for a new probe to be conducted into the circumstances surrounding Klausutis' death. In the tweet, he called Scarborough a "nut job" and claimed that the 2001 case was now the "big topic of discussion in Florida."
"Did he get away with murder? Some people think so," Trump said in a previous tweet last week.
Scarborough has been fiercely critical of Trump over his alleged slow and inadequate response to the coronavirus. He recently expressed outrage against Trump live on-air for aggressively promoting baseless theories that have hurt the Klausutis family.
Scarborough's wife and Morning Joe co-host, Mika Brzezinski, recently called Trump a "cruel, sick, disgusting person" over the remarks, and explained that the president was merely attempting to use the theory to distract from the abysmal job he's doing in the White House to contain the pandemic.
The president's remarks come as COVID-19 deaths in the United States is about to hit a grim new milestone of 100,000 fatalities.
Kinzinger remarks on Sunday were not the first time the Republican had been publicly critical of the president. Last October, the lawmaker condemned the president over reports that the U.S. had bombed an American munitions storage bunker at a base in Syria.