GOP Congressman Calls on Candidates Sanders, Warren, Klobuchar and Bennet to 'Recuse' Themselves From Trump Impeachment Trial
Republican Representative Jason Smith called on the four senators running for the Democratic party's presidential nomination to "recuse" themselves in the pending impeachment trial in the Senate for President Donald Trump, arguing they could not be "impartial jurors."
Speaker of the House Nancy Pelosi, a Democrat from California, said on Tuesday that the House would vote Wednesday to name the impeachment managers and send the articles of impeachment against Trump, which passed largely along party lines in December, to the Senate. Pelosi had been pressured by Republicans to transmit the documents so the trial could proceed, but she had delayed the process in an effort to urge a more "fair" and "impartial" trial in the Rebublican-controlled upper chamber of Congress.
Smith, who represents Missouri, dismissed allegations that Republicans would not be "impartial," turning the accusation against Democratic presidential candidates Senator Bernie Sanders of Vermont, Senator Elizabeth Warren of Massachusetts, Senator Amy Klobuchar of Minnesota and Senator Michael Bennet of Colorado.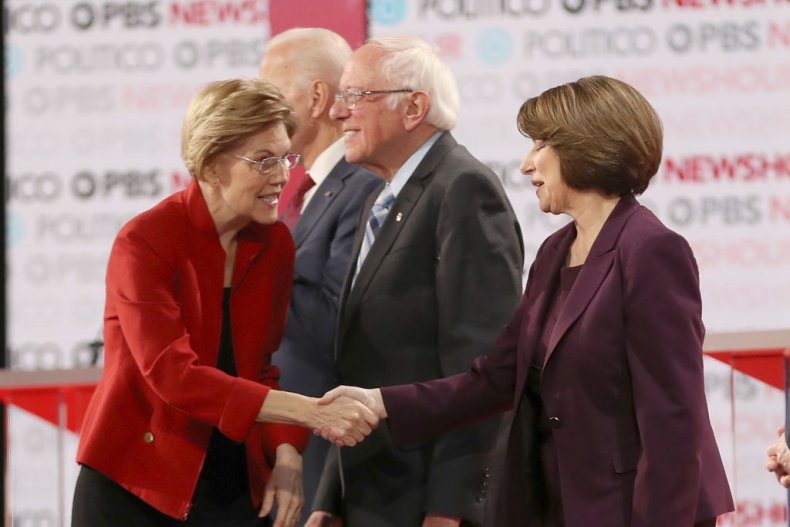 "I think a question that needs to be asked as the articles of impeachment move over to the United States Senate is will the four candidates for office, for president of the United States, be impartial jurors?" he asked in a press conference on Tuesday.
He characterized Sanders, Warren, Klobuchar and Bennet as "four people that's trying to fire the president of the United States in the election process."
"How can they be impartial jurors?" the congressman asked. Continuing, he said: "I hope those four senators decide to recuse themselves."
Klobuchar's press secretary Elana Ross referred Newsweek to a previous comment from the senator back in October when other Republicans raised the same concern. "No, I would not recuse myself. It's part of my constitutional obligation," the congresswoman said at the time.
Newsweek has reached out to press aides to the other three senators for their response, but they had not replied at the time of publication.
The GOP representative had already put forward a formal resolution calling for Sanders, Warren, Bennet and Klobuchar to not participate in the impeachment trial, arguing they had a conflict of interest.
"A sitting United States Senator actively seeking the Presidency of the United States has a vested interest in the reputation and political future of an incumbent President of the United States who is currently serving his or her first term in office," House Resolution 744 states.
Democrats have strongly criticized Senate Majority Leader Mitch McConnell, a Republican from Kentucky, for publicly stating that he does not plan to be an "impartial juror" in Trump's pending trial. The senator has repeatedly said that he plans to work closely with White House counsel to coordinate the president's defense, while dismissing the allegations against the president.
Democratic Senator Sherrod Brown of Ohio told MSNBC last month that there was "increasing talk" that the majority leader should "recuse himself" from the trial, due to his public statements. Republican Senators Susan Collins and Lisa Murkowski have also expressed misgivings about McConnell's remarks.
"I heard what leader McConnell had said, I happened to think that that has further confused the process," Murkowski, who represents Alaska, said in a December interview. She said the majority leader's comments had "disturbed" her.
Ahead of any Senate trial, according to Rule XXV of the Senate Rules in Impeachment Trials, all senators must take an oath, which says: "I solemnly swear [or affirm, as the case may be] that in all things appertaining to the trial of the impeachment of [the person being impeached], now pending, I will do impartial justice according to the Constitution and laws: So help me God."
GOP Congressman Calls on Candidates Sanders, Warren, Klobuchar and Bennet to 'Recuse' Themselves From Trump Impeachment Trial | U.S.