GOP Congressman Calls Out Trump for Attacking Pelosi Ahead of D-Day Speech: 'He Should Be Above That'
Republican Congressman Peter King criticized President Donald Trump's decision to attack Speaker of the House Nancy Pelosi while he was in Normandy ahead of a speech last week to commemorate the 75th anniversary of D-Day.
King, who represents New York's 2nd district, had a call-in Sunday interview with radio host John Catsimatidis of AM 970's The Answer in New York. In remarks on the radio show, he argued that the president "should be above" such actions while abroad.
"I have a different style from the President. I wouldn't have been attacking Nancy Pelosi from Normandy," King pointed out, but he also argued that Pelosi, a California Democrat, had attacked the president first. He explained that he believed Trump had the right to attack back, but should have waited until he returned to the U.S.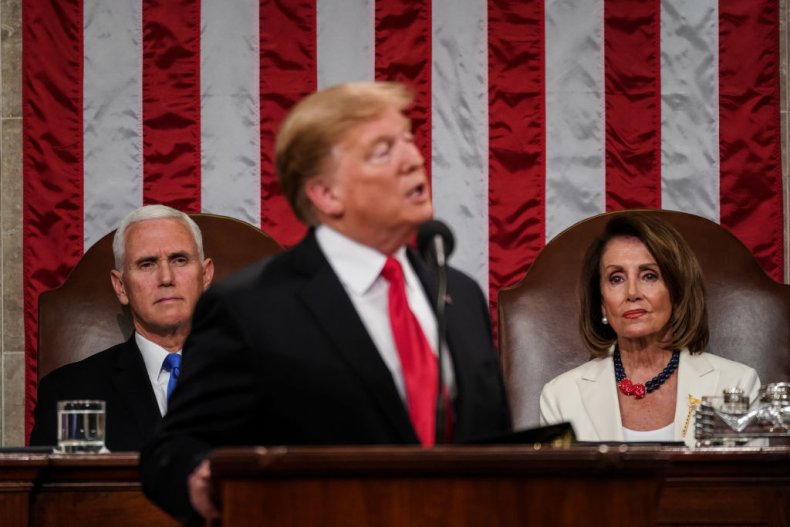 "I just think that for his own sake, since his speech was so outstanding," the representative added, "he should've let it be until he got home. He should be above that." King later said again that the attack on Pelosi "detracted so much from the outstanding speech he gave."
The initial reaction to Trump's Thursday D-Day commemoration speech was highly positive. Typical Trump critics were uncharacteristically quick to laud the president's remarks and actions during the ceremony.
MSNBC's Morning Joe host Joe Scarborough said "let's hope this moment continues," following Trump's speech. The former Republican congressman, who regularly criticizes the president and his administration, also said he believed it was "the strongest speech of his presidency."
CNN's chief White House correspondent Jim Acosta, who was briefly banned from the White House after a heated confrontation with Trump last year, said he thought "this was perhaps the most on-message moment of Donald Trump's presidency." He continued, saying he thought Trump "rose to the moment."
But ahead of the speech, the president sat down with Fox News host Laura Ingraham and blasted Pelosi. Saying that the speaker of the House was a "nasty, vindictive, horrible person," he called her a "disgrace." The interview aired later on Thursday evening.
Trump's criticism came after it was reported that Pelosi had told fellow Democratic lawmakers in a closed-door session that she wanted to see the president "in prison," but pushed back against moving forward with impeachment.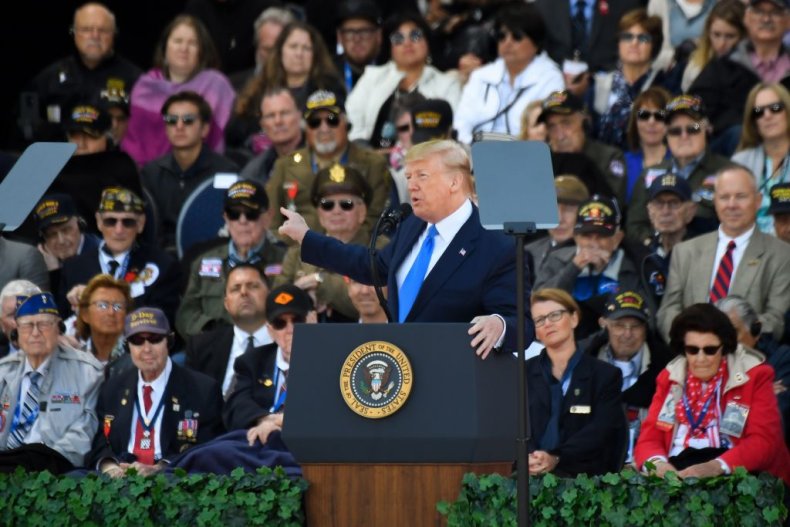 Pelosi, who was also in Normandy for the commemoration, was asked by reporters if she had a response to Trump's criticism, but she declined to respond. "I don't talk about the president while I'm out of the country," she said. "That's my principle."
Trump also drew criticism last month for attacking his political rival 2020 Democratic presidential candidate Joe Biden while outside the country on a trip to Japan. In those remarks, the president praised North Korean dictator Kim Jong Un and suggested it was a positive "signal" that the Asian leader had called Biden "a low IQ individual, & worse." When questioned about the remarks, which were first posted to Twitter, Trump doubled-down on the criticism of the former vice president.
Some Republicans criticized the president after that attack as well.
"It's Memorial Day Weekend and you're taking a shot at Biden while praising a dictator. This is just plain wrong," GOP Representative Adam Kinzinger from Illinois wrote on Twitter at the time.