GOP Congressman Defends Trump Over 'Witness Intimidation' Allegation: It's Just a 'Single Tweet... Doubt She's Intimidated'
Two congressmen, one Republican and one Democrat, on Sunday debated whether Donald Trump intimidated a witness after the president attempted to discredit former U.S. ambassador to Ukraine Marie Yovanovitch on Twitter, as she testified publicly before the House Intelligence Committee.
Trump attacked Yovanovitch as she testified in the second-ever public Trump impeachment hearings on Friday. "Everywhere Marie Yovanovitch went turned bad. She started off in Somalia, how did that go?" the president tweeted as the former ambassador explained her removal to lawmakers. After the hearing, Yovanovitch told top Democrat Adam Schiff that Trump's remarks were "intimidating."
Commenting on the president's tweet, Democratic Congressman Sean Maloney said "it's obviously wrong" during a Sunday appearance on ABC's This Week.
"The president is intimidating a witness in real time. How have we come to the point where decent people like Chris Stewart have to defend that kind of conduct?" he continued. "In the hearing room, the Republicans are praising her and calling her a great American. And the president is attacking her viciously."
During the same segment, Republican Congressman Chris Stewart downplayed the president's attacks on Yovanovitch and called allegations of "witness tampering" against Trump "nonsense."
"Look, the president communicates in ways that sometimes I wouldn't," Stewart said, adding that Yovanovitch is "an extraordinarily strong and powerful individual. I really doubt she's intimidated by a single tweet."
House Speaker Nancy Pelosi on Sunday condemned Trump's tweet on CBS' Face the Nation as one the president posted to undermine Yovanovitch's "strength."
"Of course, presidents appoint ambassadors, but people don't insult people, especially when they're giving testimony before the Congress of the United States," she said. "I think even his most ardent supporters have to honestly admit this is the wrong thing for the president to do."
Pelosi added: "I think part of it is his own insecurity as an imposter. I think he knows full well that he's in that office way over his head. And so he has to diminish everyone else."
Despite her condemnation, Pelosi declined to make a determination as to whether Trump's tweet amounted to witness intimidation. "I haven't had a lot of time to pay attention to the president's tweets and the legal implications of them," she said. "I just think that was totally wrong and inappropriate and typical of the president."
While Republican Congressman Michael Turner, a member of the House Intelligence Committee, admitted that Trump tweet was "generally unfortunate," he said it would be "laughable" to suggest it could be an impeachment offense.
Turner went on to argue that the tweet came during Yovanovitch's testimony, not before, and could not have stopped her from making it. "It's certainly not impeachable, and it's certainly not criminal, and it's certainly not witness intimidation," he said.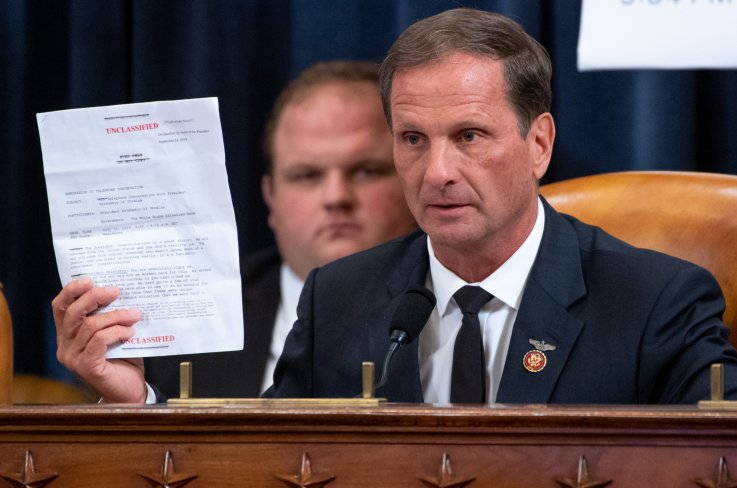 GOP Congressman Defends Trump Over 'Witness Intimidation' Allegation: It's Just a 'Single Tweet... Doubt She's Intimidated' | Politics