GOP Congressman Duncan Hunter Admits He Took Photos Of Dead Enemies While in Marines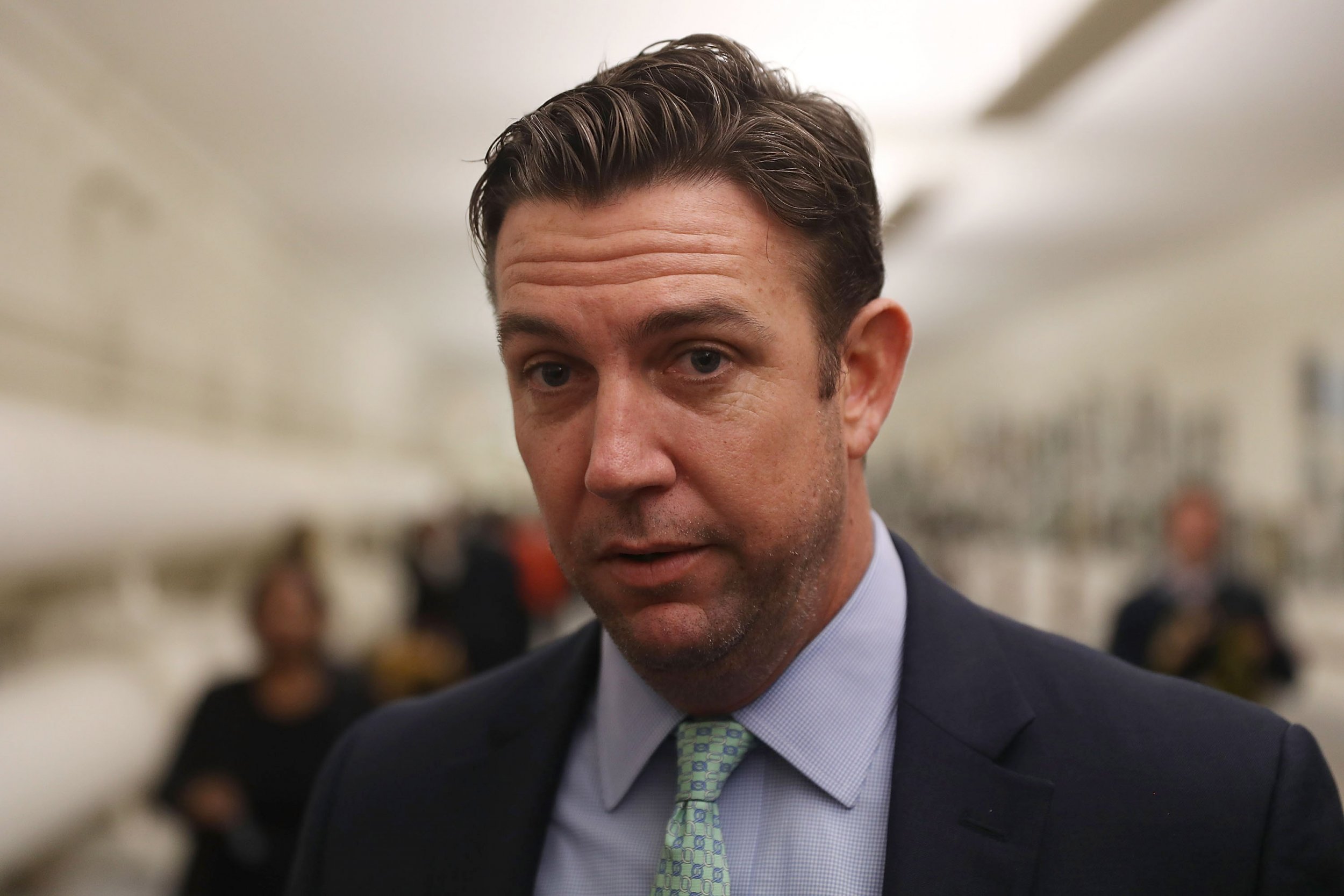 Republican Rep. Duncan S. Hunter (CA) this weekend admitted that he photographed the bodies of dead combatants during his time serving in the U.S. Marine Corps.
Hunter's comments were made as he defended Navy SEAL Chief Eddie Gallagher, who has been charged with war crimes, at a border event in Ramona, California, on Saturday. "Eddie did one bad thing that I'm guilty of too — taking a picture of the body and saying something stupid," Hunter told a crowd, before noting that he did not share the images he captured to social media.
"But a lot of my peers… have done the exact same thing," he added.
His remarks were in response to a question from Dan Summers, the border event's moderator, who asked him "what it would mean to you for President Trump to pardon Navy SEAL Chief Eddie Gallagher? What should we know about this case, and why is it so important?"
Although Hunter said he "absolutely" backs Gallagher being pardoned, he also noted that he wanted the trial to go forward so citizens can "see how disgusting the military justice system is when it's run by lawyers and bureaucrats [who] go after the war-fighter."
"Maybe give an example of how they can change the system," the GOP congressman concluded.
Hunter previously expressed similar sentiments in a USA Today op-ed published on Friday, titled "Commander in chief Donald Trump's pardon is warranted." Newsweek reached out to Hunter's team for further comment but did not receive a response in time for publication.
Gallagher has been accused of taking photos with a slain enemy as well as killing a wounded teenage ISIS prisoner under his care in Iraq two years ago and shooting unarmed civilians. His trial, originally set to start on Tuesday, has been pushed back to begin June 10 after Gallagher's defense team argued that the government's monitoring of its emails has impeded the defendant's right to a fair trial.
Ahead of Memorial Day weekend, Trump indicated he is mulling over pardons for several members of the U.S. military who have been accused or convicted of war crimes, including Gallagher. Two officials told the New York Times last weekend that the Trump administration have sought the paperwork required to complete the pardons on or around Memorial Day, despite the process usually taking several months.
According to the Navy's confidential criminal investigation report, obtained by the Times, Gallagher fatally stabbed a 16-year-old ISIS fighter, posed with the body and then sent the image to a colleague. "Good story behind this, got him with my hunting knife," he allegedly wrote to the SEAL.
After commanders formally reported the killings to the Navy Criminal Investigation Service last year, Gallagher was arrested in September and charged with over a dozen crimes, including attempted murder and premeditated murder. Gallagher has pleaded not guilty to all the charges levied against him. He faces life in prison if convicted.