Former GOP Congressman Says He Left Party Over Donald Trump's 'Misogyny' and 'Race-Baiting'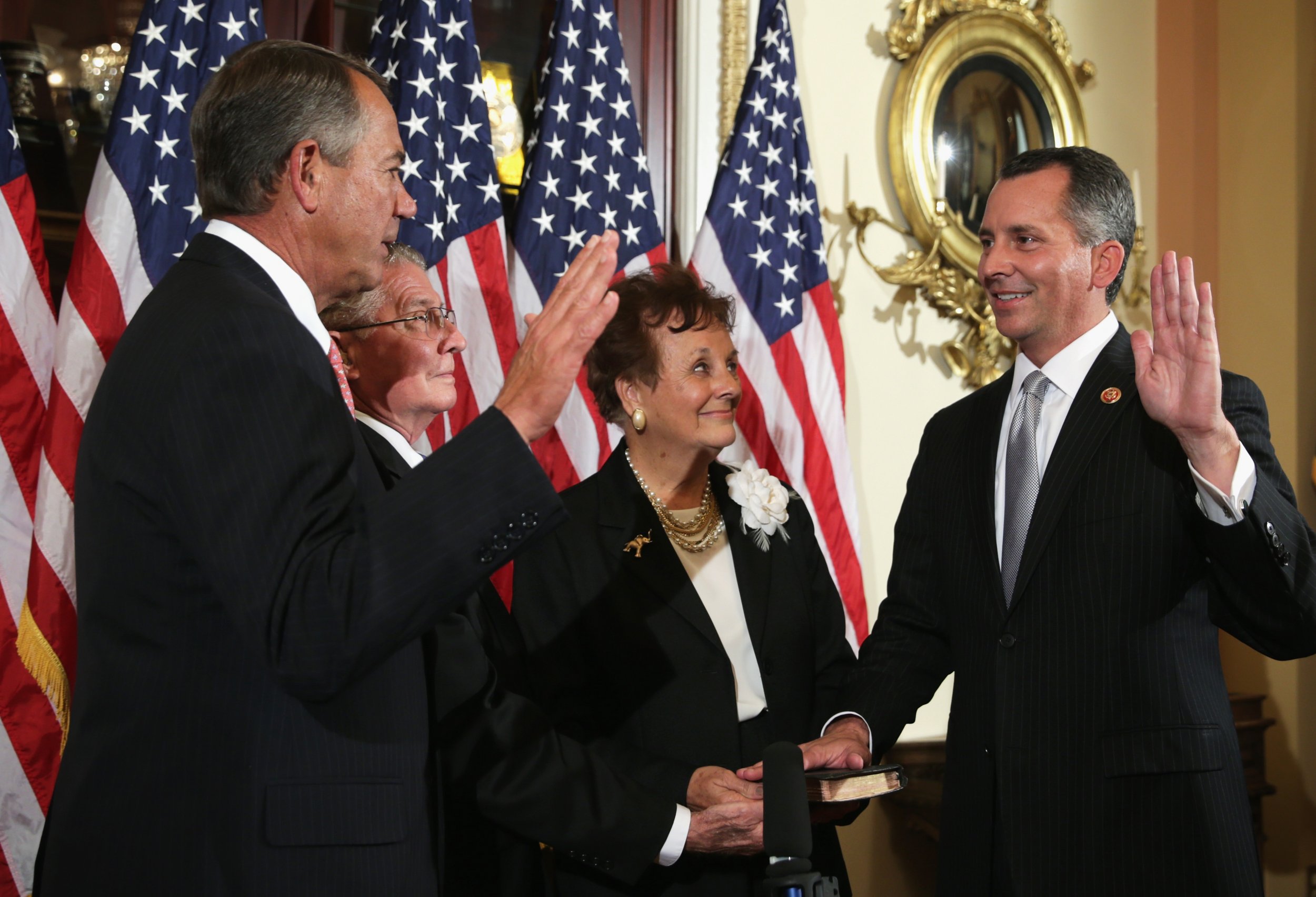 Former U.S. Representative David Jolly of Florida is one of several prominent Republicans who have either left the Republican Party or have seriously considered leaving it in the era of President Donald Trump.
Jolly spoke Tuesday about his decision, made weeks ago, to officially leave the GOP and re-register with no party affiliation.
"His flirtations with misogyny, with race-baiting, a man of vacuous ideology, little conviction," said Jolly about Trump on MSNBC's afternoon program Deadline: White House. "The tone he has set for the party… He's wrong for the country and wrong for the party."
Jolly represented Florida's 13th Congressional District, which includes the Tampa Bay area, from 2014 to 2017. He lost his bid for re-election in 2016 to former Republican Governor Charlie Crist, who later became a Democrat.
Both Jolly and his wife re-registered with no party affiliation, Jolly said, after Jolly learned they were expecting a baby girl. But the former Republican lawmaker emphasized that his decision to leave the party was about more than just the president. It was about what the Republican Party had become.
"The GOP orthodoxy has gone so far astray from the Jack Kemp days when I joined the party, where we embraced this notion of equality of opportunity for all people, and based in that foundation, we suggested rolling back interference from government," Jolly said. "Well, what we did from moving to a less-government party was we actually removed all the proper tools that government can deploy to empower power, particularly communities that are less fortunate."
Jolly, who has frequently appeared on MSNBC and CNN as a U.S. politics analyst, is no stranger to criticizing the state of the Republican Party, or Trump. He told MSNBC that, in his opinion, the party had contributed to an "economic disparity, to an education disparity and, frankly, to a cultural disparity among many of our communities."
Other prominent Republicans—at both the local and national level—who have left the Republican Party in recent years include former longtime GOP strategist Steve Schmidt, who was the presidential campaign manager for John McCain; Trump's former personal attorney Michael Cohen, who was the GOP's deputy finance chair; former Ohio county Republican Party Chairman Chris Gagin; conservative Washington Post columnist George Will; former Senator Gordon Humphrey of New Hampshire; former Representative Joe Scarborough of Florida; and Peter Wehner, a former aide to President Ronald Reagan.
Senator Ben Sasse of Nebraska has said on numerous occasions that he has considered leaving the party and classifies himself more as an "independent conservative," despite having one of the most conservative voting records in the Senate.
Jolly reminded MSNBC viewers Tuesday that he was one of the sitting members of Congress to call for Trump to drop out of the presidential race. He said he stayed and fought for three years in Congress, hoping both parties would become less rigidly partisan.
"There are fights at times that wiser women and men walk away from. And this is a fight I've chosen to walk away from," Jolly said. "There are others that can fight for the dignity of the Republican Party. I'm excited about what the future holds as an independent."