Republican Congressman Inaccurately Claims Nancy Pelosi Planned Impeachment 'Since the Moment She Took Power'
Republican Congressman Matt Gaetz inaccurately claimed during a Fox News interview on Saturday evening that Speaker of the House Nancy Pelosi had been seeking to impeach President Donald Trump "since the moment she took control." In reality, the Democratic representative from California had long resisted calls from within her party to pursue such action.
"Nancy Pelosi has been planning this impeachment since the moment she took power," Gaetz argued during an interview with Fox News host Jeanine Pirro, a prominent Trump defender. The GOP representative from Florida also argued that the impeachment inquiry was simply for "television consumption," slamming the process as overtly "partisan."
"The American people hate this. And if Congress continues it, they may end up hating us," Gaetz added. Despite the congressman's assertion, a new poll from Politico/Morning Consult – the first to be conducted since the successful impeachment vote last week – showed that 52 percent of respondents supported Trump's impeachment and removal, while just 42 percent opposed such action by Congress.
Trump was formally impeached by the House of Representatives on Wednesday, with a vote that fell largely along party lines. The vast majority of Democrats – who control the lower chamber of Congress – voted in favor of both articles of impeachment, joined by independent Representative Justin Amash of Michigan. Amash, one of the legislative body's most conservative members, was elected as a Republican but declared his independence in July.
Despite Republicans and Trump arguing that Democrats have been trying to impeach the president since he took office, the party's leaders in Congress had long resisted efforts by more progressive representatives. In fact, multiple previous votes to impeach the president were defeated and were not supported by Pelosi.
Back in March, Pelosi told The Washington Post that she had essentially rejected the idea of pursuing Trump's impeachment.
"I've been thinking about this: Impeachment is so divisive to the country that unless there's something so compelling and overwhelming and bipartisan, I don't think we should go down that path, because it divides the country," she said. "And he's just not worth it."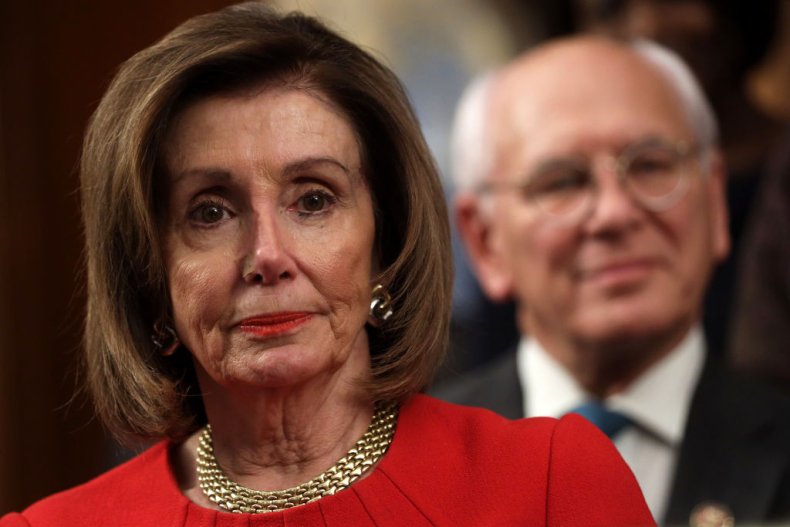 In April, she again cautioned against impeachment in a letter to House committees investigating the president's actions.
"It is important to know that the facts regarding holding the President accountable can be gained outside of impeachment hearings," she wrote.
Pelosi re-took power as the Speaker of the House in January, after a wave of Democrats again took control of the lower chamber of Congress after the 2018 midterm elections. The Speaker was first elected as Speaker of the House in 2007 and served in that capacity until 2011, when Republicans re-took control of the legislative chamber. The representative is also the first woman in history to serve in the role.