GOP Congressman Posts Video Debunking Donald Trump's Election Fraud Claims
In a video posted to YouTube on Thursday, Illinois Republican Congressman Adam Kinzinger addressed the prevalence of conspiracy theories in U.S. politics while debunking some President Donald Trump's allegations of voter fraud.
Trump has refused to concede the November election to President-elect Joe Biden, baselessly claiming that widespread voter fraud perpetrated by Democrats handed Biden the victory. Trump and members of his legal team have alleged that voting machines distributed by Dominion Voting Systems were programmed to flip votes from Trump to Biden.
While a majority of Trump's legal efforts to have the election results overturned have failed, some House Republicans have stated they plan on objecting to the results of the Electoral College during the official Congressional count of the votes on Wednesday. Kinzinger said in the video that the challenges were based on misinformation.
"The president doesn't want to admit defeat and nobody would, but he's currently trying to discredit the election results through falsehoods and conspiracies," Kinzinger said. "As someone entrusted to lead, I have a choice. I can be quiet and I can survive by taking the easy path or I can speak up and lead without concern for the consequences. I choose to lead without fear."
"As public servants, we have a responsibility to serve in good faith," Kinzinger added. "Purporting falsehoods is dangerously irresponsible—and it's just plain wrong."
One of the claims made by Trump's legal teams was that Dominion voting machines in Michigan were counting votes for Trump as votes for Biden. Kinzinger said those claims were false.
"There was an error but it was a human error, not a Dominion issue, and it was corrected," Kinzinger said.
Republicans planning on challenging the Electoral College vote are basing their actions on conspiracy theories, an effort Kinzinger said "won't succeed and we all know it."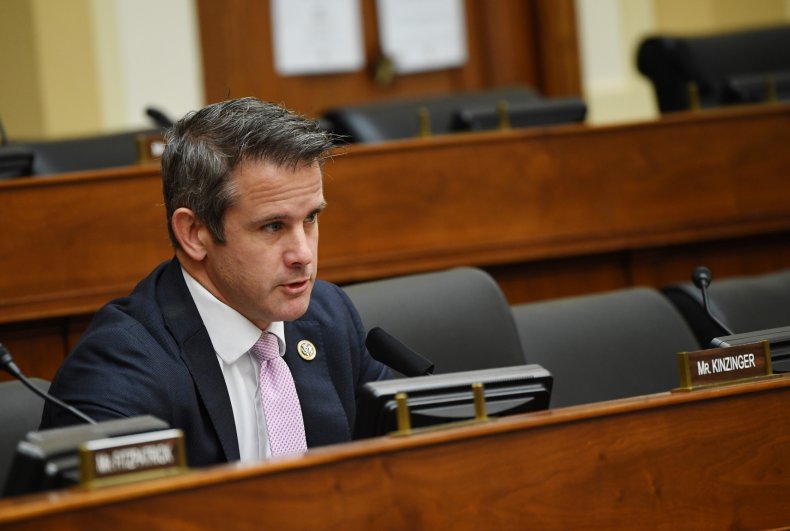 Alabama Republican Representative Mo Brooks said in December that he would contest the Electoral College tally because some battleground states used "flawed election systems" in the November election. More GOP representatives said they would follow Brooks's lead in objecting to the tally.
Brooks said Monday that Kinzinger didn't have all the facts.
"If he would do his homework," Brooks said of Kinzinger on Monday's episode of Fox & Friends, "he would understand the evidence is overwhelming. He can either surrender to the people who support voter fraud, election theft, or he can fight for his country on this particular issue."
Kinzinger responded on social media, writing that the only thing he was "surrendering to is the Constitution and the will of the people."
In order to submit a formal challenge to the tally, both a member of the House and a member of the Senate must sign off on the objection. On Wednesday, Missouri Republican Senator Josh Hawley announced that he would join House members who choose to challenge the Congressional electoral vote count.
"Somebody has to stand up here," Hawley said on Wednesday on Fox News. "You've got 74 million Americans who feel disenfranchised, who feel like their vote doesn't matter, and this is the one opportunity that I have as a United States Senator, this process right here, my one opportunity to stand up and say something, and that's exactly what I'm going to do."
Newsweek reached out to Hawley's office for comment.
All 50 states have certified their electoral votes. Biden received 306 votes in the Electoral College, more than the 270 electoral votes required to be considered the winner of the presidential election.