GOP Congressman Says Military Will Lose Members if COVID-19 Vaccine Is Required
The U.S. military is keeping the door open to requiring COVID-19 vaccinations for service members, but Representative Thomas Massie thinks a shift in the military's policy could prompt people to leave the armed forces.
An estimated 70 percent of America's active duty service members are vaccinated against COVID-19, the minimum threshold needed for herd immunity. Officials are unlikely to put a mandate in place until the vaccine receives full FDA approval, and they're still in the mindset of strongly encouraging service members to get vaccinated.
Massie, a Republican from Kentucky, said on Twitter that he's heard from several service members and their relatives that they're firmly against a vaccine requirement. He shared a message he said he received from someone in the military that claimed more than 15 percent of the officers at the person's command would "either retire early or resign their commissions if the mandate is given."
"Ours is a small command, so I'm not sure how the numbers look across the force. I cannot speak for the % of the enlisted force, but I know numerous senior and critical people who will likewise leave," the note to Massie said, according to his tweet.
Vaccinations are already required to serve in the military, and a person could have to be vaccinated against up to eight viruses to participate in Army basic training. Part of the reason the Army requires the vaccinations is because of the close living quarters, which could allow a virus to spread easily.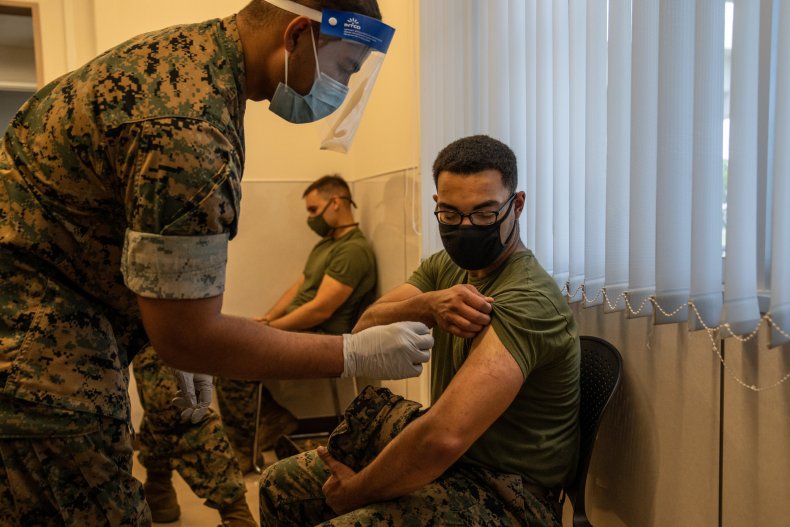 While standard mandatory vaccination requirements haven't seen significant pushback from service members, a requirement that they be vaccinated against anthrax prompted people to leave the military. In 1997, the defense department initiated its Anthrax Vaccine Immunization Program, and a 2000 survey from the Government Accountability Office (GAO) found 16 percent of pilots and aircrew members in the Air National Guard and Air Force Reserves transferred units to delay receiving the shot, moved to inactive units or left the military.
About 24 percent of people who left did so before they qualified for their military retirement benefits, and one in five respondents who were still assigned to a unit in 2000 indicated they planned to leave in the "near future."
"A majority of those who had changed status and those intending to do so were experienced pilots who held crew qualifications of flight evaluators, flight instructors, and aircraft commanders, representing the loss of a very seasoned workforce," the GAO report said.
President Joe Biden was torn on whether service members should have to be vaccinated against COVID-19 and told NBC News in April that he would leave the decision up to the Department of Defense. A "tough call" to make, Biden admitted. Officials haven't yet made a public decision on the issue.
Pentagon press secretary John Kirby told reporters last week that the military's policy remains that no moves will be made toward mandatory vaccinations until the FDA grants full approval of the vaccines. However, that could change, and Kirby noted that Defense Secretary Lloyd Austin would "certainly want to explore additional options" for getting service members vaccinated if the FDA signs off.
"A vaccinated force is a protected force," Kirby said. "We continue to be in the mode of encouraging troops to get vaccinated to the maximum degree."