GOP Congressman Says Rashida Tlaib 'Hates Jews More Than She Likes Her Grandmother'
A Republican congressman accused freshman lawmaker Rashida Tlaib of hating "Jews more than she likes her grandmother" on Tuesday after the Michigan Democrat got emotional at a press conference while discussing Israel's decision to deny her entry last week.
Tlaib, a Palestinian-American congresswoman, teared up at a joint press conference with fellow freshman lawmaker Ilhan Omar on Monday as she condemned Israel's decision to block them from entering the country and recounted her childhood visits to West Bank.
"As a young girl visiting Palestine to visit my family I watched as my mother had to go through dehumanizing checkpoints even though she was a United States citizen and proud American," she said.
During a segment on Fox News, host Harris Faulkner asked GOP congressman Mark Green of Tennessee whether Israel should face "punishment" for "not allowing these women to come into the country as elected leaders in America."
"That's absolutely ridiculous, pretty much everything they said in their press conference was an absolute lie," Green said. "They said that they were denied because of their faith. That's crazy, Israel allows Muslims to transition their borders all the time."
"That was just one of many lies. Many others. This grandmother visit and the tears. She hadn't visited her grandmother for thirteen years prior to this. If she really wanted to go see her grandmother she would have gone," the Republican congressman continued.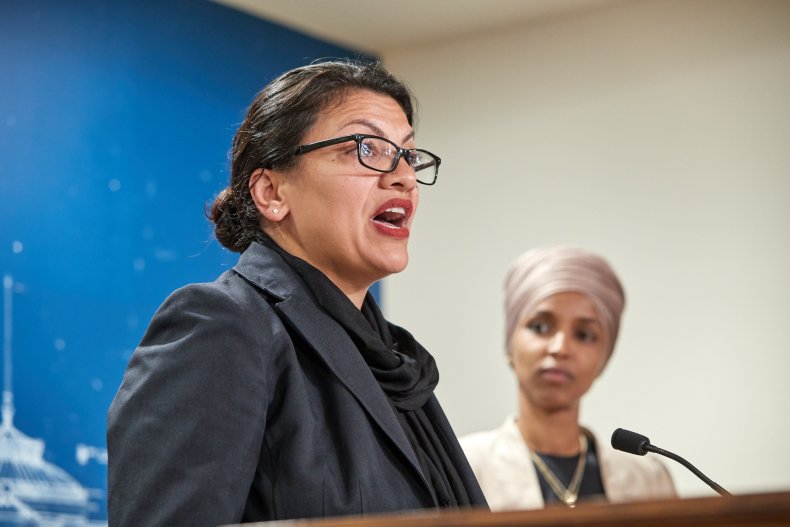 Israel later granted Tlaib's waiver request to visit her grandmother in the West Bank but after speaking with her family, the congresswoman decided not to take the trip.
"When Israel gave her the choice, gave her the opportunity and said 'Look if you just don't get over there and incite stuff while you're in those territories, you can go,' and she said 'Oh no,'" he added. "Obviously she hates Jews more than she likes her grandmother, obviously."
President Donald Trump on Tuesday lashed out at Tlaib and said he didn't buy her display of emotion at the press conference. "Sorry, I don't buy Rep. Tlaib's tears," the president tweeted. "I have watched her violence, craziness and, most importantly, WORDS, for far too long. Now tears?"
"She hates Israel and all Jewish people. She is an anti-Semite. She and her 3 friends are the new face of the Democrat Party. Live with it!" Trump added.
After Israel denied the congresswomen entry over their support for the Boycott, Divestment and Sanctions (BDS) movement last week, Trump moved to defend the Middle East country, saying they would have looked "weak" if they let Omar and Tlaib in.
Watch the Fox News segment below: