GOP Congressman Says 'Serial Rapists' Have More Rights Than Trump in Impeachment Inquiry
A senior Republican congressman told Fox News' Bret Baier Tuesday that President Donald Trump is being afforded fewer rights than an accused serial killer or rapist in the impeachment inquiry.
Speaking to Baier on Fox News Reporting, Rep. Jim Sensenbrenner (R-Wis.) claimed that his colleague Rep. Adam Schiff (D-Calif.) is preventing Trump from defending himself, while treating him worse than someone accused of a violent felony.
"Adam Schiff has completely ignored any sense of fair play," Sensenbrenner said. "He is managing leaks out of his bunker where all of these previous depositions have taken place. He has not allowed the president to be able to defend himself, or even call witnesses. And I think that what you're seeing here is that we give people who are accused of serial murder or serial rape more rights than the president of the United States. Shame on Adam Schiff."
Sensenbrenner was a leader of efforts to impeach former President Bill Clinton. When asked about any possible similarities between the impeachments of Clinton and Trump, the congressman suggested they were entirely different, and claimed that Trump is a victim of unreasonable behavior by Schiff.
"Well, it was different with both Clinton and Nixon, there, the president was able to bring witnesses," said Sensenbrenner. "This is not the case with Schiff. The Republicans asked for a bunch of witnesses. Schiff turned them all down. The Republicans asked for the participation of the president's lawyer. Schiff said no."
Claims of the inquiry violating due process have been heavily disputed by those who say that Schiff is not legally required to allow Trump's lawyers or witnesses at this stage of the inquiry. That will change if the impeachment goes to trial in the U.S. Senate. Regardless, Sensenbrenner claimed that Schiff was behaving in a manner reminiscent of Soviet despot Joseph Stalin.
"This is kind of like the way Stalin ran his courts," said the congressman. "And it's not something that Americans ought to be proud of."
"Basically, what he is doing is feeding the American people one side of the impeachment argument, that the so-called resistance has been trying to do ever since Donald Trump was elected in November of 2016," he continued.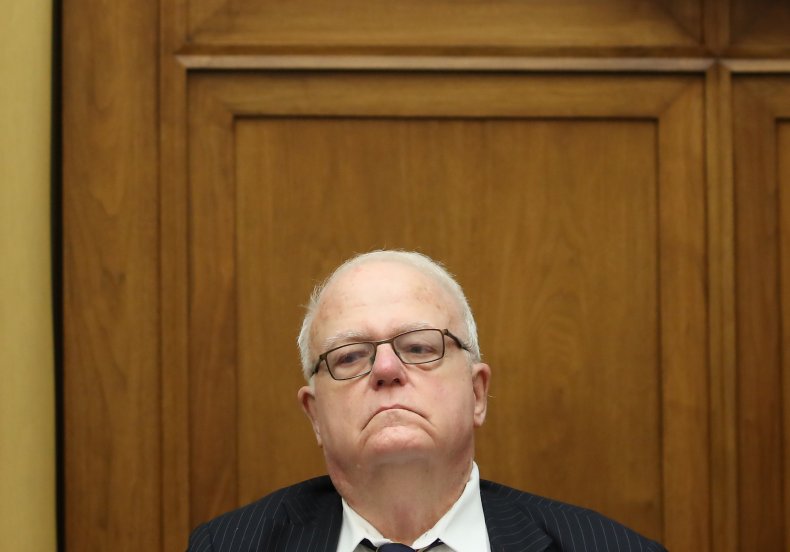 Baier did not appear to question Sensenbrenner's claims in any significant way, but he did challenge the congressman comparing the inquiry to the tactics of Stalin.
"Congressman, a little aggressive to call it Stalinesque, isn't it?," asked Baier.
"No, I don't think so," Sensenbrenner replied. "It's a star chamber proceeding, one side ends up presenting all of the information, people who were in the room can't ethically talk about it because it was a closed-door deposition. And then what Schiff does is he leaks out the information that he wants to have leak out."
Baier went on to ask Sensenbrenner about the substance of the impeachment inquiry, specifically whether Trump had engaged in a "quid pro quo" with Ukraine President Volodymyr Zelinskiy.
The congressman insisted that the claims were all based on "hearsay." He disputed the idea of a "quid pro quo" by claiming that Zelinskiy "said there was no pressure."
"I guess this is a matter of interpretation," said Sensenbrenner.
When Baier asked Sensenbrenner about his impending retirement, the congressman said it was a personal decision and emphasized his support of Trump, before adding "I thought it was time to put my feet up and maybe write a book."