GOP Congressman Disagrees With Trump Administration's Decision to Block Sondland Testimony: 'We Just Want Answers'
Republican Representative Adam Kinzinger expressed his frustration in the wake of the Trump administration blocking a key witness in the Ukraine controversy from testifying in the impeachment inquiry against the president.
The State Department ordered U.S. ambassador to the European Union Gordon Sondland not to appear on Tuesday for a scheduled deposition with House impeachment investigators about President Donald Trump's actions toward Ukraine.
"I wish he would show up," Kinzinger, who represents Illinois 16th District, said Tuesday during an interview with Fox News' America's Newsroom.
Kinzinger suggested that testimony last week from Kurt Volker, Trump's former special envoy to Ukraine, had not been damaging to the president and explained that he supports an "inquiry" into the Ukraine affair—just not an impeachment inquiry.
"I think there should be an inquiry into what happened," Kinzinger said, but he criticized Democrats for classifying the probe as an "impeachment" inquiry.
"We don't know really who to believe anymore," the Republican congressman lamented. "There's always disinformation and misinformation coming from all over the place, and we just want answers."
Sondland had previously expressed his willingness to testify before lawmakers from three committees in the House of Representatives involved in the impeachment inquiry sparked by Trump's attempts to persuade a foreign power to investigate a political rival in the 2020 election.
The State Department barred the diplomat from attending just hours before the scheduled interview.
"No foreign government should ever be involved in a U.S. election in any way," Kinzinger said. "It should always be wrong."
However, Kinzinger also stressed that this "doesn't necessarily mean that something would rise to the level of impeachment."
House Democrats have threatened that they will interpret any efforts to impede their investigation as obstruction, but by ordering Sondland not to appear, the Trump administration seems willing to take that risk.
Democratic Representative Adam Schiff, who represents California and chairs the House Intelligence Committee, argued that the State Department's actions were "yet additional strong evidence of obstruction" by the Trump administration.
Trump defended his administration's efforts on Tuesday to impede what it views as an illegitimate investigation.
"I would love to send Ambassador Sondland, a really good man and great American, to testify, but unfortunately he would be testifying before a totally compromised kangaroo court, where Republican's rights have been taken away, and true facts are not allowed out for the public to see," the president wrote on Twitter.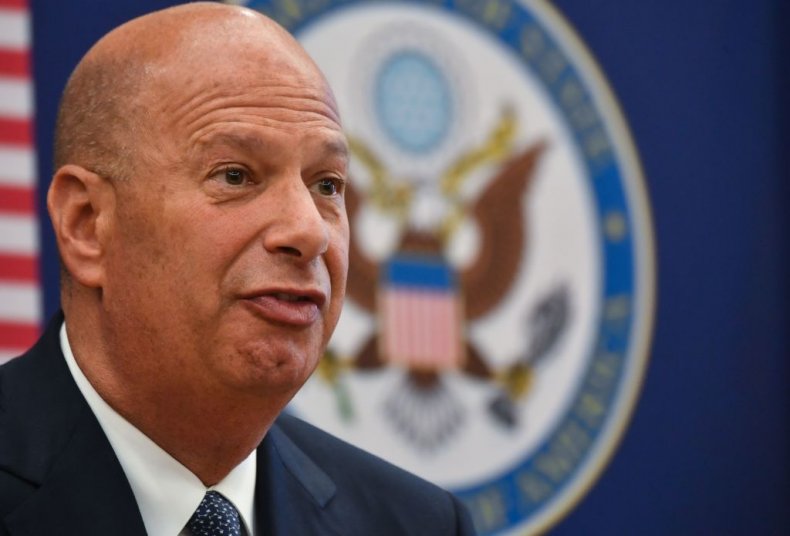 While Trump and his supporters have attempted to dismiss the impeachment inquiry as overtly "partisan" and a "witch hunt," several prominent Republicans have been critical of his actions regarding Ukraine. The president has repeatedly pressured Ukrainian officials to open an investigation into unsubstantiated claims against his political rival, Democratic presidential candidate Joe Biden, as well as into a debunked conspiracy theory regarding the Democratic Party.
Republican Senator Mitt Romney of Utah said last week in a Twitter post that "by all appearances," Trump's actions were "wrong and appalling." Several other Republican senators have made similar comments, and a few Republicans in the House of Representatives have voiced support for investigating Trump's actions.